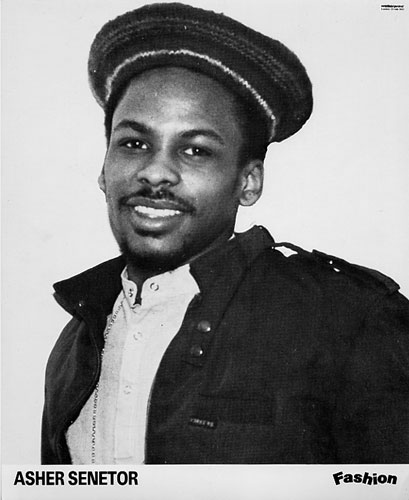 Interview with Asher Senator
Born to Chat – The Asher Senator Story
"Jah man me go a kill you with originality
Me name Asher Senator at the mic MC
Me bredren them a call me human dictionary
Abbreviation Qualification a me speciality"
21 July 2006, 8:36 am
Asher Senator was born Peter St Aubyn and grew up in Clapham. At the age of 14 he was already grabbing the mic at house parties, eventually blagging spots on the Buchanan soundsystem alongside his lyrical sparring partner Smiley Culture. The pair appeared on sounds such as Black Harmony and Frontline before joining premiership sounds Coxsone Outernational and Saxon Studio International in the early/mid 80s. (Unusually they seem to have maintained a presence on both rather than settling for one sound?)
Like many youths of his generation, Asher was initially inspired by yard tapes. As he told the NME: "Them times we used to listen to Brigadier Jerry, Nicodemus, different different artists… but we started making what we call 'style' by writing rhyming lyrics that went on and on without finishing… continuous style."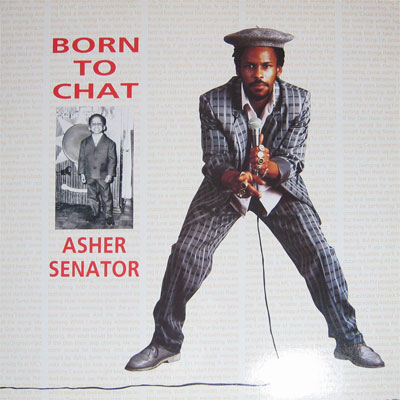 It's clear from the interview that Asher's time on Saxon had been put to good use – flashing lyrics in the dance acted like a lightning conductor for creativity:
"The way I see it, some MCs live off six lyrics for years and years, never changing. Whereas we're on the move all the time because time is running, y'know… Smiley and I took a break once and developed 10 new lyrics each and then appeared at the Nottingham Palais. We chatted on the mic non-stop right through to the end of the evening. A wild feeling."
At the time of the NME piece, Smiley's "Cockney Translation" had been released and was climbing the reggae charts. Asher's first single was imminent…
sher Senator – Abbreviation Qualification / Fast Style Origination (Fashion 12″ 1984)
The single was voiced and mixed at A-Class Dub Studio, located under the Dub Vendor record store on Lavender Hill. Asher's vinyl debut included some tried and tested rhymes from Saxon sessions. Abbreviation Qualification uses acronyms as a lyrical base…
"Seh master of ceremony well that a M.C.
Seh very important persons that a V.I.P.
I'm best in a the business that a B.I.B.
For those abbreviations surely describe me"
…and a heavy rub a dub reworking of the "Feel Like Jumping" riddim as a musical one."Fast Style Origination" is a quick-fire potted history of UK cockney chat, for people who needed to catch up. It notes that Saxon MC Peter King was the first to properly use the style in the UK, but the title of the song means that Asher is occasionally credited as being "the" fast style originator. It comes with a spacious dub mix. Crucial Vinyl!!!
Various Artists – Great British M.C.'s (Fashion LP April 1985)
It's easy to chuck about words like "seminal" but this LP (the first Fashion released) managed to capture most of the rising stars of the scene as it happened. In places it's a grab bag of non-released tracks and b-sides, but is none the worse for that. I imagine that Fashion still wanted people to buy up their stocks of the singles, so it made no economic sense to go for a "greatest hits" package at that time.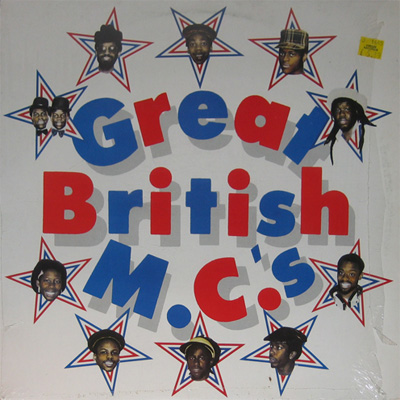 "Fast Style Origination" features, sandwiched between Phillip Levi's "Mi God Mi King" and Peter King's "Me Neat Me Sweet". Of more interest is Smiley and Asher's "It's Coming Down", which I think is the only vinyl example of their lyrical sparring. The two alternate lines and take an obvious delight in finally making it together into a recording studio – you can hear them smiling!
Johnny Ringo Meets Asher Senator – JA To UK M.C. Clash (Fashion LP 1985)
Papa Levi had already shown that the UK MCs could stand shoulder to shoulder with their compatriots from yard. Fashion tried to make this more explicit with their "JA to UK MC Clash" series. In the first instalment Asher and Ringo take it in turns to do a rhyme apiece on the same riddim. Large chunks of this are reproduced on the Lyric Maker mix, but I would particularly like to flag up "Asher in Court" for its outstanding lyrics which encapsulate the cockney chat satirical style, and "To Whom Respect is Due" which has a riddim every bit as good as those coming out of the Roots Radics stable back a yard.
It seems like Asher was exploding with lyrics at the time, as A-Class studio engineer Gussie P put it when discussing the album: "Every one of those tunes had to be cut down. Just too much lyrics for the actual tune."
Asher Senator – The Big Match / Asher At The Auction (Fashion 12″ 1985)
"A friend checked me to go to Tottenham V Man United at White Hart Lane. A week later I thought of all the goings on there and wrote a 'style' about it. I sung it in the dancehall and then Fashion's producer heard it and we developed it into a monster"
Arguably many of the fast chat tunes released in the mid 80s are "novelty records". Indeed, dancehall reggae is always obsessed with the new, fleeting trends and slang get rhymed about in the dance and sometimes make it on to vinyl as well. The question is always "does it work?" and unfortunately the answer must be a resounding "no" in the case of "The Big Match".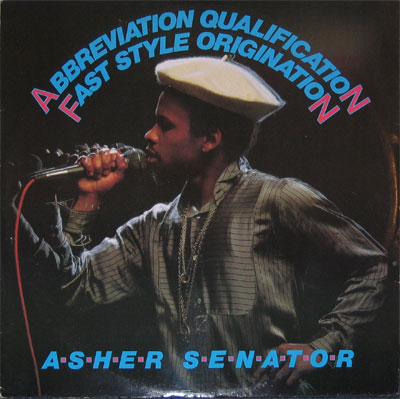 A horns intro of the "Match of the Day" theme, football chants, claps, whistles and lyrics about an all-black England side in the world cup could conceivably work quite well (see the On-U "Barmy Army" project), but it doesn't quite do the business. I think it's really the fact that the novelty here is so overt, coupled with a more commercial/shiny 80s production, which hasn't aged too well to my ears. Mind you, Asher does get extra points for mentioning Luther Blissett!
"Asher and Smiley went to buy a car, and they just heard this guy chatting about a million miles an hour, you know what I mean." – Gussie
In the 'ABC of fast chat', "A" is for "Asher", "B" is for "Buchanan Sound", and "C" is for "cars". The role of cars in the scene cannot be understated – cars as space, a way of escaping from overcrowded flats, cars as income, for work, cars as a way of socialising.
"Asher at Auction" features a booming 80s metronomic drum machine, to which I am quite partial. The "expensive car sell cheaper inna auction" refrain is great, as is Asher's accelerated cockney auctioneer schtick. The instrumental version adds skippier beats and some echoey keyboard fills.
"Original Car Style" is the reason you need this record, and it isn't even credited on the sleeve! Known by Saxon followers as "Asher know everything 'bout the car", this tune expands the fast chat refrain used in "Asher in Court" on the MC Clash LP and makes it into a full length extravaganza. For those who didn't hear it on the mix Paul and myself did for Breaking Ranks on Resonance FM, this is a vintage UK chat tune – lyrics fresh out of a Saxon session and a much rawer production than the other tracks on the record.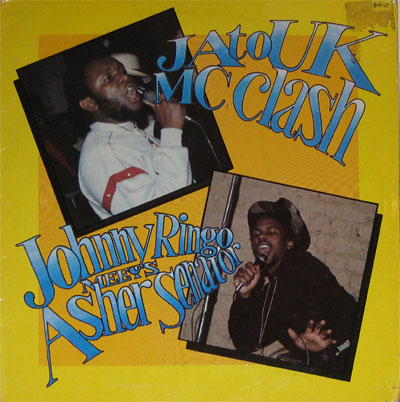 Asher Senator – Bubble With I / I'm The Man (Fashion 12″ 1985)
This was a return to form after "The Big Match". Is the absence of a picture sleeve evidence of Fashion being skint, or deciding not to market the record outside of the core reggae audience?
"Bubble With I" is all laid-back runnings in the dancehall bizness, extolling the listener to get down.
"I'm The Man" features Asher over a riddim credited to "Germain Revolutionary Sounds" and this turns out to be a cut to "pressure and slide" which was the basis for to the Audrey Hall tune on Penthouse I bigged up here.
Flush with the success of getting the crowd moving on side A, Asher checks his woman dancing with another man! He overhears the interloper making his move, but his lady responds: "The way you were dancing, boy I thought you were gay! Me go home with you? Uh uh – no way!"
sher Senator – Born To Chat (Fashion LP 1986)
"My voice was cut for 45 and not for LP
No RCA, CBS or HMV"
As if to emphasise the title, the cover of the album features a photograph of Asher as a boy, suited and booted in front of a massive speaker. He'd previously told Record Mirror about his plans for the LP "I'm trying everything – soul, calypso, electronic riddims and lyrics galore." It's a very different affair from "JA to UK MC Clash", and I'm afraid to say it doesn't really do it for me.
This is partly because the riddims had moved on from the classic A-Class sound of tighter than tight relicks of foundation riddims. By 1986, a whole new era of dancehall had begun, as set out in the tracks "Whole World's Gone Digital" and "Live Musicians".
The overall sound is "cleaner" – possibly because that was the vibe at the time, possibly because the LP was an attempt to launch Asher into the charts alongside Smiley and Tippa, both of whom had achieved some significant success in the national Top 40 by that point. (Unsubstantiated rumour #1. Asher may have appeared on Top of the Pops in unusual circumstances. It is alleged that when Sly and Robbie's "Boops" hit it big in 1987, Shinehead wasn't available to mime to his own vocals. So Asher appeared on Top of the Pops in his stead!)
Asher's lyrics seem like they were constructed more for home listening than nice-ing up the dance. For example "Talk to the Animals" with its various impersonations of horses etc and the pleas in "Exercising" for physical fitness both seem very different to the routines previously recorded live or in the studio.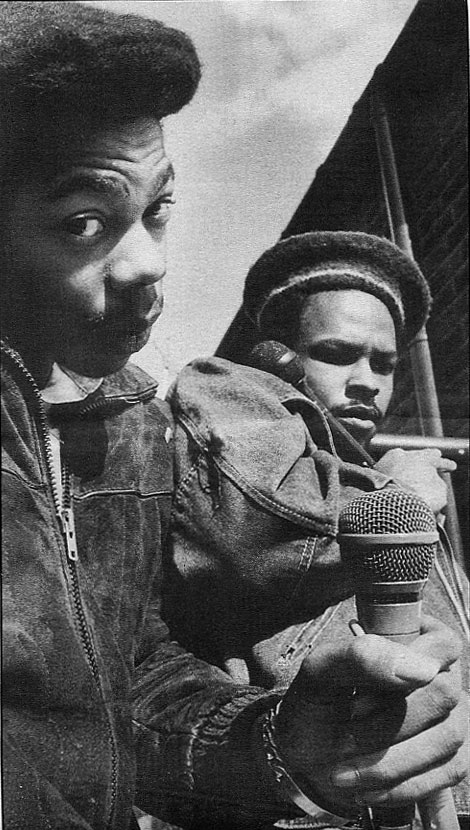 The best bits are "Duck and Head Out" (which is explicitly about the dancehall) and "Rule of England" (which retains the previous humour – combining megalomania and a cockney black consciousness). "Thank You Sah" is another highlight, but is quite similar to "Asher in Court" off the split LP…
After "Born to Chat", the story becomes more hazy. Senator Records was set up in the late 80s as a way of releasing Asher's own productions, featuring releases by himself, Smiley Culture, Tippa Irie and Joseph Cotton.
There is some talk of Asher and Smiley performing on their own soundsystem (Studiomix Sound?) away from Saxon, but this doesn't seem to have been anything other than a temporary home.
In the 90s Asher recorded for euro-dance artists like Antares Project and Molela (unsubstantiated rumour #2: "Asha Senator" featured on a record called "Personality" with Michelle Gayle – aka Hattie from Eastenders). He also featured on:
Various Artists – Jungle Vibes Volume 2 (Red Arrow/SPV CD1995)
This is a jungle comp straight outta Germany which I know little about – it has some Lennie De Ice tunes on and some from Trouble on Vinyl. It opens and closes with tracks featuring the hero of our story:
"Respect due to you It's true we insist
Jungle Music a English Business"
"Jungle Mania a sweep up the town
All foundation you fi shine up your crown."
187 feat Asher Senator – "All Foundation Junglist" is proper "everything but the kitchen sink" mid 90s bizness – amens, sirens, rewinds, skanking keyboard stabs, etc. Asher's vocal is in time with the bpms, the music had finally caught up with the rapid fire of the Saxon MCs some 12 years after Peter King kicked off.
Lickwood Syndicate feat Asher Senator – "Harder They Fall" is less frenetic (and slightly less successful) but does feature Asher singjay style in a similar vein to some of the Congo Natty vocals.
More interesting than this is Asher's increasing commitment to community politics. C.O.D.E. 7 Music was set up by Asher as The C.O.D.E. acronym shows his continuing fondness for the abbreviation qualification! Asher's background has enabled him to rope in many previous contacts to take part in Code 7 projects, including Ricky Rankin.
As Director of Code 7, Asher has been outspoken about policing, gun crime and drug issues. A piece in the Guardian about the film Bullet Boy gave him a platform for his current activities:
"Many within the black community believe that hip hop and urban culture with their connotations of violence and aspirational lifestyles form part of the problem, but Asher Senator, the director of Code 7, started the scheme in 1996 to use urban music as a positive outlet for frustrated youngsters. Senator is an enthusiastic man in his forties who sounds more like a CEO than a community worker. At his office in Brixton, he introduces me to two young proteges, Mizzery and Chalwa.
'We do workshops that attract a lot of people who are youth offenders or have been excluded from school. Our objectives are to recreate opportunities for young people to do things that they actually want to do.' As well as teaching music and business skills, he promotes conscious lyrics at his workshops. There is no place for unthinking gangsta rap at Code 7."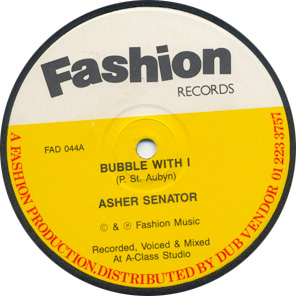 It seems like he's kept up to date with music as well – here is a stream of him over Diwali with Ricky Rankin and Champion courtesy of London reggae night "Return of the Boom Bap".