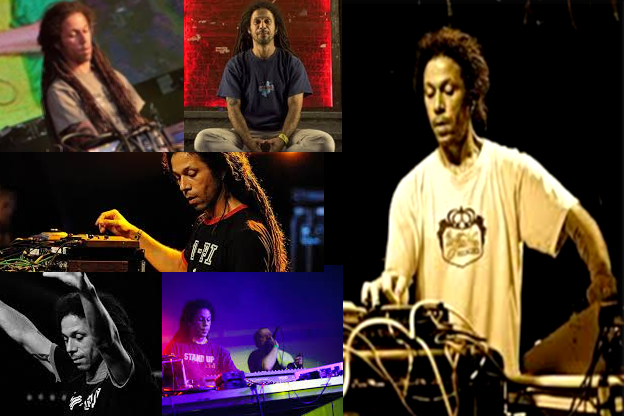 Interview with Neil Perch
[:en]
Zion Train
are Dub/Dance pioneers and have been undisputed leaders in the genre for the past 2 decades. The band were heavily involved in alternative and DIY underground culture in the UK during the 1990s as well as being purveyors of the finest Roots Reggae music throughout this period. They are one of the finest live dub acts on the planet and promoted the practice of dynamic onstage dub mixing which they perform alongside acoustic instruments and the best vocalists.
Neil Perch
has founded
Zion Train
in 1988. The live line-up has always been very flexible, varying from Perch and a vocalist for sound-system gigs, to an extended lineup for larger events.
Zion Train
live always features a variety of renowned vocalists but primarily, the band have been fronted by Dubdadda. Among the over 2000 shows
Zion Train
have played are Woodstock (Poland), Madasound (Martinique), Fusion Festival (Germany), Sierra Nevada World Music Festival (USA), Rototom Sunsplash (Italy/Spain), Outlook (Croatia), Boomtown (UK), Glastonbury Festival (UK), Seasplash Festival (Croatia), Bababoom Festival (Italy), Wickerman Festival (UK), Reggae Geel (Belgium), Universo Parallelo (Brazil), Reggae Sun Ska (France), Ostrada Reggae Festival (Poland), Asigiri Jam (Japan), Woodstock Festival (Poland), Sziget (Hungary), Exit (Serbia), Bielawa (Poland), Solipse (Zambia), Universo Paralleo (Brazil) and Rainbow Serpent (Australia).
Zion Train
have been one of the planet's most prolific groups, along with a mammoth recorded output and innumerable production credits, remixes and song writing collaborations they have produced magazines, CD-ROMs, Internet sites and built sound systems. Their early releases were on their own Universal Egg label, until in 1995 they signed to China Records. They released the world's first promotional dub music video for the 'Get Ready' single and caused a furore with the publicity campaign for their 'Homegrown Fantasy' album. Back on their own
Universal Egg
label since 1999, they have continued to release quality dub, electronica and world dance music.
Zion Train
's vast array of music from the last 25 years still sounds fresh to today's discerning ears.
1.for the people who don't know you, can you tell us about your beginnings in music and how you become involved with sound system .
I am Neil Perch of Zion Train, Abassi Hi Power, Universal Egg and Deep Root. I started playing sound system in 1988 and started producing music in 1990. I became in sound system same way as most people just by playing sounds with music linked to my afro caribbean background and got so interested I ended up as a music producer and record label owner.
2.when was the first time you saw a sound system, info and memories
Jah Shaka, Moonshot Club, New Cross, London 1986 – simply deeper, better, more spiritual and powerful in a truly magical sense than anything that has come since in the soundsystem world.
3.reggae in the 80's and the original sound system in London, can you tell us about your memories..
There was value in the scene – real energetic value, not money so much – the dances were healing ceremonies for the social disturbances we all faced (1980s UK was hard like 2015 global life is hard for many people – huge inequality, few chances).
The scene was also BLACK, which is very important – its great that today we have a racally and culturally mixed scene but too many people forget or do not acknowledge where this scene comes from…
4.can you tell us about your productions in the reggae-dub, how you did you begin and when,info,memories…
I have worked with many many musicians in the reggae world and beyond, hugley famous and totally unknown, music is magic and to participate in it with others is an unquantifiable gift.
5.musically your influences and what you like/liked most
King Tubby, Ravi Shankar, Jimi Hendrix
no ego music, no money music (especially ego-reggae)
6.you have involved in the 80 and 90 reggae scene in London , can you tell us difference with now.
Now there is more international involvement, more money, more ego boosting, we have internet so everyone thinkgs they know everybody and everything – but of course that is an illusion of modern times. Information technology brings advantages and problems to everything on the planet – including the soundsystem scene.
7.what do you think about sound system in UK – Europe situations, problems and prospectives
I do not think too much about it to be honest – I watch it develop, I play my small part, I watch young people learn the lessons of life through the soundsystem world and I myself continue to develop and learn as a human with some small part of me in this world – I really do not like hype in anything..
8.reggae revival in Jamaica , a lot of new roost is this true…what do you think about reggae in Jamaica…
Its a big business and always will be, Jamaica is a poor country and through reggae it can make a little money – good luck to her but again I have very little interest in this. There are some good new artists every year but are any of them actually original and bringing something new to the world?
The answer is NO surely ?? So I am not so interested in their art to be honest.
9.reggae in the europe ..sound system culture in UK, France, Italy and Spain is this the future?
It is the present, the future will be something different and I hope, new..
10.sound system as a culture, a business or just the "voice of people"
This depends who you are and how you feel, its clear all around us there are people joining the scene because they think they can make money, or become known – gain a reputation, but sound system is a culture and is also the voice of some people… Most people are pretty unaware of the history of sound – they just want to hear loud bass filled music – sound systems were originally not so loud in fact – they played different music, not like today when everyone plays the same big hits.
Sound system culture if fun and interesting when each sound has its own flavours and style and when it is more democratic with not just a few gate keepers (festivals, promoters) controlling people's access to sounds..[:it]Zion Train sono pionieri della Dub/Dance e sono stati indiscussi leader nel genere per degli ultimi 2 decenni. La band e' stata profondamente coinvolta nella cultura underground alternativa e fai da te nel Regno Unito durante gli anni 1990 oltre ad essere produttori della musica Roots Reggae più accattivante di tutto quel periodo. Sono una delle formazioni musicali più valide da ascoltare dal vivo e hanno usato e promosso l' uso e la pratica delle più' avanzate tecniche di dub mixing sul palco insieme all'utilizzo di strumenti acustici e dei migliori cantanti della scena dub internazionale.
Neil Perch ha fondato Zion Train nel 1988. La formazione dal vivo è sempre stato molto flessibile, variando da Perch più' un cantante per i sound system a una lineup più largao per i grandi eventi. Zion Train offre dal vivo sempre una varietà di rinomati cantanti ma il cantante principale della band e' Dubdadda. Tra gli oltre 2000 spettacoli Zion Train hanno suonato a Woodstock (Polonia), Madasound (Martinica), Fusion Festival (Germania), Sierra Nevada World Music Festival (USA), Rototom Sunsplash (Italia/Spagna), Outlook (Croazia), Boomtown (UK), Glastonbury Festival (UK), Seasplash Festival (Croazia), Bababoom Festival (Italia), Wickerman Festival (UK), Reggae Geel (Belgio), Universo Parallelo (Brasile), Reggae Sun Ska (Francia), Ostrada Reggae Festival (Polonia), marmellata di Asigiri (Giappone), Festival di Woodstock (Polonia) , Sziget (Ungheria),Exit(Serbia), Bielawa (Polonia), Solipse (Zambia), Universo Paralleo (Brasile) e Rainbow Serpent (Australia).
Zion Train sono stati uno dei gruppi più prolifici del pianeta grazie a una enorme quantità' di uscite e innumerevoli produzioni, remix e collaborazioni, hanno prodotto siti Internet, driviste, CD-ROM e costruiti sound systems. Le prime uscite del gruppo sono state sulla propria etichetta "Universal Egg" fino al 1995 quando hanno firmato per China Records. Hanno prodotto il primo video promozionale con musica roots dub per il singolo 'Get Ready' che ha provocato un grande interesse per il loro album 'Homegrown Fantasy'. Di nuovo dal 1999 con la propria etichetta "Universal Egg" hanno continuato a produrre dub di qualità, electronica e "world dance music". L' ampio assortimento delle produzioni di Zion Train degli ultimi 25 anni suona ancora fresco per le orecchie più esigenti di oggi.

1: per quelli che non ti conoscono, ci puoi raccontare qualcosa su come hai iniziato a mettere dischi e occuparti di musica…
Sono Neil Perch di Zion Train, Abassi Power, Universal Egg e Deep Root. Ho iniziato a selezionare dischi per un sound system nel 1988 e ho iniziato a produrre musica nel 1999. Sono stato coinvolto nell'ambiente dei sound system come la maggioranza delle persone come me, si trattava di suonare musica collegata con le mie radici afro-caraibiche e da li nasceva un naturale interesse per ltutto questo mondo e poi sono diventato cosi interessato e coinvolto da questa esperienza da diventare produttore musicale e proprietario di una etichetta discografica.
2: la prima volta che hai visto un vero sound system in stile jamaicano….. dove, come , sensazioni e influenza…
Furono tante le occasioni per entrare in contatto con questa cultura a Londra ma Jah Shaka Sound System al Moonshoot Club, New cross, London nel 1986 e' quella che voglio ricordare……semplicemente più profondo , piu spirituale, più completo – ma veramente in una maniera quasi magica – di qualsiasi altro sound system mai esistito sulla faccia della terra.
3:la scena reggae e i sound system a Londra negli anni 80……
Allora esistevano dei veri valori coinvolti nella scena – dei veri valori non soltanto soldi – ed esisteva un profondo senso di appartenenza alla scena, le serate con sound system erano come cerimonie di purificazione e di aiuto per creare buone energie, per sopportare i problemi e i disturbi sociali in cui tutti eravamo coinvolti come afro caraibici che vivevano in Inghilterra …… vivere in Inghilterra nel 1980 era esattamente cosi' difficile come lo e' viverci adesso nel 2015, la globalizzazione e' dura da sopportare per la molta gente, ci sono grandi differenze ed ineguaglianze e poche possibilità di cambiamento e di miglioramento di vita per la maggioranza della gente. Un altro particolare da sottolineare e' che la maggioranza della gente che partecipava agli serate con sound system era nera, pochi bianchi avevano accesso a una esperienza del genere , una cosa che per me e' molto importante da sottolineare….e' veramente molto positivo che oggi invece abbiamo a che fare con una scena con una realtà umana molto più mista sia dal punto di vista razziale che culturale ….ma molta gente dimentica da dove viene tutta questa esperienza e conoscenza….la prima ad essere coinvolta con i sound system fu la comunità nera sia in Giamaica che fuori dall'isola dove esistevano emigranti jamaicani…
4: ci puoi dire qualcosa sulla tua stata come produttore musicale …
Ho lavorato con molti molti ma molti musicisti nel mondo del reggae anche al di fuori di questo ambiente, alcuni molto famosi …altri assolutamente sconosciuti ma assolutamente meritevoli di rispetto….la musica rappresenta ed e' qualcosa di magico, ed aver la possibilità' e l'occasione di essere partecipe di questa esperienza con altre persone, ritengo che sia per me come un dono di un valore inqualificabile……..
5: cosa ti ha influenzato musicalmete di piu….artisti, sound system e perido musicale in jamaica…..
Sicuramente KING TUBBY e tutta la sua produzione musicale…….poi anche tante cose al di fuori della tradizione reggae come Ravi Shankar e anche tante cose che appartengo al passato come Jimi Hendrix…al succo soprattutto no ego music – no money music…nessun tipo di musica influenzata dall'ego e dai soldi…..soprattutto quello che io definisco l'ego- reggae……
6: tu sei stato coinvolto nella scena reggae a Londra degli anni 80 e 90…..quali sono le differenze con adesso…
Adesso esiste un coinvolgimento internazionale molto più ampio, sempre più' soldi in circolazione e sempre più apparenza e una mentalità molto basata sull'ego e il successo, adesso con internet tutti pensano di sapere tutto e di conoscere tutti – ma naturalmente questa e' solo una illusione che e' tipica dei tempi moderni che stiamo vivendo , gli avanzamenti tecnologi e l'informatica portano vantaggi e nuove problematiche per tutti noi che viviamo in questi tempi…di conseguenza anche nel mondo dei sound system sono tanti le cose in cambiamento….
7: cosa pensi della scena dei sound system in europa al momento ..
Onestamente non ci penso molto…la osservo svilupparsi ed allargarsi, io faccio la mia piccola parte, vedo tanta gente giovane apprendere la lezione della vita attraverso il filtro dell'esperienza nel mondo dei sound system e io stesso continuo ad evolvermi ed imparare da tutto questo processo come essere umano che partecipa a questo mondo…non mi piace caricare di significati e montare troppo le cose….
8: reggae revival in jamaica , tanto nuovo reggae roots , che ne pensi…. commento sulla scena reggae uk e jamaica……
La musica in Jamaica e' un grande affare e sempre lo sarà'….Jamaica e' un paese povero e tanti vedono nel reggae una opportunità' per fare soldi…..gli auguro tanta fortuna ma non sono molto interessato. Ci sono nuovi ottimi artisti ogni anno ma non sembra che stiano proponendo qualcosa di nuovo.
9:in europa, in francia, uk e spagna…sound system culture molto viva e in movimento…e' questo il futuro….
Si, la scena europea e' molto viva ed e' il presente al momento, il futuro sara' qualcosa di differente e spero anche qualcosa di nuovo….
10: sound system…a Culture, a Business or "Just the voice of the people"
Questo dipende da che sei e da come senti tutto questo, e' chiaro….attorno a noi ci sono molte persone che si aggiungono alla scena perché' pensano che possono fare molti soldi o diventare famosi – guadagnare reputazione, ma quella dei sound system e' una cultura e anche un mezzo di espressione delle gente o almeno lo e' per alcune persone….la maggioranza della gente e' abbasta disinformato sulla storia dei sound system – vogliono solo sentire la grande potenza dei bassi che riempie la musica – in realtà i primi sound system non erano assolutamente potenti – suonavano una musica molto differente e non come oggi che tutti suonano le stesse canzoni di grande successo…..La cultura dei sound system e' divertente ed interessante quando ogni sound ha il proprio sogno, il proprio stile e anche quando tutto e' molto più democratico….non soltanto basato su alcune porte di entrata al mercato, controllate da agenzie, festival e promoter.
[:]