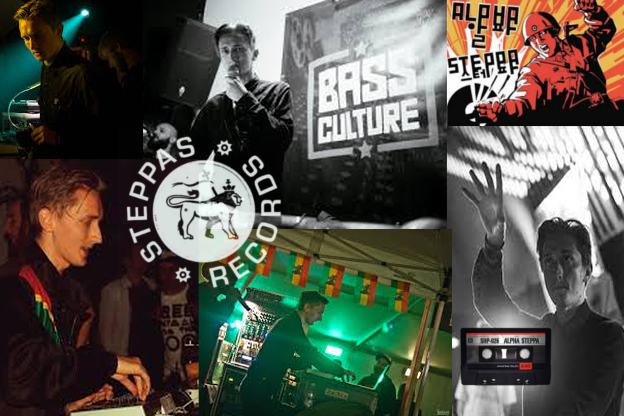 Interview with Alphasteppa
Alpha Steppa is a UK reggae, dub and bass music producer. He is the son and nephew of roots dub duo Alpha & Omega (Greensleeves Records). Alpha Steppa released his first record, via his own label, Steppas Records in 2010, since then he has released numerous singles, EP's and remixes. Alpha Steppa also works alongside his father and aunt (Alpha & Omega) producing collaborative works under the shared alias, Dub Dynasty. Since 2013 Dub Dynasty have released two albums, Unrelenting Force and Thundering Mantis, described by Q Magazine as "obliteratingly heavy bass" and by Mixmag as "thunderous goodness", respectively. BBC 6 Music radio presenter Don Letts included Thundering Mantis in his Best of 2014 radio playlist. In September 2015 Alpha Steppa released his debut solo album, a two part album entitled Rooted & Grounded, described by Reggae Roots Review as "holy albums; the tracks create a mood, a way of life even, dub to worship." Alpha Steppa has collaborated with various notable reggae artists, including, Lee "Scratch" Perry, Gregory Isaacs and Lutan Fyah. Alpha Steppa has developed a sound which links roots reggae with contemporary bass music, described in Mixmag by Joe Muggs as "a UK producer with a rich roots reggae heritage who's injected that into a dubstep framework" and "a serious player in the soundsystem world". The son and nephew of respected dub heavyweights Alpha & Omega, Alpha Steppa has been surrounded by soundsystem and dubplate culture from a young age. Now a talented producer in his own right, his productions connect the dots between the music which he has grown up around and the new generation of UK bass music of which he is a part. His dubbed out style draws upon the sounds of his musical heritage, filtered through an exploration of the newer sounds of dubstep. On the" dubstep-meets-UK dub EP", two sub-heavy tracks with eastern zither and flute influences from Alpha Steppa are accompanied by A&O remixes ready to test even the most rugged sound system.
1: for the people who don't know you, can you tell us about your beginnings in music and how you become involved with sound system
I've been making music from a young age, initially learning to play instruments and then moving into production as a young teenager. As my dad and my aunt make dub (Alpha & Omega) I've been exposed to roots, reggae and dub since I was a kid. Around 2008 I started experimenting with dub mixed with my love for world music and the newer sounds of dubstep and contemporary bass music … and Alpha Steppa was born.
2: when was the first time you saw a sound system, info and memories
One of my earliest memories, probably late 80's, my dad used to run a sound called Roaring Lion in the west country, UK. I remember seeing my dad selecting and I distinctly remember the overwhelming feeling of the bass!
3: reggae in the 80's and the original sound system in london, can you tell us about your memories..
My memories of the 80s and 90s are only as a kid, but being around soundsystem culture at that time definitely had a huge impact on my sound and the music I make today. The sound was much more raw and true to it's origins, but those were also the early days of experimentation, I think it would have been a struggle for musicians pushing boundaries at that time, but thanks to the early pioneers I think we have a lot more scope for experimentation today. I advocate experimentation, especially considering the fact that dub music (like many genres) was born from experimentation.
4: can you tell us about your productions in the reggae-dub, how you did you begin and when, info , memories…
As I mentioned before, my sound emerged from my love for roots, reggae, UK dub, steppers, world music and early dubstep. It was quite a natural process, I always loved making music and eventually I found my sound, or it found me depending on how you look at it.
5: musically your influences and what you like/liked most
I like soul music, and roots music, and I don't mean a specific sound or production quality, but music with feeling and with a message, for me this can fall within any genre.
6: you have involved in the 80 or 90 reggae scene in London , can you tell us difference with now.
As I mentioned already, in the 80's and 90's I was just a witness, experiencing and learning about the culture, both directly and indirectly. I think the main difference today is that reggae, dub and specifically soundsystem culture is now global.
7:what do you think about sound system in Uk-europe,situations, problems and prospectives
I think the main issue is to preserve and promote the message. For me personally, my main focus is to release records of a very high quality, and to use this platform as a means to promote a conscious message.
8: reggae revival in Jamaica , a lot of new roost is this true…what do you think about reggae in Jamaica…
I'm not that up-to-date with contemporary reggae in Jamaica, but there are some really interesting new artists I have a lot of respect for.
9: reggae in the europe ..sound system culture in UK,France,Italy and Spain is this the future?
The movement is definitely growing at a rapid pace in europe, and across the world, I think ss culture has a very bright future.
10: sound system as a culture, a business or just the "voice of people"
All three, culture is the foundation, business is the means to sustain and grow and the voice is the reason.