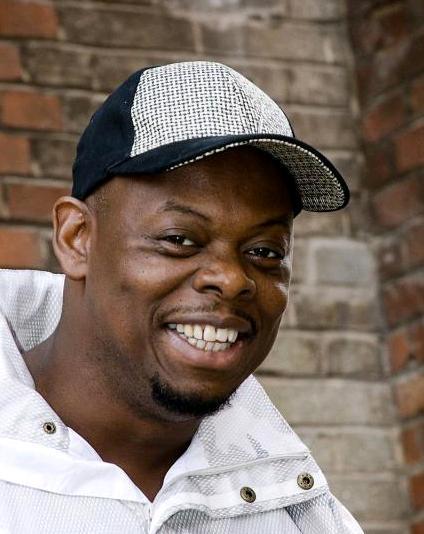 Interview with Tippa Irie
[:en]
Tippa Irie
(born
Anthony Henry
,
1965
, London, England) is a British reggae singer and DJ from Brixton, South London. He first came to prominence in the early eighties as an MC on the South London reggae soundsystem Saxon Studio International.
He first achieved national exposure on night-time
BBC Radio 1
in the mid-1980s, with the singles "
It's Good To Have The Feeling You're The Best
" and "
Complain Neighbour
" (on Greensleeves Records), before achieving a
UK Top 40
hit in 1986 with "Hello Darling".
It's 1986. South East London's Saxon and their collective of talented mcs are ruling England's sound system scene. One of them,
Papa Levi
, has already made history by scoring a Jamaican hit,
Mi God Mi King
. Another, a skinny youth with sleepy eyes and a cheeky grin, is about to crash the UK pop charts via a jazzy lovers ditty called
Hello Darling…
Fast forward 30 years and that young man,
Tippa Irie
, has recently celebrated his 51st birthday. The U.K. reggae-dancehall industry has experienced ups and downs since the explosion of possibilities in the 80s. But Tippa has come through it well enough. He's CEO of his own production company Lockdown. He travels the world bringing enjoyment to audiences at live shows, using his still preternatural ability to entertain. And he has just released his 13th album
Living The Dream
: a diverse collection of transatlantic crossover tracks (whose striking artwork features Tippa surfing a top dollar bills wearing a crown).
Tippa Irie Interview by Osh
June 16, 2010 Tippa
https://www.tippairie.com/author/tippa-irie/page/3
Q: How did the Mc name Tippa Irie come about?
Tippa was my nickname from school and Irie means feeling good so I put the two of them together and made Tippa Irie because my main aim in music was to make people feel good when they came to see me perform.
Q: Tippa I remember you back in the 80's when you was a Mc for Saxon sound system and known as one of the top mc's in the local community can you elaborate on this and give me the history of your early days?
I started my career on my dads sound system Musical Massiah, I grew up listening to U Roy, Big Youth, Tappa Zukie and wanted to be just like them, so Iused to practice on my dads sound system and one day my cousin Gary heard me and said I must go to a King Tubby dance and perform so they could hear me.After they heard me, they invited me to be a member of the sound system so I traveled round the country with them learning my trade. I started to enter a lot of talent contests and win them and I got spotted by Sir lloyd and he asked me to make my first tune which was called The Opposite which was on the B side of a tune called My Valentine by Toakes On the LGR record label.  I just wanted to further my career in any way I could I went along. Plus King Tubbys were only paying me £3 and Saxon offered me £10.
When I went around Saxon, that's where I met Maxi Priest, Papa Levi, Daddy Colonel and Peter King and I started to travel all over the country with them. I also brought Daddy Rusty from Brixton with me as my apprentice and he linked up with Daddy Sandy and Jnr Sandy and my sister Miss Irie. The cassettes started to circulate everywhere and record labels became interested in us. I got signed to Greensleeves Records and my first release was 'Just A Speak' with Daddy Colonel.  Then after that single I released my first solo album 'Is It Really Happening to Me'.
Q: Name a few artists that you listened to in your early days that gave you musical inspiration.
Well my favorite DJ of all time is Professor Nuts, U Roy, Papa San, Brigadier Jerry, Bob Marley, Dennis Brown, Steel Pulse, Macka B, Lone Ranger and Johnny Ringo.
Q: Your sister I understand was an artist is there anything or a tribute you would like to mention?
We used to sit and write lyrics together and I used to love to watch her perform the lyrics that I wrote for her, it made me feel very proud. We love and miss her dearly and she is always in our hearts and she would be very happy to see how her kids have grown up to be hard working and very respectful people. R.I.P Miss Irie. I wrote an album in her honor and the album was called 'I Miss' and I really do.
Q: Hey Mama song with black eyed peas how did it come about?
I was on tour in the USA and I got a phone call from an agent called Shelley Roots…she told me that the BEP's wanted to record a song with me so I went to their studio in LA and they played me the track
Hey Mama and left the gaps that they wanted me to fill. I took it away and lived with it for a night and went back the next day and recorded my vocals and they loved it and so it made the album 'Elephunk.
Q: What are you up to at the moment?
I have a new album coming out called Stick To My Roots on my label Lockdown Productions it will be out on 10th June 2010. It's my best to date and I'm looking forward to the release. I have also have a compilation album coming out called UK Flu which features Maxi Priest, J C Lodge, Tippa Irie, Black Blunt, Nereus Joseph, Nadirah X, J Sol, Gia Ray, Joey Fever, Tad Hunter, Colour T, Dan I, Donna Marie, Anetta Gordon, J B Baker, Mikel X and more.
Extract from Soul Jazz Records Booklet with UK MC History CD.
1: For the people who don't know you, can you tell us how you become involved with sound system…When did you get into music and start Mcing?
My dad was a reggae fanatic and he had his soundsystem called Musical Messiah – he used to have shebeens every Friday and Saturday night. I used to sneak downstairs and just listen to him play U Roy, Big Youth, Trinity, Dillinger, Tappa Zukie and people like that – all the old time deejays.
I used to just imitate them. On the weekends it was the party but through the week when there was nobody down there, I was down there on the sound and trying to pretend to be U Roy. They had bands down there as well, rehearsing in the basement. I used to sit there and watch them practice and learn about music skills – well, about music in general.
2:When did you start performing with soundsystems?
In the late 70s, my cousin was in this soundsystem called Mikey Dread – he started to hear me perform and he said, "Tip, you sound quite good!". So they invited me to come onto their sound, and because Cecil from King Tubby's was his cousin, he took me to some King 'Tubby's dances. I was working with this guy called General Slater (who's called Ras Triumphant now) and we used to just spar together on King Tubby's. 'They really saw my talent and started to take me up and down the country with them. I used to just jump in the back of the sound van and tour with them and I started to get better and better. I started to enter talent contests when I was about 15 or 16: you had to step up to the plate and deliver.There was another Tippa called Tippa Ranking, there was a guy called Leftie B who was onTaurus Hi-Fi, there was a girl called Lorna G, who was the main female DJ at the time along with
my sister, Miss Irie. There were people like Champion, he was on a sound called Jamdown Rockers and so we all used to compete at these talent competitions or clashes at Dick Shepherd Youth Centre (DSYC). They were made into live recordings called DSYC Part One, Two andThree. Dennis Rowe and Lloyd Francis from Saxon were at one talent contest and they asked me to come and perform for their sound, because they liked what they saw.When I was 17 I began to develop my own style of MCing rather than imitating Jamaican flows – my first tune was "Opposite" for a label called Sir Lloyd. You had people like Ricky Rankin who now spars with Roots Manuva. He was somebody that I looked up to – Ricky was the main man in the area kind of thing. I used to nick some of his styles, and just make my own styles out of them.
3: Can you tell us about your time with sound system at the beginnig of the 80's…What was it like working with Saxon?
In the early 80s sound systems were kind of segregated – if you come from Brixton you couldn't go to Lewisham and perform. But me, J just wanted to get on the mic, so wherever there was a mic I was there at that time in my life. So that's what I did, put myself about. I went to perform on Saxon and that's where I met MaxiPriest and Papa Levi, Daddy Colonel and people like that. They were all there when I came here, so I just started to spar with them and do the same thing that I did on Tubby's, just went up and down the country. Then the tapes [live recordings] started to circulate all over the world and it just kind of blew up.Daddy Rusty used to perform on Saxon with me – he came with me from Brixton: he waskind of like my apprentice. Sandy was like Levi's apprentice, and we formed the 'Saxon Five'thing where it was Papa Levi, 'Tippa Irie, Daddy Colonel, Sandy and Rusty. We stuck together and wrote together – we all used to meet up at 22 Overcliff Road which is Dennis Rowe – who owned Saxon at the time – his mum's house. We used to meet there and congregate and try to out do each other – who could write the best lyrics, whatever.
4: How did you move from performing live to recording music? can you tell us about your productions in the reggae-dub, how you did you begin and when, info, memories…
Record labels became interested in things that were happening – that was when the Greensleeves label UK Bubblers started, through the Saxon explosion. Papa Levi went to Island because of My God My King. Me, Daddy Colonel, Rusty and Sandy, we went to Greensleeves. Smiley Culture, Asher Senator and people like that were on Fashion. But I also worked on Fashion and with other labels as well. It was mainly the tapes circulating that really made it blow up – people started to want us to come to Manchester, Leeds, Huddersfield, Sheffield…Birmingham was crazy. Everywhere we went at the time was crazy – we used to sell out everywhere.
5: Tell us the about the famous fast chat style that was created in London…
There was this guy called Peter King – most of the [MCing] styles at the time were kind of laid back, and he created a fast style. Back in the day, when we used to spar, anybody that created something, whether it be me, or Levi, or Peter King, or whoever it may be – we'd all nick it and make our own style off that. So when he came up with this fast style, he chatted it, and everybody here was like, "Yeah that's it!", and so we all just pinched it. That's when Levi wrote My God My King [deejays fast-chat style]: "Jah man mi cool, nuh stubborn like mule". Then I wrote, "All the time the lyrics a rhyme', there was Daddy Colonel's, "How do you roll your tongue Daddy Colonel" and Smiley Culture's, "Slam bam, Jah man, come hear dem fashion". Everybody wrote
their thing – from that time we kind of changed the face of reggae music in England. That was definitely the first recognisable UK dancehall style. You had Yellowman, Peter Metro and all these people hearing our sound tapes and chatting our lyrics back in Jamaica. So we changed it around and they were influenced by us for a change. Of course the people in Jamaica didn't know about us, so those guys would chat our lyrics in the dance and make people
believe they created them. | would go to shows and Pinchers has got a tune where he sings, "Hello darling" [as in Tippa's 1986 hit Hello Darling]. He would see me there and be like, "Oh and change his lyrics. You'd be at the side of the stage and Yellowman would be like, "Good to
have the feeling you're the best" [from Tippa's song of the same name]. He sees you there and he's like, "Good to have the feeling…" because Yellowman didn't care he'd just pirate your lyric and chat it right there! And he did Jah Mi Fear that Levi wrote – there was loads of the Jamaican
deejays that did it. So it was good! Mainly, reggae culture in this country is looking to Jamaica the whole time –
that's a really interesting moment where that pattern is reversed and England influences what's going on in Jamaica. Yeah that's it. We created phrases like "Lickwood" [in response to a big tune] and stuff like that in our dances. Then you'd hear Johnny Osbourne and Junior Reid and people like that singing our styles and using our terminology. 5o that was unique because everybody was focused on Jamaica at the time. We came and changed it and sped it up a little and then we kind of inspired people like Papa San, Lieutenant Stitchie and Professor Nuts and all these people. Then when we went to Jamaica, them guys would come and be like yeah man, it's you guys that made us write these long lyrics. We created our style and our own identity and people from the Caribbean couldn't believe that we were from England. They couldn't believe that this was happening or that these guys come from England, because some
people that live in the back of beyond in Jamaica, to them there ain't people like us in England!
6:How far-reaching do you think the influence of the fast chat style and sound tapes has been ?
A lot of these guys now look up to us for what we've done to the music. When you meet people like Busta Rhymes and KRS One, who are big artists, they shake my hand, and they shake my hand for a long time. They know. So, I know what we've achieved. People like Twista and Bone-Thugs-N-Harmony have had hig hits influenced by the fast chat style. If you think about it, when we were about and we were doing it at that time, who was really doing it? Who was chatting fast at that time?Then the sound tapes spoke to people in a way that black music in this country hadn't up to that point, because they heard their own experiences and their voice in them? Yeah that's exactly it, because we basically grew up in London. 5O obviously we're gonna talk about what we see in London – and we wanted to be different fromwhat Jamaican artists would do. People used to clash each other with who's got the best tape, who's got the best lyrics on their tape and which MC's the best. The MCs and sound tapes were like a focal point at that time, because we came up with something and they could relate to us because we were chatting about things that they saw every day. Things that we were going through at the time as black people living in Britain – you know, like the Brixton riots, we used to talk about. It was like opening the newspaper, coming to one of our dances. Especially listening to people like Macka B and Papa Levi and these guys. Their lyrics and content was uncompromising, they'd just tell it like it is. I'd chat that way too but I'd be a bit less militant, a bit more friendly.
7:When the Saxon MCs started releasing records, do you think it's fair to say that black people in Britain weren't really represented in the wider culture and media?
Yeah – I did things like Top Of The Pops, and there weren't many black guys who did that, at the time. There'd be like one token black guy in a band like The Specials or something like that. So to see a black guy actually on Top Of The Pops singing his own song in his own right was an achievement at the time. . Complain Neighbour , my song, was big because of the uniqueness of what was happening at that time with Smiley Culture's Police Officer, and me with Complain Neighbour. They're both talking about our culture against the native English culture and as we can speak English and we can speak patois we switch between them. Is it a true story? Yeah, it's reality. In the song I'm talking about this girl I used to know, I was in her house. and we were playing music and dancing. She had her baby in the sitting room and this guy who was a neighbour threw a brick through the window. All you could hear was, "Turn that fucking music down" – he threw the brick through the window and ran off. It just made me think, you know what, I got to take something out of this, and that's how I wrote Complain Neighbour. It's like the Jamaican family and the white guy that lives next door, that don't like reggae, that don't like black people, that wishes you never lived next door. But beingme, I gave it a more gentle spin on it.
8: Do you see parallels between what you did with Saxon and what they've done recently,coming out with a new sound and a new style?
Yeah definitely. I like a lot of what they do and I like a lot of the grime. My son is a grime artist, his name is Mess and he's gonna be big – well I think he's gonna be big! They operate in crews and that's how we used to be, there used to be a crew of us, queueing up to get in line for your turn to shine. I think what they're doing is a similar kind of thing, with So Solid Crew, Roll Deep and all of those crews. With the lyrics, I pick the sense out of the nonsense – but I'm an adult, I can do that. It's the kids that ''m worried about, that think that it's real life. The lyrical content, a lot of it's poor – that's just my opinion – but some of it's good, we might have chat the odd slackness: sweetness lyrics, we used to call them. But we were never chatting about, "Oh we're gonna go into your house and murder the dog and murder the cat and murder your auntie" – we were never that way. The thing is, it can go over my head – but the youths pick it up. When you come to Brixton and Peckham and Harlesden and Deptford and all these places, it's gonna affect the youths. So it don't help." The thing is, those artists like Bounty Killer would also make tunes talking about how they're fed up of how the system is treating the people, but those things [gun lyrics] affect people. So we were never really that way – we used to talk about things like Rupert The Bear, silly things like that.[:]