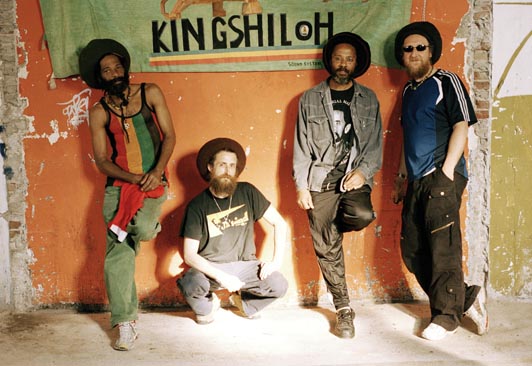 Interview with King Shiloh Soundsystem
[:en]
King Shiloh Sound System
, based in Amsterdam, Holland, is an international, independently operating, roots reggae & dub sound system, founded and inspired through the inspiration of Jah Rastafari in 1991. The state of the art 40kw 6-way stereo sound system is at the heart of all activities, spin-offs include the
King Shiloh Majestic Music
record label.
Bredda Neil, is the operator of the sound & selector of the music,
Ras Lion
, is the original MC; master of ceremonies,
Majestic B
is the third original member. Big Bless is the second MC, Lidj Shiloh the utility man. Other members of the family along the way; Lyrical Benjie, Papa Mystic, Afrique Asher, Bagga T (Jah Melodie), President Kirky, Iyah One, Red Danny, Ras Iyiapo & Jah Roots.
King Shiloh
are known as the traveling sound, they have covered more distance in the last 20 years with their sound system than any other in Europe. They were the first non UK sound to play on the island with their own sound system, becoming regulars at the famous
University of Dub
in London. Their sessions are regularly sold-out be it in NL, France, Belgium, Italy, Germany or the UK. They are regulars at the top sessions in Europe like
DubStation
in Paris and
ReggaeBus
in Brussel. Apart from playing in Europe with their sound Shiloh also travel further afield in a 'dj style' having played in Thailand, Jamaica, USA, Israel, Russia, Ukrainia, Greece etc.
Today
King Shiloh
are firmly established in the NL music scene, the mega DubY2K sessions in the Paradiso (& Melkweg) and the legendary Bunker sessions @ NDSM are firmly established as a major part of Amsterdam music history. The Sound System Weekenders are fast becoming legendary, with international guests like
Jah Shaka
,
David Rodigan
&
Iration Steppas
playing alongside
King Shiloh
on the
Shiloh
sound.
King Shiloh's Interview – 2016
1: for the people who don't know you, can you tell us how you become involved with sound system
Hail Jah Rastafari, First, Foremost, For-Iver
I've lived in Amsterdam for the last 25 years, coming out the UK, where I got my sound system education, growing up in the North of England; Leeds, Bradford, Huddersfield, later in London when I moved there fwd. When I reached Holland Jah show me the way, show me this great city of Amsterdam needed a big Roots sound system.. thats when I got on His Mission.
2: when was the first time you saw a sound system, info and memories
I remember seeing Quaker City, it was the end of the seventies @ Cleopatras in Venn Street, Huddersfield. It was a big ting, they came from Birmingham with a big crew, Huddersfield was buzzing, Id never seen such massive (quad) boxes until then! it wasn't the first dance I went to, but the first I really remember lol. Then there was the first time I saw Shaka in London, but thats another story…
3: can you tell us about your productions in the reggae-dub, how you did you begin and when, info, memories…
Well those times we link up like minded Ones in West Europe, I travelled a lot…….Majestic Warrior & later Dubfront were operating out of the veg market studio in Cologne, Germany, that was the musical centre! Ras Ibi was coming down those times from Stockholm in Sweden, Ras Matthew I coming fwd from Texas (of all places) and Iyah C from London. We used to sleep in the studio for days & nights, making tunes like Trod On, Battle of Adowa, Babylon A Wonder Yeah tuff times but we got thru, those chunes formed a solid foundation.
4: musically your influences and what you like/liked most
Studio One is where I reggae education began, it was that fat sound, drum & bass with a tuff catchy riddim pon top loved it to the very last drop! Later Augustus Pablo & the whole Rockers package (Hugh Mundell in particular), Yabby U, Johnny Clarke, Tubbys, I could go on and on! Loved all the UK bands too; Black Roots, Matumbi, Misty in Roots, Aswad & Steel Pulse too many to mention, Roots Reggae has an almost unlimited archive of music. Still after all these years I can find one/one chines i never knew existed!
5:what do you think about sound system in uk-europe .problems and prospectives
The danger now in sound system as I see it, is the popularity.. sounds strange but its true, something that was a precious gem to cherish has become a watered down entity recently I don't blame the big festivals, well I do actually! They strive for the strongest line ups, forgetting how special sound system is, how mystical it can be. Putting sounds together in competition, in quick rotation, often on one 'donkey' sound is not In,I thing. Take Rototom for instance, its the only festival King Shiloh hasn't played at, why? Because the organizers have their safe format, according to their budget, and choose to have the same 'donkey' sound and invite all other sounds from the UK & Europe to ride on it! Give me Shaka in a dark, hard-to-find location in cold rainy south London any day, rather than mass produced sound system.
6: you have been involved in the reggae scene in europe since a long time , can you tell us difference with now
Its really linked to the above. Once it was so special & mystical, now its mass produced. We as Shiloh are making a stand against this, not taking part in 3/4 way dances, not playing on 'donkey sounds' or taking part in overkill line ups. Its all about quality, not quantity brother & sistersŠ lets keep sound system special!
7: reggae revival in jamaica , a lot of new roost is this true…what do you think about reggae in jamaica…
I don't really pay attention, for most of my life I checked for JA music, but I got so disappointed thru the years hoping for the late 70s to come back again, but it never did!
I really felt JA couldn't make those chunes anymore, the sufferers cry chunes, it had gone too far too fast & got lost in batty riders & specials. When vinyl started to cease coming from JA it was done for me. UK productions started to get the attention they should always have had.. Europe started to flourish thats positive Yes I hear JA is having another Reggae Revival but I don't feel it yet, hope its true tho!
8: reggae in the europe ..sound system culture in Uk, France, Italy and Spain is this the future?
I think Roots has a worldwide future, Europe is making some good chunes, some bad one also! but I think the future is further afield, We've just come from playing 3 sessions in Ethiopia, the potential is so massive there, they just need the right musical education next week I go to Peru, Brazail & Chile to plays yes those countries are the untapped future, but from what were seeing the future is very bright!
9: sound system as a culture, a business or just the "voice of people"
Sound System is all of these brothers & sisters.
Its definitely our culture, we live it day by day, we spread it to the four corners of the Earth! Its also a business, a big sound system has to run like any other business, but money is never the motivator, its just essential to keep moving fwd, growing & spreading the message further.
But above all its a voice of the people. As it was in the beginning so shall it be in the end! Like in the ghettos of Kingston way back when, sound system is a rallying point, a place where people go for upliftment out of the daily grind, listening to the prophets & priests of the day, live & direct on the mic! Yes the voice of the people! Give thanks n Praise to the Most High, Jah Rastafari! Selah.
http://kingshiloh.com/interviews/
Greetings in the name of Jah Rastafari, First Foremost & For-Iver. Father of Creation, InI Inspiration & our day to day I-tation…. May the words of I mouth and the meditations of I Heart be acceptable in thy sight, oh Jah Ras Tafari… Without H.I.M. nothing would not be possible.
Can you explain us who is King Shiloh crew and where you from ?
Shiloh is, as the name suggest in the I-ble, a meeting place of ancient times where people of all races colours and creeds came together in unity to praise the Father. So when I'I was meditating on the name for the sound system, Jah show us the reality of Shiloh. It is actually such a mystical name, when one checks it proper, most people have heard of the name because of the Buju LP "Until Shiloh Come"… ya know Haile Sellassie I, He is the Prince of Peace, the Shiloh. The Sceptre shall not depart from (the land of) Judah, Nor the ruler's staff  from between his feet, Until Shiloh comes, And to Him shall the obedience of the peoples be…. Yes I, everyone haffi check it for themselves, I could go on for ever with reasonings on Shiloh!
But back to the questions! King Shiloh is therefore a collection of individuals from all four corners of the Earth who come together to praise His name in the dance. Its an organic contstruction, Ones come and ones go, ya know. But the founding members are I-man, Bredda Neil (UK), the operator and selector of the sound, Red Lion (Surinam), the original MC and Majestic B (UK). At present Big Bless (Surinam) is the MC and Jef Free (Denmark) from Lidj Shiloh is also on the mission on a day to day basis. Thru the years man & man like Sammy Dread (UK), Papa Mystic (Gambia) Lyrical Benjie (NL), Jah Melody (NL), President Kirky (Jamaica), Iyah One (Sweden), Ras Iyiapo (Carribean), Jah Rootz (Carribean) & Happy Warrior (Poland) have all been regular member of King Shiloh.
How did you discovered reggae music ? Favorites artists, singers producers ?
Like many people of I generation I got into reggae, and sound system, when punk was starting in '76…. As kids growing up some of us were rebels, & some conformists… I was a real rebel! Believed in punk ethics those times, revolution thru destruction…. Anarchy! We used to go to Leeds Uni to see bands like the Clash & Pistols and before the stage show a sound system was always set up & playing as a warmup, warm down. There were no punk records them times, it was just beginning, so sounds used to play Roots music instead. Well one thing led to another and soon my punk bubble burst, I realised it was all a hype, but listening to Two Sevens Clash and LPs like that whilst smoking I first herbs made i think different. Not destructive but constructive. It was then that I realized that the only way to help things is to help oneself first. And that God does exist. They were singing of this man Haile Sellassie I! I had to check it, it was so far out, ya know what I mean? A white teenager from industrial North England checking the divinty of that little short man from Ethiopia, asking if He is the Messiah or not?
Never really knew the names of the singers those times, saw the sound man with their 7″ vinyl, even when u could get close enough to see the label it was invariably scratched off so u couldnt see who it was by! But later as I began building up I own collection of tunes by travelling down to Daddy Kools, Dub Vendors & Supatone in London, I was checking for Hugh Mundell, Augustus Pablo, Culture, Abyssinians, Burning Spear… ya know? Tuff Roots. Music with a Message. But also those one-away tunes people cry for these days!
What's important for you in Reggae music
First & Foremost the message bredrin, ya know thats what its all about! Roots Reggae Music thats what I'I deal with, from time. Heartbeat music. So the drum and bass are the basis elements, the backbone… after that its the riddim & the melody…. it half be sweet! Haffi have soul. Should be an uplifting music…. Even in these steppas times, we see it, too much judgement tune can kill a session… we like to hold tight to how it was in Yard, ya know… life was hard, so the music had to be uplifting. That didnt mean it was soft, far from it, the riddims were tuff, the lyrics to match, but the vibe was optimistic… we know we downtrodden but we know how to change it. Ya sight?
Why did you move from England to Holland ?
For a broader horizon bredrin. From since I can remember    have travelled, far and wide. I never felt limited by places. I moved from industrial West Yorkshire when I was 17/18 and moved south, to Brighton and then later on to London… to seek my fortune I suppose. With a sleeping bag & 10 pounds in my pocket! Eventually I came to Holland for the same reasons, it seemed to me to be far more relaxed than England, I was right! Herb was one of the main reason I have to say and the famous dutch tolerance of course…
How did you discovered sound-system movement ? Any particular memory from the first session ?
Like I say, I grew up in Bradford & Leeds, which in the seventies onwards were thriving multi cultural societies… sound system was part of life, whether it was a couple of box set up on the street in Chapletown or a session in a pub on Manningham Lane in Bradford, music was everywhere… My sister & her boyfriend took me to my first session, I think, those times are a bit of a blur still! As I recall it was in Cleopatras in Huddersfield, but could have been Palm Cove in Bradford or West Indian Centre in Leeds… I think it was Cleos though… Place was rammed to the ceilings with speaker box, and 2 earth-quaking sound system! it was incredible, dont want to use the old cliche, the only white people in the place, but thats how it was those days… didnt know who was playing but after reasoning with Sammy (Dread from Iration) it was probably the mighty Quaker City from Birmingham bashing up the local sound.
Was Jah Shaka a source of inspiration for you at the beginning ?
Yes I, the mighty Zulu Warrior! He was the main source of inspiration for I personally. How can I say otherwise? Didnt get to see him much though before moving to London and checking regular sessions around town… but for the spiritual vibes and the glowing feeling that used to stay with me after one of his sessions, Shaka did it everytime. I have to say I also love Jah Yout… but its a different thing, when the singers get in full flow, lyrics are flashing and riddim busting, I can appreci-love that same way like Shaka. Thats the great thing about sound systems we all have our own charachter, no 2 are alike. I for one respect all true sound systems because I know the struggle involved in running a proper sound system. There are those that talk and those that do, so let the proof of the pudding be in the tasting!
What about  reggae movement in Holland before you ? Was it easy to build a sound  in Amsterdam ? Are you the first One ?
Its never easy to build a sound system, lets get that straight. Even if u have the money to buy a ready made Jah Tubbys set, ask yourself do u have the knowledge to run it, week in, week out? Most often not. Its a long and rocky road, a learning process, no short cut ina this! Building a sound goes in stages, step by step. You build a set, listen it, roadtest it… break it down, build it up again, until u have the optimum, ya get me? Even then u not done because as technology changes u have to keep up with that. And then think about a safe secure place to store this big sound system…. a way to move it around… all factors…. But to your question, before us yes there was a sound system in Amsterdam called Shashemane Sound run by a Surinam posse. When i moved to town they were running dancehall, red hot bredrin!
What is your vision of sound-system movement ? What do you want to give to the people through it ?
I think in terms of dance attendances then were truly blessed in this time. Big dances everywhere we go these days, all across the continent. Although I have to say the amount of black people visiting dances has receeded giving way to a younger more dance orientated public. But time waits for no man or woman, so we have to keep looking forward without forgetting the past. Its a fact. We have to keep the teaching a part of the music, ya know mi bredrin? Were not preaching to people, just trying to open the door to their hearts so that they too can know the wonders of Jah Rastafari, as is is revealed unto I and I. So like I said earlier we want to uplift people from their daily lives by the music we play, the vibe we create (through Jah) and show them that were not on Earth by chance, & that knowing our Creator is essential to knowing ourselves. Selah.
I know you change few times your equipments ? Can you explain us why ?
Quite simple really. Its a process of searching for the ultimate sound suited to one's requirements. Through the years King Shiloh sound system has got more & more compact because of the amount we travel. Were constantly on the road with our sound, this means travelling with a hire van, 3500kg max. In the UK they can get a small lorry on the same driving licence, but were limited to 3,5 ton. So through the years weve compacted our speakers, changed from Analogue to Digital, otherwise we couldnt take a big set on the road… Right now we can squeeze a 8/9 scoop set into the van without looking ridiculously overweight! We don't want any more attention than we already get from babylon!
Why playing in stereo and without preamp too ?
Again its that journey, searching, overstanding, making improvements… Basically I wanted to check the stereo route to open up the mids and tops and show respect to the producers of our music! Ya know what I mean bless? Music is made stereo but man and man play it mono. Even they use a stereo turntable plugged into a mono preamp! I found it interesting to check the other side of the fence, but thats me all over! After concluding what a preamp is I decided to make my own. Not in one box but in a serious of boxes, all factory bought, all high quality. So I bought a good mixer, a good graphic equaliser, a good parametric eq, and a couple of good x-overs (well speaker management systems), one for the left channel, one for right, put them all together … and thats my preamp!  I know it a big bigger than a Jah Tubbys or a Mostec, but I start with a flat playing field, ya know what I mean. No drastic curves built into the machine from the kick-off. Starting at ground zero!
You are considering having one of the most powerful system in Europe ( alongside King Earthquake ) is it something important for you ? Don't you think sometimes, there is a kind of "power competition" between sounds?
Yes mi bredda there is a definate jostling between sounds for the heavyweight title! I must say thats truly not our preogative, so no, its not important to us. Like I said earlier King Shiloh has developed through the years as a traveling sound, everything depends on weight, so we can travel the most efficient way possible, ya know what I mean? No 50 kilo bass amps – ours are 12 kgs each… Digi Amps… Neodymium Drivers (lighter than the usual ferrite) whenever possible… it means we can still get a big sound in our 3,5ton truck… We strive for balance & clarity in our sound, whilst still maintaining the heaviness. All 6 ways have to sound tight, Errol (Earthquake) is a different story, well his name says it all! His sound is heavy, Jah know, we felt it in Brussels recently. But then again he carries twice the weight and his boxes are twice as big, definately a sound for big venues…. and a big truck. Ours is a good crisp all-round set suited to he many different situations we encounter on the road. thats how we want it.
Do you have special memories, stories about living on the road ? about keeping the passion to go everywhere for delivering the music and the message ?
Its just a blessing to meet like minded brothers & sisters whilst on the road. A pleasure to reach great historical cities & dwell with those who live there. To eat, drink and smoke with them! Its those ones who keep us going, Jah is the driver, but the fuel comes from the positivity of those who welcome us. Oh what a joy when one or more come together to praise his name…
It seems also that Rasta is very important for you, would you accept to give us your vision of living as Rasta ?
Yes I, we sight His Imperial Majesty, Ras Tafari as the manifestation of Jah on Earth. He is the inspiration for all things we do and is always by our side. So yeah Rastafari is more than important to InI! As Rasses we aim to live pure & clean, eating Ital as much as possible, certainly eating no flesh. We support truths & rights in every aspect, peace & love to all without regard to race & culture. We are all born of the same Jah, the Creator, so to know that is to know equality. No matter what race colour or creed, seen? We look forward to Afrika, the birth place of humanity and long to move to the great continent. We see the wrongs of babylon and wish to take no part of its wickedness. It is a sinking ship waiting for destruction, were quite literally seeing the falling of babylon.
Do you think that the movement changed about that philosophy ? It seems that young people are now, more coming in sessions for fun than listening some messages ?
Well not everyone who used to go dances was or is Rasta but there was definitely a deeper spirituality back in the day. And yes its true there are more young people coming to dances just for fun. But we don't watch nothing mi bredda, we give thanks. As long as people are coming to the dances then theres not a problem. Maybe those who come first off just for fun, hear the message like InI all did, and like we, choose to take the incredible journey into Rastafari.
You played everywhere in Europe ? Do you see differences or specialities in countries you already visited ( Italy, Spain, England ..)
Yes I we've travelled North, South, East & West, up and down Europe, mostly with our set. We trust in that, were a sound system – that means we play with our sound system… the dj jacket just don't fit, were not from this deejay generation, 2 turntables and a cross fader! Likkle CD wallet under the arm. No bless, a sound is a sound is a sound…. All places are different, all places we play are special, but fundamentally people are of the same mind. Rebellious and in search of more from life.
What is your opinion about the movement in France ? Don't you think that France is the main place right now for playing ?France is booming, has been for a while… must say theres a definite French dub style, sometimes a little too towards techno for I! Jump up music, more than message music, but still relevant, maybe its because Iration come so much in France …. But yeah for crowd attendance & reaction France is doing it, Marseille, Paris… but Italy is buzzing too, Bologna, Napoli & Roma. Belgium is on the rise. Holland covered! Germany still needs to come out of its dancehall dream but pockets of resistance are expanding. Spains getting it all in one go at Rototom, the reggae circus, but the regular sessions are few & far between…. but generally the vibe is upwards all over Europe so we give thanks n praise, always.
Then, we would also talk about your label ? What is the aim of that label ?
Its simple bless, King Shiloh Majestic Music is our attempt to keep the Rastafarian flag flying through music, were also doing our bit to make sure Roots vinyl doesn't die out. We've seen the terrible demise of Jamaican music, by bringing out tunes were contributing to the survival of the music we love & breath. And ultimately glorifying the Father. Its an extension of the sound system, tunes that do well on the set are eventually released. There by popular demand that way!
Do you have special artists that you love to record ?
Danny Red has always been a special singer to I. Its always been an honor & joy to work with him. His lyrics get me in a deep meditation everytime. Prophetic. Likewise Earl Sixteen, a true professional and an example for all of us. Love Sixteen to the bone, from Rockers until now. JA artists are more of a challenge, Jah know! King Kong is one who had me in a real spin, the Ethiopian sessions, tuff inspired lyrics of the highest order… Singers are a special breed!
Do you have a special relation with Dub Creator ?
Yeah through the years I'I have become closer and closer, ya know its been a long time we've been working together. He's mi bredrin & King Shiloh's producer. We've grown together through these years and our works have progressed likewise. I feel Dub Creator work has moved to another level with our latest release the King Kong LP "Ethiopian Dream", check it, its crucial bless. As Shaka once said to me "the race is not for the swift, but those that can endure…." How true those words are. Simple but true.
To finish, I would really like to know what other producers or labels you like right now ?
Gussie P, Muffet, Bunny are the ones I appreci-love. Vibronics has always supplied I'I with dub & have been a mainstay of the Shiloh selection fi years. New producers like Indica Dubs and I-David are also ones to watch. My old spar Iyah One (Shiloh Ites) who got his foundation with InI in Amsterdam all those years ago is still producing great Roots tunes.
And bonus question : would that be possible to know you 3 or 5 biggest anthems or biggest tunes that you always want to play in sessions ?
Blessed to be honest I don't rely on anthems. Shiloh selections are always changing, its the flow, theres so much music out there. I really dislike sounds who lean again & again on the same tunes…. although "Conquering Lion" from Yabby U has a firm place in I box, as does "Struggle in Babylon" by Yami Bolo… "World Beat" from Shaka… those tunes get me in the mood. But there's too many to mention!
Thanks a lot for talking with us Neil and lots of respect again for all your musical work and your strong activism all these years. I would let you close this interview like you want .. blessed love
I give thanks mi bredda, to the Father who make all things possible and give I the chance to perform His mighty works in this time. It is not I bredrin, I am just an instrument in the hands of H.I.M Haile Sellassie I, Jah Rastafari!
To all reading this, try your best, search for the Creator, He will make your life better in so many ways, trust I, I know. Selah.
[:]