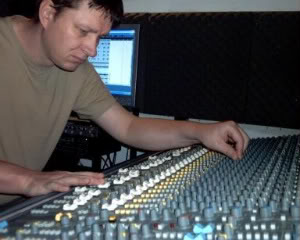 Interview with Disciples
[:en]Posted By
dubwise
· 09/05/2011
https://www.dubwisefestival.com/author/dubwise/
Disciples is Russ D. producer, musician, engineer on the uk reggae and dub scene since 1986. Originally Disciples were brothers Russ and Lol who produced music for legendary uk sound system man Jah Shaka."It was Shaka who gave us our name, we recorded 4 albums for Shaka from 1987 to 1991. I later formed my own labels Boom Shacka Lacka and Backyard Movements, the former for uk dub styles, the latter for roots vocal styles. In 1991 we also built our own sound system which we ran for 5 years before packing away the boxes for good. My brother Lol pulled out of the music biz and i continued to forward my studio and productions as well as continued dj'ing around the world with long time friend and micman Jonah Dan.
I have worked with a number of artists over the years including Sister Rasheda, Rootsman & Dayjah, Delroy Dyer, Creation Stepper, Candyman, Wayne McArthur, Prince Allah, Prince Malachi, Mykal Rose, Color Red, Lutan Fyah, Ras Macbean, Christine Miller, Bunny Lie Lie, Danny Vibes, Tenastillin, Tony Roots, African Simba, Sis Nya Azania, Avaran, Murreyman and many more, as well as productions and remixes for the likes of Inner Sanctuary, Alpha & Omega, Jah Tubby..s, Twilight Circus, Cultural Warriors, Jah Warrior, Universal Roots, Roots Hytek, VI Connection and others, with something like 20 plus albums and over 60 singles released so far on my own and various labels. Works continue from strength to strength !"
Anyone who is a serious bass devotee and follower of roots and culture is going to be aware of The Disciples and their releases, featuring towering, monolithic bass lines and searing percussion. From the pounding disciplined force of "Resonations" and the kinetic funk of "Arrival" to the bass meditations of his work on Jonah Dan's Inner Sanctuary label onward to his recent explorations into a more spiritual sound, all of his works have rejected slavish convention and cliché. I caught up with Russ D, the main force behind Backyard movements/ Disciples Rhythm section in his recording studio. A peaceable man with a gentle and direct manner, he invited me to discourse in his studio, the source of many a subterranean bass experiment. It is a small studio, full of good vibes. All manner of African percussion instruments adorn the walls, and a large original painting of Jah Shaka holds pride of place, high on the wall. Our conversation ranged from a discussion about the time when a much younger Russ D made his way to Jah Shaka's African art and craft store in Dalston South London, to ask him if he was interested in the early Disciples dub plates, to the wider subject of avant garde Jazz, with Russ professing his love of Alice Coltrane's music: the pounding bass lines on Coltrane's "Journey In Satchitananda" and Pharoah Sanders "Upper and Lower Egypt". It is clear why Russ has always been such an innovative influence within the UK roots scene and beyond. ? This is how our discourse, reasoning and investigation ran: Step forward the bass innovator, Russ D.
When you are looking for bass sounds, how do you go about creating a deep, heavy rich vibration in your music? Is this different from the bass sound you look for when you create bass in your sound system???
"With sound system, from my background, we like our bass loud and heavy: heavier, beyond most other music forms. Let me tell you a story. One time we did this sound system session down in Exeter. The promoter had booked my sound, Iration Steppas and some Junglist and drum and bass dj's. We set up the sound, duly tested it out, and everything sounded boom. So Iration was doing his live set, running his mixer and bass through our system. Everything was good. The jungle dj's were due on before us, and they had their own decks set up and running through my system too. They came up to me and said the bass was too heavy! I was amazed; I'm thinking "What! You are junglists yet you say the bass is too heavy? That doesn't make sense!" Anyway, we turned it down for them, but when we came on later, bass was full boom to the max, and we mashed the place down! ??For us, the bass is all important and comes secondary to nothing. We do manipulate the sound, sometimes rolling in the bass so it seems to be coming in from beneath, other times we just draw for the hardest possible bass we can create, lifting up the upper bass frequencies, powering them into distortion, twisting the sound from hard, to deep, and back again, then onward to air shaking proportions. This is pure vibration rather than tone. Bass dynamics in all its possible ranges."
Why is it that a reggae bass captures people so much, the hypnotic element of a strong b line when it drops: you feel it in the abdomen, rising up through the solar plexus up to the chest. Why is the vibration of that intense bass signal so attractive???
"Reggae bass holds the melody of the whole tune, probably more so than in any other music forms. And it does so hypnotically. It does so relentlessly. However, the WHOLENESS of this music, all that it implies and involves, mustn't be overlooked or overshadowed by complete emphasis on bass resonations alone: When I first heard reggae many years ago, I heard Dr. Alimantado chanting, I heard Pablo's floating melodica melodies, I heard King Tubby doing things with music that very few others had ever done before. It was many years later when I experienced Shaka, that I fully realised the full impact of bass."
Can we talk now about subsonic bass tones, or bass signals which fall below 30 hertz. (Jah Wobble named his record label "30 Hertz" in homage to these subliminal bass movements) ???
If anyone has insight into subliminal bass tones, it's going to be a bass addict such as yourself! Can you speak about the use of bass tones so deep it isn't a sound anymore, but a resonance, a feeling, like a wind force. Apparently the human ear can take in specific sounds, but below 30 Hertz, the signal breaks up. Bass then becomes a felt and experienced phenomena rather than a heard phenomena. The effects of these sub tones on the human mind, form, sensibility and psyche have been researched for some time now.
What's your experience of these sound forms???
"Currently in the UK sound system scene you have sounds that use a massive amount of speakers and amplification: 600 watts, 18″ speakers in huge scoop bins mounted on top of each other and spread around the venue. And these are powered by massive custom built amps. The very essence of the scoop bin is to "push air", disperse sound. Many sounds totally rely on this sometimes overwhelming sound vibration, in which the sound is felt rather than heard. When I make music I strive to attain a combination of "felt" and "heard" bass tones, a combination of sub power and bass tone. A sound operator should be able to manipulate frequencies as much as possible, to explore as many bass tones and forms as possible."
Can I quote drum and bass front runner Goldie for a minute here???
"Standing in front of a speaker listening to dancehall reggae made me realise how real urban black music was. There I was one night, with my rum, in my sheepskin coat, sweating, and the bass was ripping through me. I remember walking out and just being sick everywhere! The rawness of the sound, those guys would just take music and fuck with it! With hardcore lyrics about Babylon, I got really turned onto music by those guys!" That is a powerful quote about Goldie's initiation into "bass culture."
Can you tell me about your initiation into sound system culture, or any intense experiences with bass dynamics???
"Let me tell you about our initiation in to sound system and our initiation into that world, which came through Jah Shaka. You check out a sound system like that, and the only word to be used is intense, with a bass vibration thrashing around. Now once you hear that, well, we decided we wanted that serious intensity too, for sure. I'm looking for that depth in my sound. ??Many years ago, when I first attended a Shaka dance, I didn't really know what to expect. I remember being in the hall as his sound was set up, taking it all in, the intense atmosphere. I didn't know what I was letting myself in for! Shaka started tuning up his set. The tweeters first, then the mid-range. All well. Then the bass rolled in, and Shaka just LIFTED it, real heavy. It hit my chest and I thought I wouldn't be able to breathe again. It was intense: The bass just TEARING it up. All of a sudden, this music made a lot more sense. After that ALL reggae made a lot more sense."
What of extreme experiences with bass on your sound system???
I remember hearing that sometimes when Boomshakalaka played out live, even if the bass cones blew, you just ran with it and let the music play, letting the new distortion just add to the vibe. ??"We always played our sound to the extreme. In the sound system background I come from, we don't use compressors or limiters to tame the sound or keep it safe. When we played we used ALL of our sound, we used to drive it hard. The importance was always the vibe and deep experience we were striving to create for our listeners. The bass would push into distortion, making the boxes actually start to vibrate like a drum, which in turn creates its own tones: Pure vibrations going on." ??Which bass sound, production and engineering has influenced you the most? ??"For sound system obviously Shaka: I've not heard any one achieve the depth and variation of bass tones he was able to achieve. For production, Scientist. He had an extraordinary ability to manipulate sounds. It must be said that King Tubby's was probably more subtle."
What is your motivation behind your obvious commitment to, and deep love of this music???
"When I make music, I make music with a message, and that runs very deep with me. I hope people pick up on this you know, because it is very important to me. This is what I feel. Reggae music is music of the heart, so it has to GET INTO your heart. You have to ask yourself, why are you checking out reggae? It's heart music, message music. Energy music. I feel this music that I play." ??????How would you analyse, or define why roots has a deeper more penetrating power than dancehall, and why does it seem to make a more enduring and lasting impression on people? ??"Well, the dancehall or bashment vibe doesn't really ask any questions of the listener, it doesn't demand anything from the listener. Roots music is compelling. Mentally there is a focus and certain seriousness, a depth present." ?? Thank you for your time, Russ Disciples.
by Pete Murder Tone
http://www.dubroom.org/articles/226.htm
The Disciples are indisputably key figures in the UK 'New School' Roots/Dub scene which emerged in the mid to late 80s. Starting out building rhythms in the bedroom they progressed to making dubplates and then full albums for Jah Shaka. Later they went on to put out their own releases and to run the Boomshackalacka soundsystem & magazine. Right now in '05 the Disciples are producing some of the toughest conscious sounds anywhere–with both new and established UK & JA singers and deejays. Initially they were a two-person crew, consisting of brothers Russ and Lol Bell-Brown. Lol has since moved on to pursue other stuff, but still retains close links to the scene. Current main man/producer Russ (aka Russ D/Russ Disciple) was kind enough to speak to Pete Murder Tone recently about the musical development of the Disciples over the years.
What made you want to start making your own reggae tunes, to make the transition from fan to music maker? How did you go about writing/building rhythms at that early stage? What gear were you using at this time?
I had picked up bass guitar when I was 15, but it wasn't for reggae, I never took it seriously but always had the bass guitar around, I got into reggae by the time I was 17 but it wasn't until much later that I got into making the music, when I was about 24 I started messing with couple of cassette decks, transforming dubs, things like `king tubby`s meets the rockers uptown` and `cultures –
peace truce` some others too, then I see in a magazine about these cheap 4 track recorders and drum machines so I bought a tascam 244 and a roland drumatix, to be honest the drumatix sounded rubbish to me but it was a starting point, almost all my early efforts were rebuilds of favorite rhythm tracks, a little later I got myself a better drum machine, a hammond dpm, it had individual outs and it sounded better, for fx I had a roland spring reverb box and an aria (dx1000 ?) digital delay….I started getting a little better at building the riddims and then my brother came in, he could play rhythm and lead guitar, and we'd share things like melodica and percussion, I had two cheap keyboards, some cheezy Casio with a 1 sec sampler, it must've been about 1bit in quality, it was crap, and a Yamaha s01 synth, also crap but at the time I didn't have money for anything better, still we did our best with these things, a little later still I did get a seck 12/8/2 mixer to use rather than the inbuilt mixer on the tascam 244…we started to hear about Shaka, we knew of him before, had some of his records but was never amongst the sound system scene, at that time it was very underground and mostly a black thing, anyways we heard some session tapes and the power and vibe that was on them gave us some inspiration so I tried to emulate it in our recordings…the roland spring had a whole heap of inputs and outputs and I was able to send the whole mix back through it, out of it and into a guitar amp that was mic`d up and sent back into the mix, heavily eq`d, and it gave it a crashing live sound system kinda sound, or at least that's how we heard it.
Understand your next step was pressing some dubplates which you eventually took to Jah Shaka. What happened when you met up with Shaka and he got to hear them?
As we started to get more into the heavy Shaka vibes we started making some heavier tunes, again still mostly versions of old tracks, but stuff like freedom sounds productions, prince allah / earl zero etc, and we tried twisting the b-line around to give it our own vibe…as time went on we started to get to know a few people, guys that worked in record shops and we played them our tracks, they said to take them to Shaka, I had got myself a dubplate cut with 4 different tracks, I wanted to hear what my tracks sounded like with all the clicks, crackles, hiss and pops of the records I loved, so we took that to Shaka who had an arts and craft culture shop in New Cross, we wasn't expecting anything, just maybe some guidance or opinion, Shaka said he wanted 4 cuts of each and anything else we had in similar style, he didn't seem to have any prejudice about us being white and making this music, he then said come to the next dance the following week, after that we was totally hooked.
Your first album for Shaka's label, "Deliverance", came out a little while later, in'87. It features mostly drumbox, bass and guitar with some keys and melodica on a couple of tracks and was recorded to 4-track. What changes in your production/writing had taken place by this stage?
Well that first album featured 3 of the tracks that was on that first dubplate we gave Shaka and it was all recorded in the manner I mentioned before, we didn't have any midi setup so other than programming the drum machine everything else was played all way thru…at that time it was still a hobby for us, it was amazing that Shaka put them out but we never really thought much else about it… I'm not really sure how it was received as a release but many of the tracks were mashing up in shaka dances! …. One other thing though, after seeing Shaka in session for the first time it was THE most inspirational and pivotal thing for me as far as making my music, from that point I totally understood what reggae was all about, and after that point I had no problem with coming up with original b-lines, the session had given me the vision, if that's the right word, to hear how my rhythms would sound on a sound system at x-amount of watts, I could hear it in my head so that even when I'm laying the b-line down at low volumes in my bedroom I could imagine it at Shaka.
The next Disciples album, "The Disciples Pt 1" (Jah Shaka), comes out in '89: here the playing, production, and drum programming certainly sound a good deal more accomplished than the last LP.  While retaining a raw feel the arrangements are noticeably more sophisticated and the whole record has a very ethereal/spiritual feel to it. There's a very interesting contrast here between more classic roots styles and the more relentless and hard-hitting tracks like  "Jah Man". That track especially, seemed to have had a big impact in the dance…
Well, when Shaka had said he wanted to release our first album I felt insecure with the production quality, so at the time I went to a local semi-pro studio, I ended up wasting my time and money because they new nothing about reggae and I was still in infancy where more professional recording equipment was concerned so I couldn't handle the studio's gear myself, after that experience I knew my only way forward was with my own studio, so after the first album I started upgrading the studio again, I bought a fostex m80 1/4″ 8 track, and the newly released alesis hr16 drum machine, that drum machine had a far superior sound than the hammond dpm, and to me it also suited a more `live` drum programming approach, so I made more effort with the programming, the rest of the instruments remained the same, but I guess we got better at playing and of course we were learning all the time…some of the tracks we originally did on the 4 track but I felt to rebuild them and make them sound better, I also borrowed a friend of a friends keyboard one afternoon to put some piano chops in rather than always guitar chops…its also possible I had got myself a digital reverb as well, I've never been bogged down in this thing of having to have springs and tape echo's to emulate old school JA dub, things can be done with digital gear and we were / are in a different era, so I always figured do things in our own way….
I don't think we had any specific vision or inspiration of what we was doing with the music other than it was being made to be played on Shaka`s sound so it had to be made suitably so, and we was attending enough of his dances at that time getting vibes and seeing the reaction to tunes. I don't read music and had no formal musical tuition, so everything is made up as we go along, I might have a vibe that ill want to do a steppers this time, or a one drop the next, and maybe ill hear some other tune and get an inspiration from that, sometimes after I build a tune ill wonder where I got the idea for such a melody or whatever, I don't know… jah works maybe!
The next year saw the release of your third LP "Disciples Pt 2: Addis Ababa" (Jah Shaka). It marks a big shift from the more trad roots styles of the first and second. What production/ compositional changes had u made by this point? You have said elsewhere that the more explicitly digital/machine-like direction taken by Shaka–following Dread and Fred–was a big influence. Why was that? Its been said that the impetus for a lot of the new UK roots productions at this point was the drying up of roots releases from JA (with the steady rise of digital dancehall/ragga). Given that, it might seem a bit strange that you turned to production methods that had a lot in common with the then current JA tunes, even though the UK digital roots ultimately sounded very different…
I was always looking to try to make better quality sounding music, in between the first and 2nd albums I had started looking into the midi thing, that, as said, was inspired by seeing Shaka in a studio in brixton that had a programming room with about 7 Yamaha dx7`s linked to a sequencer and two seck mixers, I thought the sound was tuff and the style of the riddim he was building was different, very similar to dread and fred, their tune warrior stance was very influential but I'd never seen their setup so it was that time with Shaka, that day I came straight home and started programming my hr16 to sound like a machine rather than like a live drummer, and there was something different about the style of the b-line, hard to define in words, maybe just more simple / strict, and of course making it with a keyboard bass gives it a next tone as well… I was inspired by the JA productions at the time, even though dancehall was the most prevalent style there was still nuff roots vibes as well, but earlier on I couldn't build that style because I didn't have the equipment, later I got a couple of sound modules, Casio vz8m and a roland u220, and I got myself a roland mc50 hardware sequencer and that's when I changed over to working strictly with midi. The scene was also moving fast and in different directions, so I just moved with it, JA music never remained static it always moved on either in style or production, like how Scientist redefined the sound of dub away from Tubby`s…. for me it was mixing the old school roots vibes with the JA/UK digi vibe, but we was still making just instrumental / dubs, and the JA digi style of riddim was made more for vocals, so we had to come with a slightly different style that could work on its own.
That record, "Addis Ababa", along with the late 80s productions of Shaka, Manasseh and Dread and Fred and co. seems to define the UK roots sound that was to take off in a much bigger way soon after with folks alike Alpha and Omega and the like.
Did you expect anything like that to happen? And how do you feel about that period now, looking back?
Well, A&O was there from that early time as well, but they were based way outside of London so maybe it seemed like they were later..i don't think any of us foresaw how the scene would go, Manasseh was on the radio, along with Joey Jay on kiss fm (pirate at those times) so it was good for the promotion of the music and scene, and the crowds really started to pick up in the dances, there were a lot of other artists / producers doing there thing on the scene as well, the music was fresh and it was exciting to many of the newer crowd,  and it had to move on from being entrenched in only the original roots music, and that's what we all did, maybe not even by desire but by the techniques and equipment we used…we all had a hard time from some of the longer term reggae cognoscenti, but we remained strong in what we was doing… for me I would have loved to have been making the music I'm making now back then, especially from the quality point of view, because the vibes back then was wicked, I'm not totally sure what to make of things now, really I just do what I please to do, everything in its time I suppose.
Ok so now we are up to the early 90s, you've done four LPs for Shaka. At this time you engage in a rush of activity: launching the BSL sound, u keep putting the BSL magazine out, and also releasing new tunes on your own label. The history of the BSL sound and magazine are pretty well documented, so tell us a bit about that period – focusing on the joys and trials of putting out records and running a label. You started off with what has become a bit of a signature tune: "Prowling Lion"?
Ah..the joys of putting out records !…well of course we had the 4 albums out thru Shaka but really we had no idea of the process of putting records out, the costs and such…at first `prowling lion` was going to be released by a friend of ours, Colin `fencebeater` Moore, that was in about 1991, he'd been in the business for a long time having had things to do with Blacka Dread`s Scom Label, but just thru things and time it never happened, I felt we couldn't keep relying on Shaka to release our music, he had plenty of other projects to deal with and I figured if we wanted to get somewhere in the business then we'd have to do it ourselves, so I spoke with Keith at Jah Tubby's cutting house, they offered all in manufacturing (cut / stamper / pressing and label) and it was at a price I thought I could handle, so I went forward with it…the hard part came when trying to figure out how to distribute and sell the record, I went to Dub Vendor with it and felt very intimidated because they were mainly dealing with JA productions and I thought they'd think our tune a piece of junk, so I quickly sorted out the receipt and left before they'd check it on their deck…embarrassment time !… anyways, we just went around a number of shops leaving copies, my brother and Colin Moore dropped copies at a few distributors, Jetstar, Fatshadow and so on, then one time he took me up to SRD (southern record dist.) the guy there didn't know anything about us, he took one copy and we never heard back, but over a few months I did over a 1000 copies just trodding around the shops and a few dealers in other parts of the country who were into our music…. then I went and released our 2nd tune (return to Addis Ababa / Africa Macka) Colin took me back to SRD and said to the guy that I did 1000 of prowling lion myself and the guy at SRD took on our tunes, they did about 500 copies or so and also took about 300 prowling lion at that time…when I first pressed it was 500 copies at a time but things started going good and I could press up 1500 straight away and even afford to go with 3 color labels… we did have problems with some of the reggae shops, trying to get money out of them but over a little time we sussed the ones to deal with and those not worth the effort…the scene was going good, sounds like Abashanti and Iration Steppa were mashing up the dances with my tunes, we were doing the same in our own dances, there was a good number of other producers going strong and the media was interested, everything was positive.
Here's a quote from you: "In the sound system background I come from we don't use compressors to tame the sound or keep it safe. When we played we used ALL of our sound we used to drive it hard" That must have been expensive at times? And can u clear up a bit of confusion:  I have seen people say that because 'the Disciples or Aba Shanti and so on say they don't use compression' u shouldn't compress your b-lines for sound system play. Is that really the case?
Ahmm, well there's two things to understand here, for sound system no one of us used compressors or limiters like most club / pa systems use to tame or protect their equipment….but for studio its a different thing, with my early studio I never had any compressors to use so it never came into the scheme of things, when I went digital really because you can make all notes play at the same volume its not totally necessary to compress, but of course higher notes don't always come out as strong as the lower notes, so later when I did get compressors (TLA 5052) I used to compress the bass very heavy, these days for me its all software compressors, I use UAD1 and TC Powercore and they have good compressors in them, although at the moment I put my bassline thru `Amplitude` amp simulator with no compressor, I like what its doing to the sound…getting back to the sound system / pa side of it, I've played on many club systems over the years, sometimes they've been very good if the system has been set up right and the club engineer knows what he's doing and what the club system is capable of, but some times you get club systems where the comp / limiter has been set so high that anytime a dynamic noise appears, which in the case of dj'ing as we do, can be set off by either the micman or some sound effect (siren) and the whole sound just closes up, no bottom end and no tops, it sounds awful and it has no dynamic or impact for the crowd.
Now, as a bit of an aside, have you been able to make a living from your many reggae related labours? If not what other stuff do you do to survive/provide?
Well, I just about make a living, I also sell sound system equipment for jts, but yes between releasing tunes on my own label, producing tunes for a few other labels, selling dubs to sounds and dj's and dj'ing myself I make my living…. with releasing records you have to be a bit wise on your budget for each release, at the moment we have very poor distribution in the uk so our sales are a lot less than those times during the early / mid 90`s, so its no good spending a whole heap of money on artists, musicians and fancy labels and sleeves if your sales aren't gonna bring in enough money to cover it, so I'm wise and with how I budget my costs I make money on every release, its not always big money but you have to keep releasing tunes, keep busy, that's the only way in this business.
The records that came out next, from about 93 to 96 or so — Resonations, Infinite Density of Dub and For Those Who Understand — are mostly very heavy, lots of steppers rhythms and the sound is very big. Where were you at writing and production wise? What was your studio looking like at this point?
Well, the studio was always changing, I couldn't spend as much money on studio gear because I was also paying for my sound system, so for a time I had 2 mixers (the Seck and a cheap 12/2 that I can't remember the make of now) linked together to give me more channels, I had some other fx, some art reverbs and I was using a small Boss rdd10 delay… the studio in early times was in my bedroom but by this time now I had built a small studio in the back garden so everything was done there, which was better because I could really thump it out, I had these big home made speakers, 12″ bass and piezo`s for the tops, it was like a shaka dance in there sometimes ! …and they were my main monitors for a time too…. from the production and influence point of view we had taken in vibes from house and techno, for my part I always wanted to try keep a roots feel rather than go too techno, I'm not sure what others heard in our music but for me the roots thing was important, my benchmark was if it could be played by shaka, too techno and it wouldn't, I felt I kept the roots there mostly, but I was also aware to take the music in to these other areas and so I became inventive with our use of sounds…. at the same time I think I also just produced straight ahead sound system dubs, well my tunes were being played by all the sounds, still are, so I must have got things right….by the time of `resonations` and `infinite density…` I had got myself a new mixer, Soundcraft studio 24 and some better modules, Roland jv1080 amongst them and a sampler, Akai s950, which I used mostly for drums and by the time of `Infinite Density…` I think I had got some Alesis monitor ones as my main speakers and I had just got soundscape hard disc recording system, that whole album (infinite density) was the first project I worked on when I got soundscape and I had to do the whole album in just 2 weeks, the year it came out there was supposed to be a joint album between me and Rootsman (Third eye music) but he had another project he wanted to deal with, so I phoned Dubhead and asked if they'd be interested in releasing my album, because at that time I didn't have the funds for an album myself, they said yes but because of the time of year (mid June) they'd need it within two weeks to get things going on it for September release, so I had an idea I'd use a lot of samples and loops as the foundation of the rhythms, that album is full bits off old obscure tracks, it was a lot of work, and I'd say it was a little rushed, but there were some good ideas, I managed to finish it in the two weeks and it sold fairly well on its release, sometimes you just gotta go with the flow!
1997 seems to be a bit of turning point: you cease operating your sound and start putting out what have been termed more orthodox reggae tunes on a new imprint "Backyard Movements" Certainly the focus now is on more vocal material. Why the change? When did you start voicing tunes with singers and deejays? Was this a technical challenge?
The turning point had come from about `96, maybe even in my mind a little earlier, my background was reggae, I had listened to it since `78, when we first started the sound system things were much rootsier, we had our vision that if things took off for us we'd maybe be checking JA producers for tunes and dubs, but the whole uk dub scene came up big and took over the vibe, we ran with it, it was good times, but I felt it started to get taken over with all the techno biz, we had labels like Zipdog, Megadog, Cup of tea etc coming to us for tunes but they always wanted something more leftfield, well I went with it for a while but when some started saying `can you put house hihat on` or `can you put a break beat in there` I started to feel it was going to far away from the roots, it built up over a period and I started getting a bit vex with it all, also even in our own scene the whole `dub steppers` thing had taken over and to me that was never what it was all about, so I rebelled, for I time even, and this may sound odd, I just experimented in my studio, started building world influenced stuff, drum and bass, I think I actually learnt a lot doing this, but it wasn't what was in my heart, I like doing it but I never `felt` it, so I figured I'd just try make orthodox reggae, the music I loved… I made some good money on `for those who understand` and it was with that that I invested in the soundscape system, so things was much better for recording vocals, I also got a halfway decent mic (AKG 3000)… through circumstance I linked with the singer `High Priest`, he was actually an old time `Coxsone` (Lloydie) micman by the name of Pebbles, we did the tune `Judgement Seat` and I released it, there was something else I had in my mind too, there was a writer for Black Echoes who used to really diss our dub stuff and our scene, so I thought I'd try and prove something, that we could make tunes capable of being acceptable to the reggae scene, I sent him a white label test press with just title and name of artist, he gave it a good review, so this also gave me the strength to carry on… it too was also a challenge to produce this kind of music, to find the right sounds and structure the tunes to fit that style, its different than our dub stuff but I felt more strength doing it… it took me a long while to get over my dissatisfaction with the whole dub steppers thing, now after so many years I got no problem with it, its just another facet of the music and has its place, but I don't have a big vibe for building it now.
You also linked up with Bertram Brown and company in this period. How did that come about? You talked earlier about your love for the Freedom Sounds records of the 70s and their influence as you started to build tracks. That must have been exiting?
The Bertram Brown link was thru High Priest around `98 / `99, he brought him down to the studio, Bertram wanted to distribute `Judgement Seat` but the stampers were mashed when the pressing plant I used went bust, this has happened with a lot of my stampers! so Bertram asked if he could re-issue it on his label for JA and USA so I agreed and I did an updated version and we had our youth singer Danny Vibes voice it as well, to be honest there's runnin's that happen with Bertram, no disrespect, I knew how it would go but neither myself or Danny received anything from that release, at the time I figured it would maybe help with the profile so we just went with it… Bertram did ask me for other material, but I wasn't gonna keep giving away tracks for nothing so nothing went on, I did see him a couple years back in New York, I was staying in a flat with Congo Shanti Roy, Bertram was trying to get something going between us all…well…hmm…it nah `appen !…with me I'm not into this `star struck` biz, its of course good to meet these guys who are our heroes with this music, but they're just guys same way, some turn out to be personality rejects (no reference to Bertram btw) so its best just to leave it to the music to do the talking, although we also did an album with Prince Allah, another Freedom Sounds artist, and he's one of the most uplifting people I've ever met, full of good vibes!
Previously you argued the case for UK producers to step up and compete technically with the quality of JA releases and other "street sounds" like garage and drum and bass which compete for the same group of potential new fans. Where does that leave producers just starting out? Is there still a place for rough and ready bedroom productions now?
Well, I suppose if someone looks at my career and the way it started then it should be good enough for anyone, to an extent yes that's fine, but in those early times I didn't really have the control, Shaka released our music and we where happy in his hands, after that it didn't really matter for us, we just had to go do our thing, but with Shaka that was also at a time where the scene was very underground, later when it all took off I felt and noticed that our music had to stand up to other musical genre's otherwise it was going to fall back again… our scene was very strong in Germany for instance, people there where buying every uk dub production and at first everything was great because they were learning about it, but after a while it started to be that they could hear that much of the uk dub stuff was either very poor tunes, with no real vibe, or very poorly produced and it affected the business, Germany went off the uk dub scene and into dancehall….so my statement was given because of this, still, everyone has to start somewhere, maybe I still feel though that new producers should be wary of releasing early productions if they are unsure of their quality…. still, I remember Steve Vibronics getting in touch with me when he first started, he sent me some of his first productions, they were very raw and not totally thought out but I heard something in there and gave him some advice and told him to keep at it, the next tape he sent was better and it kept going on that way, now he's up there amongst the best of UK dub / roots producers, its just that things can take time, perseverance and vision of what your doing.
And finally, what does the immediate future hold for The Disciples?
Allright now I'm just continuing with my works, I have a good number of vocals stored up for release during this year, tunes with Bunny Lie Lie, Lutan Fyah, Ras Macbean, Christine Miller, Kenny Knots and so on, as well as production work for others, there's likely some remix work to do as well… I gotta work on furthering promotion and distribution and am looking into the mp3 download thing… there's still a lot of interest in our dub works, especially the older stuff, its ok but I actually want people to also check what I'm doing now, and as I said I don't really have a big vibe for building new dub tunes, but we'll see !
Cheers Russ![:]