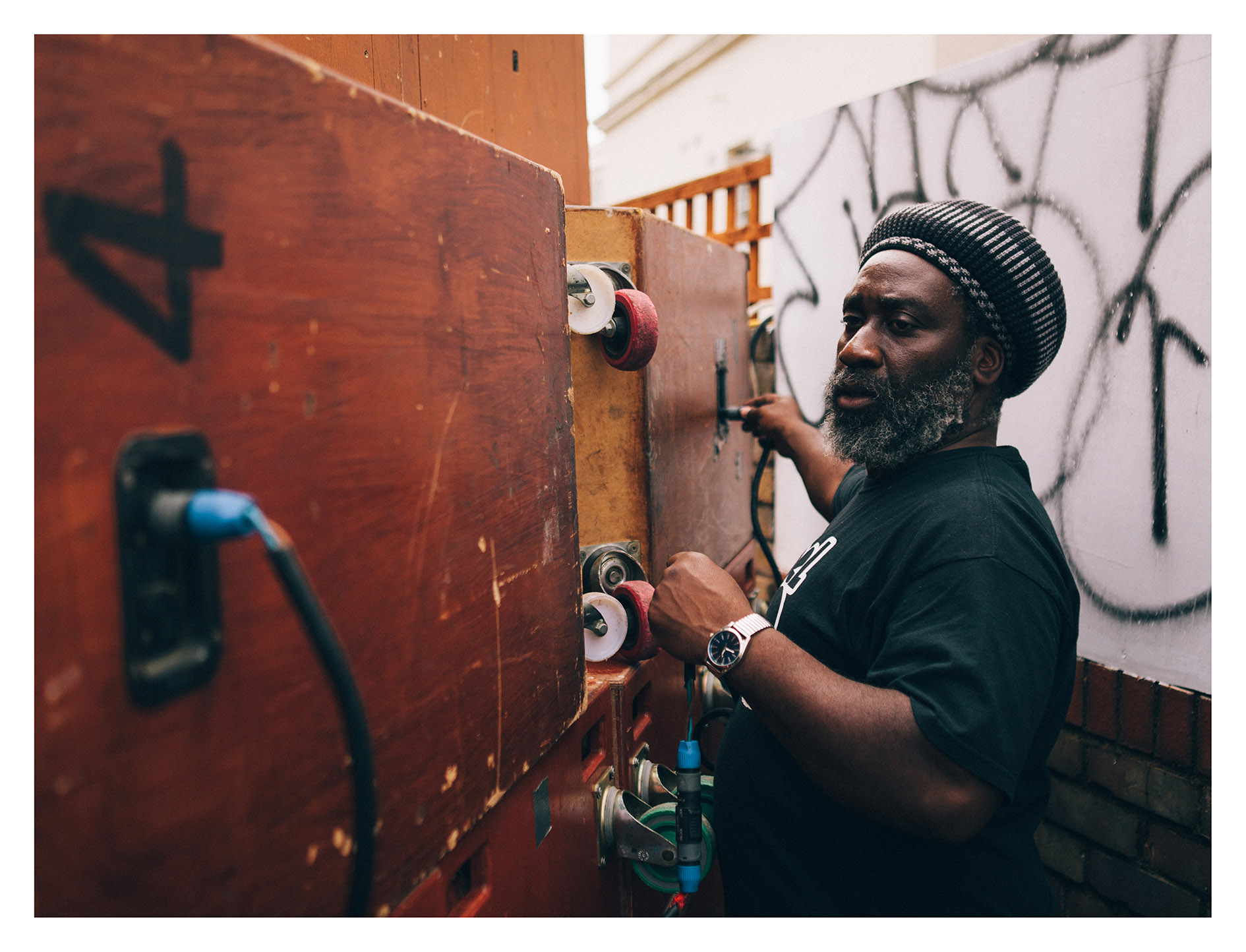 Interview with Channel One Sound System
[:en]
Channel One Sound System
is one of the UK's oldest and best touring sound systems.
In 1979,
Mikey Dread
and his brother
Jah T
began to play at blues parties and local dances having spent many years under the watchful eye of their father, owner operator of the famous Admiral Bailey Sound. They chose the name Channel One in homage to the legendary Jamaican record label of the same name whose tunes featured heavily in those early selections. Inspired by Bob Marley's belief in uniting people through reggae music, Mikey was keen to introduce new people to dub reggae music and started touring around universities, where he secured a solid fan base.
Channel One's mission is to break down barriers via reggae music, they have achieved this by playing new venues, new festivals and different countries, taking their unique sound to Australia, New Zealand, Israel, Turkey and all over Europe. Channel One also celebrated 30 consecutive years at the
Notting Hill Carnival
making them one of the must see soundsystems for attendees to Europes biggest street festival.
2009 saw Channel One embark on their hugely successful national Dub to Dubstep Tour, with financial backing from the Arts Council, via Blackroutes and support from Punch and Vagabondz. Channel One took their sound system to 6 cities, touring alongside Kromestar, RSD and Jazzsteppa, showcasing their dub reggae sound system as part of the tangible heritage behind dubstep.
In 2011, Channel One have been on another tour, this time Dub to Jungle alongside Congo Natty, Tenor Fly, Congo Dubz, Nanci and Phoebe and Klose One.
And finally in 2012 Channel One went on a Jamaica Party tour, celebrating Jamaica's 50th year of independence – alongside Coki, Mala, Shy FX, The Bug and Flowdan, Top Cat, The Heatwave, General Roots, RoxXxan, Rtkal and Screama. Finally Channel One have toured with the legendary Twinkle Brothers, a concept put together by Mikey Dread. These tours have been a great way for Channel One to reach new audiences.
Channel One Sound System were the Red Bull Culture Clash winners in November 2010, beating Skream and Benga, Metalheadz and Soul Jazz.
Channel One competed in the Culture Clash in 2012 at Wembley Arena, against Major Lazer (with Usher and Rita Ora), Boy Better Know and Annie Mac Presents. Channel One are the first reggae sound system to have taken their sound to Wembley Arena.
Channel One Sound Systems hand built custom speaker stacks provide a rich heavyweight bass sound which compliments their tight selection of old and new dub reggae classics, all played from a single vinyl deck and accented with echos and sirens. MC Ras Kayleb compliments Mikeys deep draws with Rastafarian chants and song.
By Georgie Partington 1 Sep 2018
https://www.nitelifeonline.com/words/interview-mikey-dread-channel-one-sound-system/
Channel One Sound System has been a reputable institution for nearly four decades, trailblazing the spirit of reggae from all four corners of the globe with a clear ideology of breaking down barriers via its rich, heavyweight sound blasted from hand-built custom speaker stacks.
Originally brought over to the UK as Admiral Bailey Sound by veteran selector Mikey Dread's father in the 1950s, the sound system has passed down a generation to Mikey's older brother Jah T, with Mikey coming on board in 1979.
'I've been exposed to sound systems from a very young age', Mikey explains, 'I grew up with them in the house. It's like a jumper, it became a hand-me-down. I took it on, but I took it to another level.'
Blasting bone-rattling bass from its monstrous system of speakers and amps ever since, Mikey renamed the sound system as a homage to the legendary Jamaican record label, whose tunes featured heavily in their early selections. Today, Channel One Sound System consists of Mikey and MC Ras Kayleh, and is regarded as one of the best in the world alongside the likes of Jah Shaka, Sir Coxsone and Aba Shanti-I, permeating generations with a bass-centric musical ideology that has influenced popular genres such as jungle, garage, grime and dubstep. …permeating generations with a bass-centric musical ideology that has influenced popular genres such as jungle, garage, grime and dubstep.
'A lot of these genres of music wouldn't be where they are if it wasn't for roots reggae music' explains Mikey. 'A lot of these guys who mix up jungle and hip hop or whatever come from reggae, but as far as they're concerned there is no money in it. So they go over to the mainstream and see if they can make four, five, ten grand on a tune. But it's not in our belly, we don't want to do something that's not in our hearts, so we stick to what we know and do our best. Sooner or later, maybe not in my lifetime, reggae and roots music might move to number one, who knows? We'll have to just keep on tapping at the door.'
As we are all aware, popular music styles can be fleeting, yet Channel One have been operating a clear devotion to their roots for almost 40 years, a true testament to the enduring power of reggae music.
'Reggae is resilient because of its words, sound and power. A lot of kids these days want to know where music comes from because they listen to the words. With reggae it's not fighting words, it's not tension words, it's words about Africa and Jamaica, words about the street, the community. It's not words about killing and doing bad things to one another. When you get people into that positive frame of mind, they want to come to reggae dances all the time.'
As well as being unfazed by passing trends, Channel One have also tirelessly championed the Rastafarian traditions that serve as reggae's unifying creed. People go to Channel One Sound System dances because of the music they play; it is steeped in spiritual, feel-good vibes. The lyrics contain themes of peace, unity and happiness and Channel One Sound System are conscious in their selections to steer well clear of the misogynist and homophobic lyrics sometimes associated with modern Jamaican music and in particular dancehall. Channel One Sound System are conscious in their selections to steer well clear of the misogynist and homophobic lyrics sometimes associated with modern Jamaican music and in particular dancehall
'You can go to a reggae dance by yourself. If you have problems during the week, at work or whatever, you can come to a sound system session on a Friday or Saturday night and it can just blow your mind and allow you to meditate in your own little space. A lot of people used to tell us when they came to our monthly sessions at Village Underground that they love coming to our sessions to switch off from their problems and just enjoy the music. Music does take you away from your problems, especially reggae music.'
Channel One's ability to bring people to their dance and keep them there is a trait that has been mastered over decades. Their commitment to promoting a positive message and uniting people through their love of reggae is evident in their involvement with London's biggest cultural event, Notting Hill Carnival. Having played there for 36 consecutive years, Channel One have impressively occupied the same corner of Westbourne Park Road and Leamington Road Villas for the past 22. However, this tradition came under threat by Westminster Council a few years ago when Channel One Sound System – along with Killawatt and Sir Lloyd – were told with little notice that they would need to apply for a premise license rather than their usual temporary event notice. A petition to keep Channel One Sound System at Notting Hill Carnival garnered over 8,500 signatures, and luckily all three sound systems were granted a licence – although the cost of the pricier documents and the barrister hired to ensure they would get it left Mikey out of pocket.
'They've realised that Carnival is a commodity to England and to the UK' explains Mikey, 'I think the future is looking bright, but don't get me wrong, it's still a fight. Up until the government says we have to shut it down, we'll just have to see what happens. It would have to be something drastic for us to stop. People come to our Channel One corner year after year and stay until 7pm when we shut down', explains Mikey, 'We are obviously doing something right. People have grown up with Channel One Sound System.'
As Mikey explains, there is more to sound system culture than just the music, it's also about the experiences it provides as well as staying true to itself and its culture. The reggae scene is doing well for itself currently, despite it not getting a mention on large organisations such as the BBC, ITV or the likes. Reggae music is always there and it has a huge following in the UK, especially here in Bristol. I asked Mikey why sound system music isn't prominent in mainstream music today, considering that it's so popular. Reggae in the mainstream just doesn't happen?
'It's not popular as we don't control the big companies' Mikey explains. 'Look at things like X Factor, they don't ever sing reggae music. Reggae in the mainstream just doesn't happen. Now and again you might see one or two programmes about sound systems on the TV, but other than that you have to source it on YouTube and things like that, which is wrong really. Reggae should be in the mainstream, it's part of our British culture now. There are young kids coming to reggae dances and wanting to listen to and build their own sound systems' Mikey continues. 'You're getting kids with money in their pockets wanting to build sound systems, not just the ones that come from down trodden cities in London or wherever. That's why sound systems are still important – they're teaching people from all kinds of backgrounds what we've known for years.That's why sound systems are still important – they're teaching people from all kinds of backgrounds what we've known for years.'
Staying true to the musical spirit of his forebearers as well as the traditions that define sound system culture, Mikey follows a strict DIY approach to his set up. Nowadays, he says, people are happy to go and buy pre-made systems from a shop, whereas Channel One continue to modify and maintain their own sound system by hand. 'We've always built our own system and that is why Channel One is the way it is – it stands out from the rest. If you want to do it properly, it's just like a being mechanic, if you were an apprentice you would start from the bottom and you would start building your own stuff, it's as simple as that. I know times have changed now and anyone can go on the internet and buy this and that, though as Channel One we still make our own stuff by hand.' A true master of his trade, Mikey has had the pleasure of listening to reggae and dub for decades. He's also noticed a change in the way music is made and distributed by some artists, with more and more people taking to the internet to promote themselves.
'You get all these people making dubs in their backyard and kitchen now, or in their bloody toilet – all you have to do is go on your phone to make a dub' Mikey says, laughing. 'Whether it's any good or not is a different thing. People making music nowadays make it in the morning and then are playing it in the afternoon.
People making music nowadays make it in the morning and then are playing it in the afternoon…'When I get a tune or somebody gives me a tune I make sure it sounds good first, for a start, and then I make sure I give it a certain amount of time to mature on the sound system. Now it seems that people have to try and make a tune and put it out within the day, because as far as your ears are concerned, it's a good tune. That's not really progressive and that's not how you progress reggae music, you're just making money.'
As we're all too painfully aware, grassroots music venues, particularly in Bristol and London, are having a hard time staying open, while festivals appear to be flourishing. Fortunately, it seems like the number of traditional sound system groups being asked to play at festivals is also on the rise. Having already played a handful of festivals this summer, Mikey Dread and MC Ras Kayleh will be also making an appearance at The Downs Bristol. I asked Mikey if he thinks festivals are the future for the more underground styles of music like reggae.
'Yes, because they give it an outlet, especially in the summer time' says Mikey. 'When you have good weather like this it's a good outlet for all kinds of music, but especially roots and reggae music. You can go to a park or a festival, especially Notting Hill Carnival, which is free, and have a chance to listen to reggae and roots all day.'
'You can expect roots and reggae music from foundation to old school, right up to the new dubs. Channel One has some good new stuff that we are working on at the moment, hopefully we can get the tunes out by the time The Downs festival comes along. We've been playing in Bristol since the 80s when we used to come and play at St Pauls and Easton. Older heads will remember a venue called Ventures, a big venue we used to come and play at. Bristol is beautiful, it's part of the reggae music map. The most important thing I would like to say is that everybody needs to support reggae music and help keep it going – particularly sound systems because they're a means to listen to reggae music properly and they bring everyone together.'
By Ronan Martin    02 Mar 2015
https://www.theskinny.co.uk/clubs/interviews/channel-one-sound-system
Founded by selector Mikey Dread and his brother Trevor, Channel One Sound System have operated with clear devotion to their roots for over 35 years – a true testament to the enduring power of Jamaican music. "I think there's a lasting vibe", Mikey agrees, when asked about the resilience of roots reggae and its influence across the globe. "No matter how you try – with all these other forms of music coming along – you still can't push reggae music down."    This buoyancy was evident in 2010 when Channel One was invited to contest the Red Bull Sound Clash in London. Pitted against contemporary bass music figures such as Skream, Benga and Goldie's Metalheadz, Mikey and long-serving MC partner Ras Kayleb's dedication to classic dub reggae sounds shone through and their victory confirmed for them the potency of their rich musical heritage in the face of a challenge from newer forms."They invented dubstep to try and take over reggae music", Dread states with firm conviction. "That's how I see it. They tried to take over reggae music and basically kill reggae music with this dubstep thing and they couldn't do it. "The more they tried to push dubstep, the more reggae music fought back and killed them, until it is no more. So, which is the true form of music? It's reggae music and you can't beat that. Dubstep never had a foundation – never did and never will. Reggae music, our type of music, will always have a foundation; a base line to grow from. That is why reggae music will be here for the longest time, even after I've gone."
Whenever that time comes – when Mikey and Channel One depart from the landscape – the British reggae scene will certainly have lost a passionate and seasoned proponent. Dread has devoted his life to spreading the sound system culture which he and so many grew up with in London. "It was the family trade, really", he explains. "Just like anything else, it gets passed down. Dad had it and my big brother had it, so it got passed down to me. You just carry on what your old man started many, many moons ago. This music has always been around – since I started walking."
From those early days of familial customs and sound system parties in the neighbourhood, Mikey has stayed true not only to the musical spirit of his forebears but also to the traditions which define sound system culture – including a strict DIY approach to setup. Nowadays, he says, people are happy to go and pick things up from shelves in a shop, whereas Channel One continues to modify and maintain their own system. "The whole idea is to build things with your hands; it's like a trade. Like anything else, every week you're learning something new.
"I've been doing it now for 40 odd years but it's not like I know everything. There's always something new to learn. It's like building a house. You never stop; you're always doing bits and pieces to the equipment but the main thing is getting it over to the people and keeping in contact with the people. You can't get too big-headed about things. You could have the biggest sound system in the world but if the people don't come to your dance, then it's no good."
Channel One's ability to bring people to their dance – and keep them dancing – is a trait which has been honed over decades and is thanks, in no small part, to Mikey's experiences travelling to Jamaica in the 80s. He used to go there to cut dubplates at the famous Channel One studio on Maxfield Avenue, later naming his own venture in its honour. "There were a lot of sound systems from that time going backwards and forwards to Jamaica and we were no different. That's how you do your homework. Different cultures and different countries came and started playing sound systems from that time and it progressed into what it is now."
Alongside Mikey, Ras Kayleb has been a part of the sound for 20 years as of 2015, and his commanding vocal presence is as intrinsic a factor as anything else. "A sound system will always need a mic man", says Mikey. "That is a key element of sound system culture. You always need a mic man to either introduce the music, or MC to the music or tell the people what the music is."
The chemistry between Mikey and Kayleb works with a similar dynamic to that which defined the early days of hip hop, when DJs and MCs worked in tandem to move the crowd, before rappers came to dominate and the DJ was pushed into the background. The notion of sharing musical knowledge and exposing artists to a wider audience is also a refreshing stance in an age when DJ culture is so often characterised by the use of 'secret weapons' or snobbishness around keeping things 'underground'.That desire to spread the music is a key element of reggae culture, says Dread. "A lot of people will go to a reggae dance and they don't know what is being played. But if you have an MC there, he will tell you this is from a certain artist – Dennis Brown or Gregory Issacs or whoever. That lets you know the voice. So, if it's an artist that you don't really know, then people will recognise it again somewhere along the line."
Another parallel with early hip hop music is the desire to maintain a message which is ultimately positive in tone. As was the case with the emergence of gangster rap and its offshoots in the US, many of the modern forms which borrow heavily from reggae have not always echoed the lyrical themes of peace and unity present in earlier work. Whether through aggressive homophobia, crass misogyny or a generally violent attitude, some of these new scenes depart radically from reggae and its central messages. "We're keeping the music fresh and keeping it clean", says Mikey. "We're not into the dancehall or things like that, which is about your woman, or your this or your that.
"We're a Rasta sound system and we keep our lyrics clean as much as we can. That's the whole idea and that just spreads to other cultures. When they see what you're doing – and that you don't have to be swearing on the microphone or whatever – then more people want to get into our genre of music."
This commitment to promoting positive vibes and bringing people together has perhaps been most evident in Channel One's involvement with London's Notting Hill Carnival for the past three decades – a tradition which was threatened last year when Westminster Council tried to have them moved away from the corner they have worked hard to make their own. Luckily, with the help of an online petition which garnered thousands of signatures, the council reversed their decision – much to Mikey's relief. "The Channel One Sound System, as everybody says, is one of the cornerstones of Notting Hill because we've been there 32 years. Why stop something when nothing has gone wrong? We've been there, year in and year out, playing the same music. We were bringing people from all over the world into Notting Hill and bringing a good spirit to the corner."
For Mikey, who has taken the sound system all around the world – "from Brazil to Australia, to India, New Zealand and Asia" – their corner at carnival provides a meeting place for likeminded international visitors to meet up and see how Channel One operate on their own patch.
Asked if he sees a long-term future in performing and touring the system around the world, Dread explains that he prefers to take things one year at a time. "Who knows? One day I might turn round and say 'I've had enough; I think I've done my bit and I can hang up my boots.' But not at the moment. "I've still got my strength, my energy and I've still got my health. As long as the reggae music is there, we'll keep going."[:]