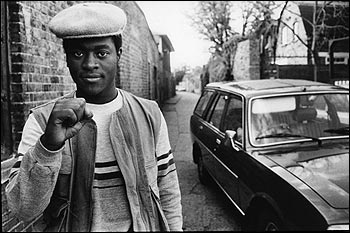 Interview with PAPA LEVI


http://www.microphonic.biz/dir/djs/dj-papalevi.html
Real Name: Phillip Williams 
Born: unknown 
Place of Birth: London, England
Papa Levi originally rose to fame on south London's Saxon sound system in the early 80s. His committed and uncompromising stance has, perhaps, denied him the kind of mainstream success that his talent deserves. As the premier UK MCs of the period he was notable for a number of firsts: he was the first from the Saxon posse to make a record – "Mi God Mi King" (for Barry Boom), the first UK MC to have a number 1 record in Jamaica when the same record was released by Taxi Records – and the first to sign a major recording contract – with Island Records. However, while others reaped the subsidiary benefits of these achievements,Papa Levi never moved from the Saxon sound system. In his live performances, he dominated the proceedings and little was lost in the transfer to vinyl, as demonstrated on "Mi God Mi King", when he dropped into the "fast style" at the end of the record, to shattering effect. The rest of the decade saw him notching up some notable performances in both Kingston and New York with Saxon on tour. The 90s have neither seen nor heard much fromPapa Levi, but judging by his past performances the fireworks will start again when he returns to the studio.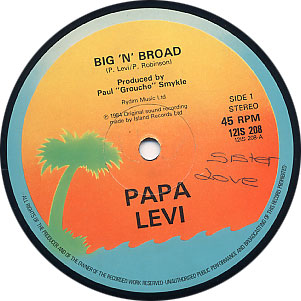 https://uncarved.org/dub/papalevi.html
"Yeah… In smoking sensimiella you gotta give thanks and praise unto the almighty Lord God Jehovia… do it Jah… MURDER!"
Maxi Priest and Paul "Barry Boom" Robinson produced Philip Levi's "Mi God Mi King"; the first vinyl outing for a member of the troupe of Saxon MCs (more about them soon).
The tune originally came out on a Bad Breed 7″ in 1984 and stormed up the reggae charts, hitting the number one spot in February. The reason for its success was that it was the first bit of vinyl to capture the "fast chat" style which had dominated Saxon and other soundsystems for the previous year, if not longer.
"…Mi God, Mi King
Him name Jah-ov-yah
Him inspire me to be a mike chatter
Mi mass wid di mike, round the amplifier
Mi fling way di slackness, cause now a culture
The conscious lyrics yuh a go hear me utter…
So if you are an adult or a teenager,
Seh every day you wake up you've read a chapter…"
UK Soundsystems of the time looked to JA for inspiration and Ranking Joe's rapid fire delivery on yard tapes had caught on big time. But the Saxon MCs twisted the style to suit local conditions, so Levi's debut combines righteousness and ganja smoking with couplets such as:
"…Sweetest singer a Sugar Minott
Maddest comedian is Kenny Everett
Dracula turn inna vampire bat
But when he see sun he can't take that…"
It's this localism, combined with skillful delivery and wicked reworkings of old riddims ("Heavenless" in this case) which set the pace for UK deejay records for the next few years, and indeed to this day.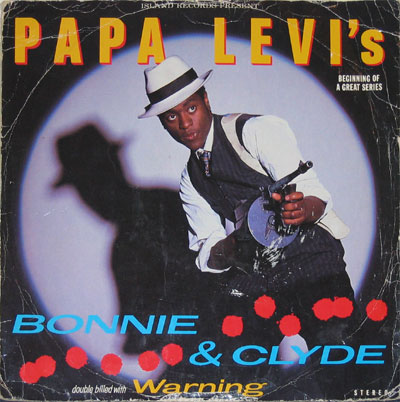 When the Bad Breed pressing sold out, the tune was repressed on Level Vibes as a 12″. In fact this was a Maxi Priest/ Papa Levi double header, with Maxi taking the first cut on each side, Levi following with a deejay version and then the dub finishing up.
I can't begin to describe how well all this works – Maxi's "Sensi" is one of the best UK roots tunes I've heard with its proper raw production (cruelly polished up on his 1st LP) – following it with "Mi God Mi King" doubles the impact – Levi's ability to cram more words into a line mean that it actually feels like the riddim is pitched up. It isn't. His break-out into double speed vocals half way through the track provide the kind of intensity also seen in jungle with its beats going twice the speed of the bassline.
"…Living in babylon as a black man
Well all me face is racialism
When me weak they say that me strong
When me right they say that me wrong…"
The flipside of the 12″, with Maxi's "Love in the Ghetto" coupled with Levi's "Mi Deh Ina Mi Yard" is perhaps even better. Maxi haunting vocals making an appearance in the background of Levi's ominous chat about the Brixton riots… Veteran reggae journalist Penny Reel remembers the demand for the song at the time meaning that all the available record presses in London were running full pelt, 24 hours a day to satisfy demand. Indeed "Mi God Mi King" was so successful that it was snapped up by Sly & Robbie in JA, who released it on their own Taxi label. Levi then made history once again when the tune became the first by a UK deejay to reach number one in the JA charts. Imagine the feelings of elation that must have unleashed in the reggae community in the UK and London, who had looked to Jamaica for inspiration since the very beginning…
"…True me no check for politician
No care who win the election
Pon the mike me please everyone
Flashing down style and fashion"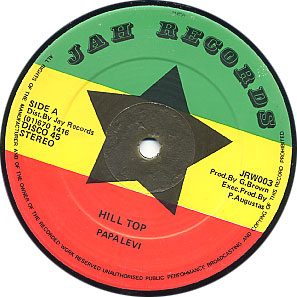 Riding the crest of a wave, Levi then became the first Saxon MC to sign a deal with a major label in the form of Island Records. Island are mainly associated with "album-ised" 70s JA roots like Marley and Burning Spear (as well as worthies like LKJ) but it also seems that they had their fingers on the pulse of homegrown talent.
Certainly Levi's releases on Island are every bit as good as those on indies and the talent is definitely all there in the form of producer Paul "Groucho" Smykle, Paul Robinson continuing with drum duties and George Oban on bass & keyboards. Oban deserves a special "Uncarved gold medal" for going the distance with Aswad, UK fast chat, On-U Sound and even the Red Crayola.
"Bonnie and Clyde were two good looking people
But wicked and evil mister, that's for sure
Entered a shop with a 30inch revolver (?)
They stole every dollar then they walked through the door
Two country folk, man, they craved for the city
Because they wanted money in our society
Lived very fast, they made a lot of money
But their life was soon to end in misery…"
Bonnie & Clyde came out towards the end of 1984, the full colour cover and Levi singing some of the verses suggests a serious push towards the pop charts to my mind. Lyrically this is familiar reggae territory with an ambiguous take on rude boy gangsterism – both glamourised and condemned in the same tune. Musically this is as tight as any JA tune you can mention from the period – it's fantastically accessible without losing its edge. Warm bass, crisp drums and a brilliant cascading synth line. TUNE! Warning on the flip is a re-rub of Michigan and Smiley's Diseases, but concerning herpes rather than the polomylitis etc of the original cut. It fits in well with this post about reggae and sexual health. Levi focuses on monogamy rather than safe sex and there is a bit of an undercurrent of misogyny here with women presented as dangerous seducing harbingers with short skirts. But it is only really an undercurrent to what is essentially a light hearted tune about a serious issue.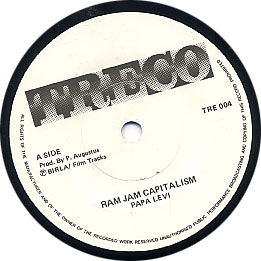 Big 'n' Broad followed shortly afterwards and was a return to more familiar soundsystem rhymes and attitude. The tune is about Levi's lyrical dexterity and his career as an MC with Saxon Studio International. I'm assuming a good few people have already heard this because it's on the Lyric Maker mix, but the 12″ also includes an extended instrumental section which we left out. A classic, anyway.
84-tion on the flip goes even further back in time – to Levi's childhood!
"Well in the school I used to go, I used to get detention
Well in the school I used to go, I used to get detention
The teacher would shout 'Williams! Shut up and pay attention.'
If anything go missing I would be under suspicion
The headmaster was giving me a lot of aggravation
When I-man school report would read 'Phillip have no ambition.'
To carry on like this I would never have an occupation
They'd tell my parents I was headed in the wrong direction
Mamma asked 'Why you so bad?' me never have no explanation
[…]
I never knew that soundsystem would be my destination
But through the mic I built myself a massive reputation
Seh english and jamaican MCs give me inspiration
Seh Levi and the Colonel are the sweetest combination

Saxon MCs are the best – for us there is no opposition
Lyrics in my brain is worse than nuclear ammunition […]"
The backing track for this is minimal drum and bass which allows the lyrics to soak through you – the title comes from the fact that very line in the song ends in "tion"! Trouble in Africa marks another landmark in the development of cockney chat. After all the admiration both ways, this was a real marriage of the islands of GB and JA: Levi on vocals, backed by Sly and Robbie. This 3 tracker came out in 1985 on Island's Mango sublabel, for reaons unclear to me. The title track is some serious conscious lyrics over a great version of the stalag riddim.
Riot in Birmingham is sheer rapid-fire "reality" bizness over Sly & Robbie's "Tickle Me" riddim (which warrants a future post of its very own). Levi's lyrics outshine virtually everything that the anarchopunk scene was producing at the same time, its analysis is bang on and covers everything from class, police harassment to economics in terms of the black market, benefits and the huge spending drive on nuclear weapons. But of course all of that is negated for the spikey tops because Levi wasn't a punk and the record came out on a major label…
"Well I-man Papa Levi, Island news reporter and writer
[chorus]Riot inna Birmingham – shop get bruk up
Riot inna Birmingham – shop get bruk up
Burn up burn up house burn up car burn up van burn up truck
Burn up burn up shop burn up car burn up van burn up truck
Well down in a Handsworth the living is a rough
Fi the poor man it hard(?) and for the poor man it tough
Seh social security- that's not enough
Seh no jobs about – youth get dangerous
How long can the govt manhangle us
Them not see the situation serious
Problems we face are various
Police can stop a man just to suss
If you walk pon street you wan' be well cautious
Police them always suspicious
If you drive big car them get envious
Not believe poor people can be ambitious
We come last and them come first
But the system is getting very monotonous

Future fi de youth don' look marvelous
Even if you're born as a true genius
From you're living in the ghetto you have no status
If your complexion dark that make it even worse
This lyric dedicated to all the conscious
Want everybody join in pon the chorus
[chorus]
The reason for it is plain to see
I blame it on the ting called poverty
Poor people are the pillars of society
But don't get not respect those in authority
Me no need the rich but the rich need me […]"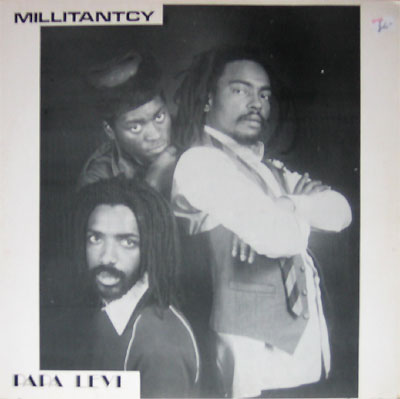 Dear Pastor is the flipside tune, in which Home T4 are given questionable life coaching by "The Right Reverend Father Papa Levi". This is a kind of throwaway tune, quite funny in a "sexual farce" kind of way and a nice contrast with the seriousness of the a-side. Home T was a vocal trio, iirc, who were a huge deal for a while – collaborating with Shabba and Cocoa Tea on tunes like Pirate's Anthem (which was the first tune played on Kiss when it went legal!). I seem to remember reading somewhere that HomeT-4 was some kind of supergroup also incorporating Cocoa T, but I could be wrong about that.
But enough spotterism. What infuriates and amazes me is that these three 12″ have zero 2nd hand value in London, which means you can often pick them up for a couple of quid – scant recognition for their actual quality. Clearly Island didn't quite know what to do with Levi, perhaps because his style and lyrics were too uncompromising for the Top of The Pops appearances which were to be his colleagues' trophies, or perhaps because he was just too sarf London for people who "liked a bit of Bob Marley". All I know is that no album on Island ever appeared and "Trouble" was to be Papa Levi's last release for the label.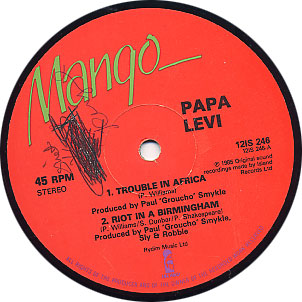 . After his stint with Island, Papa Levi recorded for a number of independent labels. This is some way from being a complete discography…
Militancy/Baby Mother (Jah Records JRW02 1986)
Militancy maybe shows more optimism with the record company being prepared to stump up for a picture sleeve. The back cover credits the Trouble Some Band as:
Drums – Patrick (Treco) Augustus
Bass – Polean
Guitar – Jerry Lions
Congas – ZEBUL Zebulan
Keyboard – Sargent Pepper
Percussion – Treco/Jerry Lions/Zebulan
Prod/Arr by Patrick (Treco) Augustus and Papa Levi
Patrick Augustus aka Treco seems like the label head and is probably better known now as the author of the X-Press book Babyfather and its subsequent BBC TV Series.
Sgt Pepper seems like a real cornerstone of 80s UK reggae, having recorded extensively for Mad Professor and Jah Shaka. (Indeed the first release on Ariwa records was Sgt Pepper's Come Back Again 12″). He is also the brother of singer Sandra Cross and the late Victor Cross.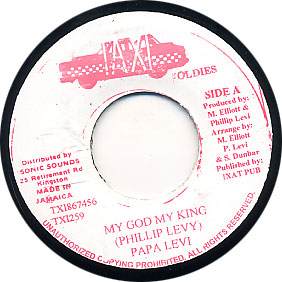 "Take of your jeans and take off your suit
And buy a pair of black army boots
Militancy this a miltancy
Imagine Papa Levi in a full khaki"
The tune itself has the same sort of mad kinetic energy as a good jungle track – except with proper horns and drums and bass. It's all done at breakneck speed (for reggae) and Levi is at his absolute best chatting fast style over the top. The lyrics (in as much as I have been able to decipher them) seem to focus on an end-times battle between 100 rastas and 200 babylonians. The rastas may not have numbers on their side, but they do play Sugar Minott and Nitty Gritty out of a huge ghetto blaster. After their victory the dreads "cark up de foot in de diamond socks" and "drink ribena out of the box". The release proves that Levi could make it on his own, without major label support – indeed this is one of his best tracks.
Hill Top/In The Hills (Jah Records JRW003)
"Hill Top" is based on Joseph Cotton's "No Touch The Style" which was one of the first songs to use the Punaany riddim back in 1987. Cotton has been recording as Jah Walton since the 70s (and was also a traffic cop!), but this release on Fashion is a definite highlight of his catalogue.
"No Touch the Style" is a duet with (an uncredited) Janet Lee Davis in which Joseph despairs of his woman and Janet can't quite believe him and asks him to repeat himself:
"What I am doing with a woman like Sue?"
"A woman like who?"
"A woman like Sue. She give me carrot juice mixed with special brew"
"Seh she give you carrot juice mixed with special brew?"
"She give me carrot juice mixed with special brew
Then she get up from morning and give me no tea
Then she lock up me house – throw away me key
Mash up me settee and me one TV"
"You mean the colour TV weh you go truss pon HP?"
"Hill Top" is a similarly structured duet between to blokes (both of which may be played by Levi) which catalogues the misdeeds of various women and is hugely gossipy in flavour. Someone called Michelle comes in for particular stick because of her affections for the various Saxon MCs, for example:
"Me know a little girl by the name of Michelle
Have four men and every one she give hell
In a nuff different man flat that girl dwell
She go from one to one like a damn jezebel
Love Daddy Sandy but she prefer Colonel
Love Tippa Irie and Rusty as well.
De face look criss and her body look swell
When she walk her batty sing like a damn church bell
How much man draw water in your well?"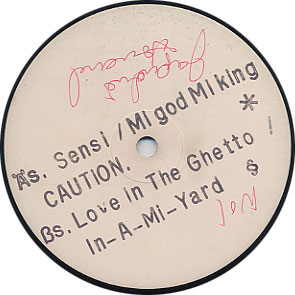 Ram Jam Capitalism/Me Love Sess (Treco TRE004)
This seems to have come out as both a 7″ and 12″. The a-side is allegedly a dig at David "Ram Jam" Rodigan:
"The boy a put himself in a de position
For capitalise upon the black nation"
Levi counterposes white people profiting from reggae with black independence:
"What we need now is organisaton
and conscious man like Louis Farrakhan
to take control of the situation"
No doubt this won him few friends, but I doubt that was the intention. The Farrakhan reference is interesting and suggests a more catholic (small 'c') attitude to black consciousness – beyond the "pure" rastafari of the 70s and early 80s. Perhaps by the time this record was released the Nation of Islam was more prominent in terms of radicalising black youth – it certainly had a huge role in hip hop. Indeed, Levi expands on his views in this interview with the UK section of the NOI:
"I am pro Black in my thinking, in my actions and I try my best to support my own people, you know. It is not that I am opposing any other nation, but I feel that I must stand for my own first and then if I am able to, I will stretch out my hand to help others, but self first. So first and foremost Papa Levi sees himself as an African descendant, not a European, even though I was born here in this part of the world. I see myself as an African stolen from abroad, you know." […]
"I love the Nation of Islam. I love the message of Elijah Muhammad and Minister Farrakhan is a present day mentor. Even if you do not agree with everything he says, we must give Min. Farrakhan credit because he does not have to put himself in the position that he is in. We need more strong Black men to stand up like this. I have to say to Min. Farrakhan, 'Respect due.'" It's not known what the notoriously puritan NOI made of the b-side with its "You love sess – bawl out YES!" chorus.
Both sides of this single show a move towards a more ragga feel. Levi's first LP, Trouble in Africa was released on Jah Records and he has subsequently made a number of albums for Mad Professor's Ariwa label. I'll try to write about those some other time, along with any other singles I happen to pick up between now and then. It's always worth remembering that Levi's records, as brilliant as they are, were always a pale shadow of his performances as an MC on Saxon Studio International. Live chatting is by its very nature much more ephemeral, of the moment and harder to catalogue, so I shall leave you with an mp3 of the man to speak for itself. This is edited down from a clash with Unity Sound circa 1982, I think in North London. It features snatches of Daddy Colonel and Tippa also, but is primarily Papa Levi, Saxon's "squadron leader" ruling the roost over some great riddims.