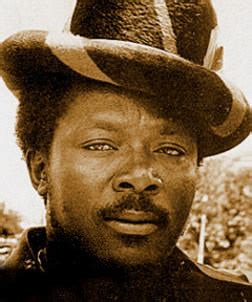 Interview With IROY
Roy Samuel Reid (28 June 1942 – 27 November 1999), better known as I-Roy, was a Jamaican deejay who had a very prolific career during the 1970s.
Biography
Born in 1944 in Saint Thomas Parish, Jamaica, Reid graduated from Dinthill Technical College before starting his musical career via his Soul Bunny sound system in 1968, running it on Victoria Pier on Wednesday afternoons, while working during the day as a government accountant.He went on to work on the Spanish Town-based Son's Junior sound system, where he was spotted by producer Harry Mudie, who renamed him 'I-Roy'.
Deriving his name, and to some extent, his style from U-Roy, Reid was also heavily influenced in his early career by Dennis Alcapone. In 1971 he recorded four tracks for Mudie, all releases as singles, "The Drifter" and "Heart Don't Leap" (both in combination with Dennis Walks), "Let Me Tell You Boy" (over the Ebony Sisters recording), and "Musical Pleasure". Reid and Mudie fell out over the details of a proposed European tour, and he went on to work on sound systems such as King Tubby's Home Town Hi-Fi, and recorded more material with many of the Island's top producers including Lloyd Campbell, Bunny Lee, Derrick Harriott, Lee "Scratch" Perry, Glen Brown, Rupie Edwards, Byron Lee, and Keith Hudson.
One of I-Roy's hits was "SidewalkKiller" (1972), a take on Tommy McCook's original "Sidewalk Doctor", produced by Ruddy Redwood.[One of his most productive partnerships was with Gussie Clarke, who produced most of the tracks on his debut album, Presenting I Roy (1973), containing several hit singles recorded for the producer.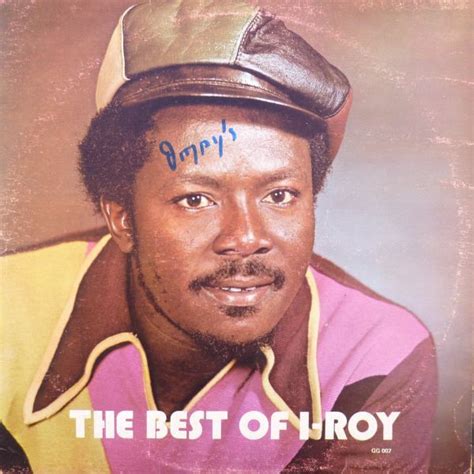 I-Roy's lyrics were often humorous, incorporating elements of songs and nursery rhymes.
Hit singles with "Buck and the Preacher" and "Monkey Fashion" were followed by a second album, the mainly self-produced Hell and Sorrow, which was sufficiently popular in the UK that Reid relocated there to promote his third album, The Many Moods of I-Roy (1974), performing regularly at the Roaring 20s club with Sir Coxsone's sound system, and playing live shows backed by Matumbi.He returned to Jamaica, where, with the popularity of DJ records waning, he worked as house producer at Channel One Studios, although his work was generally credited to the studio owners.
In 1975, he returned with several Channel One-produced singles, before working again with Bunny Lee in what would be one of the most successful periods of his career.For several years from 1975, I-Roy engaged in an on-record slanging match with fellow DJ Prince Jazzbo, the two trading insults on successive singles, starting with I-Roy's "Straight to Jazzbo's Head", although in reality they were good friends.In 1976, I-Roy signed to Virgin Records with whom he released five albums.Later in 1975 he released the Truth & Rights album, compiling many of his hits from that year.
In 1976, he was signed by Virgin Records, who went on to release eight albums via various subsidiary labels, mainly utilising backing tracks played by the Revolutionaries. He also released other material in Jamaica, including the Alvin Ranglin-produced Best of I-Roy album in 1977.
Reggae's move to the dancehall era in the 1980s saw I-Roy's popularity decline, along with the quality of his output.This decline in popularity and recurring health problems led to financial problems and periods of homelessness during the later period of his life.In the early 1990s he started building his own studio in Spanish Town, but it was never completed.
In October 1999, one of his two sons was killed in prison.On 27 November 1999 Reid died from heart failure in a Spanish Town hospital, at the age of 55.
Dub poet Linton Kwesi Johnson referred to I-Roy as "the mighty poet" in the track "Street 66" on the 1980 album Bass Culture.
He gained renewed attention when the song "Sidewalk Killer" was used in the 2004 video game Grand Theft Auto: San Andreas in the radio station called K-Jah West Radio.
https://www.reggae-vibes.com/articles/2019/06/i-roy-interview/
"HAIL STAR – THE MAN NAMED I ROY "
I Roy interview
by Ray HurfordJun 7,
When: 1979
Where: London UK
It all happened out of boredom, like I was always a music lover, I loved the Blue people like Louis Jordan. All the inspiration came then because I used to go to places like Bournemouth and listen to the early discos.
"HAIL STAR – THE MAN NAMED I ROY "
Sound system then play Smiley Lewis, Joe Turner, Fats Domino, plus early Ska that was coming through. So being a cat that had just graduated from College, I was looking for something freer to do, which would take less of my time and give me more air. It's a summer country, and it's too much shirt and tie thing. Go to work at 8 in the morning and finish at 4.30 in the afternoon. In those days you didn't have air conditioning, you would find 40-50 in an office, and it was so hot and sticky.
In those days it was just Lord Comic and King Stitt, U Roy, Count Matchuki and a guy who called himself Sir George The Atomic. Sound System was the now thing in Jamaica. I loved it you know, so I became involved. Then wherever I played, there were a few who would say why don't you record. U Roy had "Wake The Town" and "Wear You To The Ball". I used to play on a lawn called Hocky Wocky, and Harry Mudie who had his Disco then and this small record shop, he came and listen to me, and then as he was a producer… because I had moved over from Kingston to Spanish Town, he said he wanted to produce me, and after two days of negotiation we went into the studio and did my first three records. They were "Musical Pleasure", "Let Me Tell You Boy" and "Drifter" and they are still selling in the shops. They are the oldest talking records that keep on selling, and it went on.
I did "Hot Bomb" for the late Lloyd Campbell, me and Derrick Morgan. Derrick had the tape and I had the voice. Then I did my first album for Gussie Clarke – "Presenting I Roy" (Trojan) with tracks like "Black Gold and Green", "Coxsone Affair", "Black Man Time", "Cow Town Skank", all the early hits. One of the confrontations that I suffer is that a lot of people think I imitate U Roy. And it's not like that. We are two completely different persons with completely different ideas, because I 'm always attacking the democratic standard of living, licking out on some of the wrongs of society. Some of the dissatisfactions. And at the same time, I can give you a few jokes, a few rude lyrics like "Teapot" and "Welding" and it's just been like that, a lot of time people get the wrong impression.
Take "Black Man Time", the youth came up to me and say "Hail Star, the man named I Roy, I man sight the man play Tubby's more time. You know star, the man sound hard you know." That's a way of boosting you up, you know, like a man make you feel good, to beg you something, then the he say, I man beg the man ten cents. So I say to him, ten cents? He replies, I man want to buy a stick of Ily. I say, right now I man naw support that. Now you know it's not the weed I mean, or the Ily, but the begging. So I say, but I give food for thought. Because the weed is food for thought. That was the parable that a lot of people never dig into, he got the money, and him say, love still, but if him didn't get it, he would be disappointed. That was a parable for the persons, who had their wits who could put it together, and say yeah, it gave food for thought. Ily is not food for the belly.
I Roy just brought up his "General" album, he is also here for a check up. His last album "World On Fire" was one of his best. He has released some 20 albums in his career, spanning some ten years… He's got high expectations for the "General" album, expectations that will not be met. Within a matter of months his feelings about the way Virgin treated the album will appear print. It's all settled now, the following album 'Whap N Bhap N' released on Virgin after the closure of Front Line, has received a big promotional push. The album is a mixture of funk and reggae, produced in the UK by Dennis Bovell, it works in places. I Roy or Roy Reid (his real name) can rap, he's been using the technique for many years, to great effect. Along with Cockney rhyming slang. For proof of his mastery of that check the Niney produced 'Point Blank', yet it all just seems a bit pointless.
I Roy, you see, is still speaking out against the system. Will the disco people take to a tune like "Union Call" (one of the reggae tracks), will they even buy the album? For in this time, you can't have something that's not neither here or there.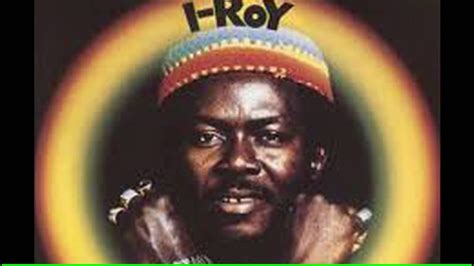 You wake up and see what's wrong in society, you feel the agony, you feel the pain, the needless suffering, you see the big paper profiteers, and the bureaucrats and aristocrats, people in high places. Then you see the poor strewn across space, and you wonder where we're going, you listen to the radio and television, or read the paper and you look at the big leaders, trying to kill this one or that one. In Iran and Uganda, you wonder if we're civilised, because that was happening from 2 BC ago. Who says who's wrong and who's right. Survival is the name of the game, right now. The days of wine and roses have past. Jamaica is an island that doesn't need any feasibility study, the people who were called Capitalists are gone. The hassles have gone with them. So we are left to survive. And things goes up and up and up and salary stay the same.
When you go into the studio to make a tune, you are looking to express yourself or express your dissatisfaction about the unauthorised ways in which leaders are taking it on their heads, telling people what to do (raising his voice) and how to do it. Not even setting any example, because their pinching and ripping off everything.
"World On Fire" (Front Line) was based on reality. I Roy talking over militant rhythms and lyrics the latter supplied by Freddy McKay.