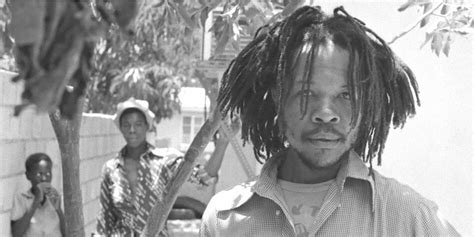 Interview with Yabby You
Vivian Jackson (14 August 1946 – 12 January 2010), better known as Yabby You (or sometimes Yabby U), was a reggae vocalist and producer, who came to prominence in the early 1970s through his uncompromising, self-produced work.
Biography
Jackson was born in the Waterhouse district of Kingston, Jamaica in 1946. One of seven children, Jackson left home at the age of twelve to find work at a furnace in Waterhouse. At seventeen, the effects of malnutrition had left him hospitalized, and on his release he was left with severe arthritis which had partially crippled his legs. His physical condition meant that he was unable to return to his previous work, and he was forced into hustling a living on the streets of Kingston.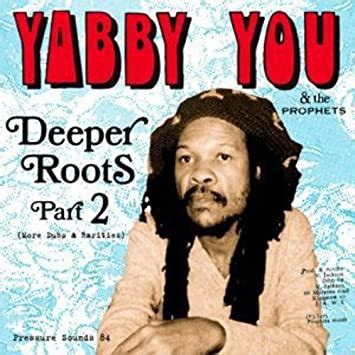 His beliefs were markedly different from that of his Rastafarian contemporaries, believing in the divinity of Jesus rather than Haile Selassie I, earning him the nickname 'Jesus Dread'; This often prompted debate on religio-philosophical matters, and it was after one of these discussions that Jackson first headed towards a recording studio, having heard music "like a strange ting, inside a my thoughts – like an angel a sing".
Another spell in hospital meant that finding money for recording was difficult, but eventually the "Conquering Lion" single was released late in 1972, credited to 'Vivian Jackson and the Ralph Brothers'. Cut for King Tubby, the popularity of the song and its distinctive introduction (the chant of "Be-you, yabby-yabby-you") earned Jackson the nickname "Yabby You", which has remained with him during his entire career.
The next few months saw the recording of several more singles, released under different names on various record labels, (although usually credited to 'Vivian Jackson and the Prophets', and often featuring a King Tubby 'version' on the b-side); culminating in the release of the Conquering Lion album. A King Tubby mixed dub set, King Tubby's Prophesy of Dub, was also issued, albeit on a limited run of 500 copies, helping to establish Jackson as a roots artist.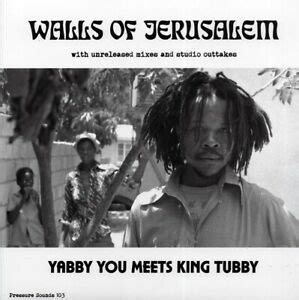 Yabby's success allowed him to branch out as a producer, and he began working with both upcoming and more established artists including Wayne Wade, Michael Rose, Tommy McCook, Michael Prophet, Big Youth, Trinity, Dillinger and Tapper Zukie, while continuing to release his own material.
Jackson continued to record, produce and perform (often with the aid of crutches) until the mid-1980s. He re-emerged in the early 1990s, issuing both new and old material, and his recordings have been the subject of several high quality reissues in recent years. In 2000 he released a singles remix project with Glen Brown. The album included remixes of "Conquering Lion" by Smith and Mighty, and a remix of Glen Brown by Small Axe and Terminal Head.Shanachie Records released a 3-CD box set in 2014. Shanachie Records chief Randall Grass explained in an interview with the website Midnight Raver:
On 14 August 2014, Shanachie Records announced their plans to release a Willi Williams/Yabby You project titled "Unification: From Channel One To King Tubbys With Willi Williams And Yabby You," which includes tracks recorded in the late seventies and never released.
He died on 12 January 2010, aged 63, after suffering a ruptured brain aneurysm.
https://www.reggae-vibes.com/articles/2019/05/interview-with-yabby-you/
The story about the Legend "Yabby You"
By Dadaman – 11 March 2018
"Be you, yabby yabby you" ….
Heard a man with dreadlocks in 1969 in Jamaica. The storm interrupted one of the many discussions he had with his Rastafarian friends about who is the true God on earth – Jesus or Haile Selassie. Trough crackling thunder, he claims, he heard voices saying: "Be you, yabby yabby you".
His name was Vivan Jackson, and in the Rastafarian communes where he lived, he received, due to his religious beliefs, the frivolous nickname "Jesus Dread". He was born in the ghetto of West Kingston in a poor family.
From his father, he heard Duppy stories, the evil spirits that persecuted the inhabitants of the island, and his mother led him to the local church since he was a little youth.
Fascinated by the Bible's messages and with the desire to better understand them, at the age of 12 he thought that mimicking the life of Jesus, he would find answers through the conversation with various religious leaders on the island. The path led him to "Ites People", a commune of radical Rastafarians who slept on the open air and fed only with root vegetables. He earned money for life by working in metal waste. Such a way of life has contributed to a serious illness at his 17th age (including malnutrition, gastric ulcer, brain and lung inflammation), rheumatoid arthritis that caused the rest of the life to walk on the crutches.
So ill and crippled he was forced to earn for life by begging and by doing various "shady" actions in Kingston's ghetto.
He also began to compose poems. Like other poor musicians, he was circling around music studios in which he would present his music to the studio owners by singing the acapella version of his songs. The famous King Tubby promised him to record a song once Vivian would secure enough money for the recording. In the year of 1972, he had succeeded in turning the voices from the sky into the earth music. The bass player Aston "Family Man" Barret, the drummer Leroy "Horsemouth" Wallace and the guitarist Earl "Chinna" Smith played instrument shares for free. The result of this work is the song "Conquering Lion", which began his musical career and multi-year collaboration with King Tubby. It was King Tubby himself who had persuaded him into adopting the nickname "Yabby You".
After recording several singles with members of "The Gladiators" and "The Congos", Yabby has formed the vocal trio "The Prophets" in which, beside him, were Bobby Melody and Alaric Forbes. Their debut album "Conquering Lion" is a true masterpiece of roots reggae music. Fantastic songs, from which some were recorded in Lee Perry's "Black Arc" studio, represent the "dark union" of traditional roots reggae, Rastafarianism and Yabby's loyalty to Christianity.
Following are equally fantastic albums "Chant down Babylon" and "Deliver me from my enemies" where Yabby has managed to maintain a high standard of music production. In addition to his own, he produced albums for Wayne Wade, Tony Tuff, and Michael Prophet, as well as many singles with DJ's like Trinity, Jah Stitch, and Prince Pompidou.
Periods of musical inspiration were often followed the longer periods of illness that has stalled him. At the time of his musical (and health) peak, Yabby also released several extraordinary dub albums in collaboration with the master of dub "King Tubby" and "Scientist" (King Tubby's pioneer).
Vivian Jackson aka "Jesus Dread" aka "Yabby You" died on 12 January 2010 in his 63 age.
Interview with Yabby You
By Bob Kondrak, Seattle WA, 1986
How did you get the name Yabby You?
It just myself… You Yabby Yabby You.. That was me first song that I sing. I produced it myself and I didn't want people to know it was me and you know. So it was a hit song, Tubby's start telling people it was me, so that coming from the song 'Yabby You'. My real name is Vivian Jackson, everyone know me as Yabby You.
How did you get into the business?
You used to have this Rasta band Sons Of Negus. As a child, when I left home, I run away from home and go amongest the Rastaman to live. Well they had this organization name Ethiopian World Federation Local 43, it's situated in Waterhouse, a place called 'Unity Lane', 13 Unity Lane. You have this brethren of the Skatalites band – Lloyd Brevett he used to play bass. Well he was a member of, a foundation member of that organization. As I was a little child now, a youth, them feel that I could be one of them. Well Ras Michael start teach how to really put word together and make music and he call it Sons Of Negus. Well one of them as a Rastaman now he always to come to me to check for my belief, because I worship the almighty god through the way of Jesus Christ. I really don't think Haile Selassie is my god. And it always cause a dispute and argument. Still the Rastaman still love me, for they know me still live up to the integrity. One day, when I was still amongst the Rastaman one of them say as you naw go a school you should learn a trade. Well he teach me how to melt up aluminum and then make anything with it.
You worked in a foundry?
Yeah, but me always believed in doing my own thing. When we learn it, I could go and set up my own foundry, but I never know… I have to work inside of the furnace. I have to make the mould, and to use the cold water to wet up the cast to draw them out and make back the mould. And them never believe in eating from people, me used to cook me own food – sometimes me so tired me can't even cook me have to go down inside the shop and watch the furnace… I take sick and go into hospital. They say I have ulcerated stomach, juvenile rheumatoid arthritis, malnutrition, pneumonia and a swollen liver. At the time I was just 17, I run away from family when I was 12. When I make the song now I was on my own, I never had no one to carry harmony with me. I used to have a friend, who always encourage me and him name Ralph. So me tell him say can carry the harmony, and me put him name on it, and call him the Ralph Brothers.
So he sang harmony on it with you?
Well the two of them, one of them is Alric Forbes, who still sing with me till now. Him and the brothers now they come from Mandeville. They live in the country and come to town trying to get into the record businss. Well me know them, so me tell them that we have this rhythm already that me voice already… me just come from Hospital. The doctor said that if I go back to work, it would send me back to hospital. So when I come out of hospital now, me tell them me have a rhythm. I play them rhythm and we practice it and voice it.
Alric Forbes said last year, that you and he were working on some new productions?
He's on the new LP "Fleeing From The City", he sing harmony and play bass. As a member of the Prophets. But me wander now, like on tour, but I want to tour with my direct band. – Yabby You and the Prophets. Like I've come on tour with the Gladiators to learn what it's like. To see if I can cope with the conditions, then I could bring my band and show the real me and nice up the crowd, let them see the real Prophets.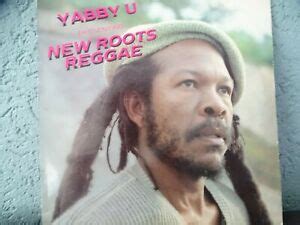 So Alric Forbes is in the group?
From the first songs.
What about Dada Smith, was he an original member?
No, when him come in, when me sing "Run Come Rally". Me and him grew up together on the Gully Bank. As a youth he used to sing with the group named the Bassies – "Things Come Up To Bump". "I Don't Mind", "Ease Up" and "Big Ship".
I haven't heard that one yet!
He used to sing for Coxsone.
Who were the other members of the Bassies?
Dada was one, and a brother called Charlie. He sings "Selassie I Memorial".
Charlie Morrison?
Yeah, and he was the leader the same way. Well Dada used to sing with him. In them times I never start to record yet, anyway that's the group. But Charlie, he form it up, but they rip him off through he was a God fearing person. Dada Smith and the one called Forsythe they went back now and formed (reformed) the Bassies. Then Dada got shot through the neck. He was the only person who got shot through the neck and live. And the other brother get a stab in his throat. Dada's voice was still with him, but the other brother's voice did change – Forsythe's voice did change. Then the group mash up, and they get another brother, George Blake, and start a group called the Victors – and they sing "Things A Come Up To Bump". Me watch them rehearse, watch the whole of the proceedings. And hear how they always cry out that producer Coxsone always rip them off, them never give thanks, them always cry. So I asked them why, since it's just the money that Coxsone find… of the producer find. Why them never find the money? And they say it's impossible. So I say if I get involved, I'm going to have fe do it for myself. And they used to laugh after me and say it's impossible, and it take me all these years till 1972 before me could save enough money to carry just three person into the studion. And although they rob me of the song, pirate it and rob me, I make enough money to make three songs. It was when me have 7 or 8 songs, the man 'DIP' – Dennis Harris, he came to Jamaica and see me. I tell him me have all this music and ting, and me have two more, but me short of 400 dollars. It was the first time he see me, and he liked me and carry me to his hotel and give me the 400 dollars. And we just go and voice the other two songs and give it to him and say release it [the "Ram-A-Dam" album], and let me have the money.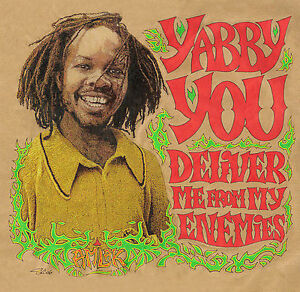 Did he come through for you?
Well he never let me have no more money. He write me back and say him release it and ting and him only make back him money he spend on promotion.
(This interview was originally published in Small Axe #24 (The Seattle Special) and is a little tribute to the late Bob Kondrak. There were 28 issues of Ray Hurford's Reggae fanzine released from September 29, 1978 on to September/October 1989.)