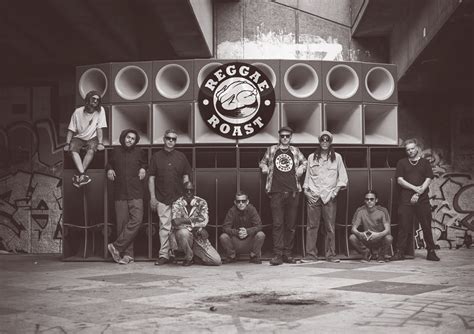 Interview with Reggae Roast Soundsystem
Reggae Roast Soundsystem is the UK's #1 Reggae & Dancehall Sound!
Reggae Roast's regular events & festival appearances bring the positive vibrations wherever they go.
Pushing the boundaries of Soundsystem aesthetics, bass depth & sonic clarity, Reggae Roast have taken soundsystem design to new levels to create a truly unique sound.
The full system comprises of 8 x Terra Horns, 8 x Terra Kicks, 8 x Terra Mids & 8 x Terra Tops and was custom built & designed by our friend Al Cree at Meta Acoustics. It is the only soundsystem of its kind in the world.
To power half the system (a stack of 4 x Subs, 4 x Kick bins, 4 x Mids & 4 x Tops) we use 2 x Full Fat Audio 10K amps & 1 x Full Fat Audio 4×1500 p/channel. Combined it's a total of 52K Watts, to power all 8 stacks at the same time.
Frequencies as low as 20htz can be reached on the 3 meter long Terra Horn, lower than any other system on the market. With minimal low end distortion and crystal clear high end fidelity the Reggae Roast Soundsystem really does need to be seen and heard to be be truly comprehended.
Come to a Reggaa Roast event soon to hear 'The Beast' for yourself.
https://unitedreggae.com/articles/n1244/020713/interview-reggae-roast
REGGAE ROST INTERVIEW
By Angus Taylor on Thursday, February 7, 2013
English label and regular intercity club night Reggae Roast celebrates its fifth birthday this year. Angus Taylor spoke to co-founder James Harper AKA Moodie about their story and how they'll be celebrating.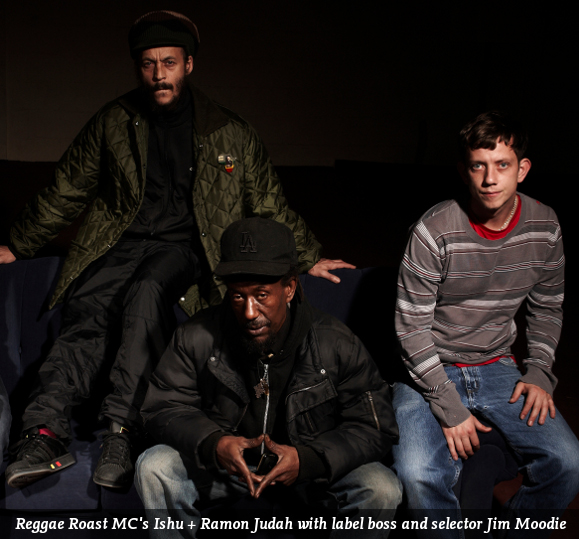 How did you get into reggae?
I got into reggae through my older brother. He is 14 years older than me (different mum) so when I was very young in the 80's he was a teenager and was a massive collector of Yard Tapes and Vinyl. I remember he used to have a whole wall covered from the bottom to the top in Yard Tapes. When I was a teenager, I was really into hip hop. I started DJing and collecting vinyl so my bro started passing me down some of his tunes that he had doubles of. I also started going to dances and followed Solution Sound and used to go and see Shaka and Aba Shanti among others. There wasn't very much reggae events happening back then, but I always loved going to a proper reggae dance more than any other club night. I remember feeling like that even when I was a hip hop DJ. I just preferred the vibe. I started to buy the odd reggae/dancehall track and slip then into my Hip Hop sets. After a while I had a pretty decent collection of reggae, but nowhere to play them out.
How did Reggae Roast get started?
I was DJing in a Bar called The Grand Union on some Fridays and Saturdays. The manager told me on Sundays the venue was completely dead and not making any money. I had the idea to have an all-day session where you could get a roast dinner and listen to some reggae during the day hence the name 'Reggae Roast' and as the evening progressed turn the music up and have a little dance. At that stage I really didn't have any big plans for it. I just wanted an opportunity to play some of my reggae collection that I rarely got a chance to play out.
None of us could quite believe how many people had turned up to this random pub in Kentish Town. We drank the bar dry
The first event about 50 people turned up throughout the day. It was a nice little vibe and people must have enjoyed it because the next month about 150 people turned up. The next month about 300 people turned. The following month happened to be a bank holiday, so about 600 people turned up. None of us could quite believe how many people had turned up to this random pub in Kentish Town. We drank the bar dry. Those early sessions are still some of my fondest memories. It had such a vibe down there and we could play the music as loud as we wanted.
From there Big Chill House heard about the night and booked us in to do the next bank holiday which was much more suited to what we were doing as we had grown out of the Grand Union. Our first event broke their all-time bar spend and about 1000 people turned up throughout the day.
How did Reggae Roast become a label? Take me through a typical day for you in running it?
As the events were starting to do really well and the name Reggae Roast was becoming relatively well established we decided the next logical step was to start a label to really take the brand to the next level. I had already run a couple of labels in the past so had a pretty good idea of how to go about it. The first main project we did was the 'Roots Uprising' compilation incorporating works from all the artists that we had worked with over our events, highlighting the strength of the UK scene. For that release, most of the material had been released on other labels previously. Since then though, all the material to come out on the Reggae Roast Records has been original featuring guest artists such as Linval Thompson, Earl 16, and Kenny Knots.
One of the things we are trying to do differently from other labels are ideas like doing our artist prints relating to sound system culture. We also have ideas for a book and a documentary, as well as the more standard merchandise such as T-shirts and mugs. We are trying to bring new ideas so that culture can be experienced in new creative ways, rather just thinking the label is just for music. Soul Jazz Records have been an inspiration from this point of view but I still think there is plenty of scope to bring new ideas and ways of connecting with our fanbase. The most important thing is keep the quality of everything we do as high as possible. If something is worth doing it's worth doing well, as my nan always tells me.
To be honest I never really planned to do Reggae Roast as a career. It just happened naturally and as it was going well we just went with it. It has been a lot of work but we are now about to bring out our 14th release on the label and I feel that we can take reggae to a level that it hasn't been at in the UK since the 80's. I still feel like Reggae Roast is in its early stages. There is a lot more to come.
Soul Jazz Records have been an inspiration

We often hear from older roots sound system selectors that the younger generation don't know how to behave at dances… have you faced any such challenges in this area putting on your events?
I have to say that in five years and with well over 100 events under our belt, the reggae dances and our crowd have pretty much always been amazing, with very little problems. I think this is in large part a testament to the music and the message it brings. The vibe at Reggae Roast is nearly always positive with a mixed crowd, young, old, white black and I think that this is the main reason why Reggae Roast has remained popular.
There have been a few bad moments however. A few years ago when we started to do warehouse parties, because the events were not in an established venue, I think a lot of younger, underage people thought that they could get away with coming down. They were clearly there to cause trouble. It kicked off in a big way and there was a mass brawl with a lot of bottles getting thrown. I was running the event and there were hundreds of people trying to get in and out of the smoking area it was really scary as you suddenly realise that you are responsible for everyone's safety.
But that was a one off. I think it took a little while for some people to trust that Reggae Roast wasn't going to be overrun with aggressive teenagers, but we worked hard to make sure that there was no further trouble at our events. This involved making it over 21 for a while. Now we are at a point where it is over 18 again and there has not been a major incident since then. This is great as we want to encourage the younger generation to come and enjoy the music in a positive, friendly and safe environment. When you see how many young people are into the music these days it is amazing. You just didn't see that five years ago. I don't think that there are many events in London who can claim to have such a friendly, inclusive and mixed crowd and this is something that is crucial that we maintain. Haters stay away!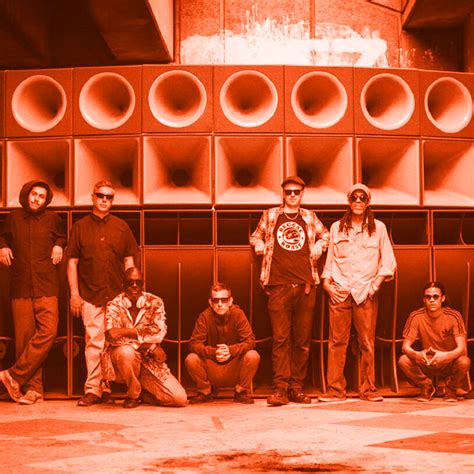 Have you ever faced any criticism over your name and logo? (Given that lots of people in reggae are vegan or vegetarian!)
It is something that I have thought about quite a bit, but to be honest it has only ever come up once or twice and has never been a big deal. I am well aware of the I-tal mentality for a lot of Rasta's, so it has been a concern, but when we started Reggae Roast, it was exactly that. Roast dinner with reggae music and the logo was meant to represent that. It has obviously moved away from that concept now, but I think the logo is so iconic that it's difficult to change. So many people recognise it. We did actually think about changing it at one point and got a new design, but it just wasn't the same so we decided not to go with it. I hope it doesn't cause any offence to any I-talists out there. It's just a logo at the end of the day.
I still feel like Reggae Roast is in its early stages. There is a lot more to come
Reggae Roast is now five years old. How will you be celebrating?
To celebrate our fifth Birthday we are having a double celebration. Firstly we are having a BIG dance this coming Saturday 9th February at our current home, Plan B in Brixton. To help us celebrate we have enlisted the services of everyone's favourite UK Bashment sound The Heatwave. They are famous for some of the best parties around and really put on a great show with a lively carnival vibe, so we thought that they would be the perfect people to help us celebrate in style. Also playing will be UK Dancehall legend Chris Goldfinger (Radio 1 + 1Xtra). He has just got back from Jamaica with bag full of fresh dub-plates so I'm sure he will have something special in store. Also playing on the night are: ourselves, Vibration Lab (a new Reggae Roast Records signing), Adam Prescott in the basement, and Unit 137 Sound system with their usual jungle, hip hop and dancehall mashdown.
Also as part of our fifth Birthday celebration we have a killer new release. I think it's the best release on the label so far. It's a digital roots track from Ramon Judah and Conscious Sounds and is defo one for the dancehalls. It's a great track and sets the tone for some killer releases that we have for 2013. Hopefully this will be our biggest year yet!