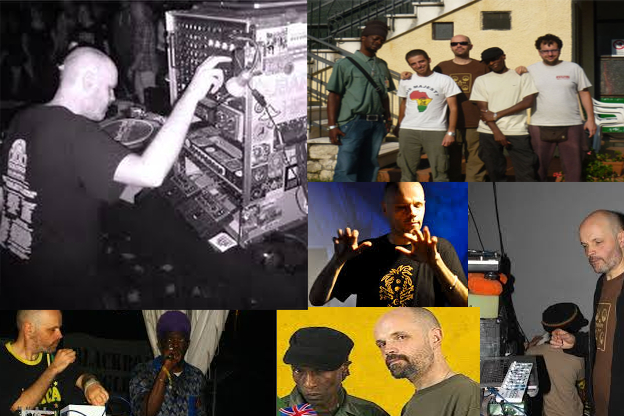 Interview with Vibronics
Vibronics, the future sound of dub, have been vibrating the world with bass since 1995. Their music is at the forefront of the UK Dub scene, proven by over 40 releases on their own legendary SCOOPS label as well as a host of albums, singles and remixes for a myriad of other labels such as Universal Egg, Jarring Effects, Dubhead and Jah Tubbys . In the studio they have worked with Zion Train, Iration Steppas, Macka B, Ranking Joe, Brain Damage, High Tone, Big Youth and an almost endless list of dub & reggae luminaries.
Between 1990's / early 2000's Vibronics released a myriad of singles as well as three albums on the Universal Egg label, including the highly praised CD/LP 'Dubliftment', also there were two albums in France for the Soundsaround label. SCOOPS Records was launched and so begun the story of one of the most prolific UK Dub labels… Wether dub-mixing live on stage, rocking the clubs or uplifting the festivals, Vibronics continue to perform tirelessly across Europe as well as in Asia, Central America and the Caribbean.
1: for the people who don't know you, can you tell us about your beginnings in music and how you become involved with sound system
Music has always been my love, from a very early age i was fascinated by music. All my friends at school were into music, but soon I realised that it had more of a hold on me as I got deeper & deeper into it. I was first inspired by the Punk & New Wave music of the early 80's in UK when I was living in a small town in the east of England, I started learning to play the guitar when I saw some older friends form bands, from then then on it was no looking back, I was playing music with people, experimenting with basic studio recording and writing my first original music. With Sound System culture it was only really when I moved to the city of Leicester at the end of the 80's that I first encountered this kind of scene.
2: when was the first time you saw a sound system, info and memories
I came into the Sound System seven pretty late, as the town I was brought up in had zero reggae culture! It was in Leicester that I first heard the Aba Shanti I Sound System when it was first stared by Aba, Babar and the crew. I was amazed by how the dub music I had started to listen to sounded so powerful. Like it was reduced to it's rawest elements of bass, drums and melodies. The kind of heavy sub bass, I had never heard befreo with so much power, it really turned the bassline into something that was truly leading the music. The whole scene around the Sound System of Rasta culture, ghetto culture and ganja smoking connected with what I was feeling – an underground movement. I was welcomed but the Shanti crew and I started travelling tot he dances with them and getting more involved.
3: reggae in the 80's and the original sound system in london – , can you tell us about your memories..
can't comment – I was not there!
4: can you tell us about your productions in the reggae-dub, how you did you begin and when, info , memories…info new releases.
I had started to play the guitar as a teenager and had recorded in a couple of very basic studios, and it was this process of recording that fascinated me instantly. At the time recording equipment was either very expensive or very low quality – so it was not easy to get into recording & production, not like now with computers and software available to all. I started to put together a very basic studio with a mixer, reverb, delay, synths, drum machines and an early Atari music computer. That was it – i disappeared into my studio for the next few years, only emerging to go to the Sound System session in Leicester. Back then there was no internet so you had to read books and talk to people to pick up techniques and learn how to mix. I got a lot of help from some old friends and a producer called TNT Roots – he really showed me how to mix in the raws king tubbys style with echo & reverb.
Now it's really much the same, the studio is a million times better and I am connected with some great people that still teach me new tips and tricks. The computer has become much more important, but for me, when it comes to the dub mix, I still play the analogue mixing desk like an instrument, mixing with effects and equalization live.
5: musically your influences and what you like/liked most
My music influences are vert diverse and wide, but for dub the no.1 mixer has to be Scientist, what he did in Jamaica in the late 1970s early 1980s was really something special. From the UK , when I started it was all about the productions of Dub Judah, Disciples, TNT Roots & Alpha & Omega – all underground artists back in the 90's
6: you have involved in the 90 reggae scene in london , can you tell us difference with now.
I was living in Leicester with no car and not much money, so London was an exotic far off place for me back in the 90's! .. but I did go to sessions with Jah Shaka, Aba Shanti, Word Sound & Power, Jah Trinity etc , the dances were much bigger than in Leicetsre and you would always see some Jamaican or UK legend in the dance. What was different in London is that there were so many producers, labels, artists and studios. I hooked with with Zion Train in 1996 and they really helped me, releasing my music and showing me what to do if I wanted to get more involved in music as a career. Now its pretty much the same, with many producers, artists, distributors etc – London is a big city and has so much happening there.
7:what do you think about sound system in uk- europe .situations, problems and prospectives
Across Europe I have witnessed first hand the explosion of Sound System culture. When I started in the 19990's there were only a few sound systems and producers, now it seems there is a Sound System in every town in every country! I love to travel, to go to new places, so this Sound System growth has been great for Vibronics as we travel al the time across Europe and further. To be honest, the problems facing the scene in Europe are the same as anywhere, its hard to find a venue to bring your own Sound System, there is very little money involved and its very underground with no mainstream media support like there is with other music like Drum & Bass & Dubstep and other music that is often described as 'underground'
8:can you tell about the LEICESTER DUB SESSIONS, since when and more info about the place……….very good artist and sounds!
Leicester is a small city, but it has a reggae scene stretching right back to the earliest days of Caribbean immigration into the UK. The sessions are smaller than in London or Bristol or other big cities, but they are happening all the time, almost every week. It is 100% these sessions that inspired and launched Vibronics, not every city in the UK has a Sound System and I was lucky to be in a place where Sound Systems can be heard. I am so lucky to work with a team of truly amazing artists, Madu Messenger, Echo Ranks, Parvez, Jah Marnyah all are based in Leicester. Its also the city of the UNOD festival producers and has become somewhere many dub people are interested in visiting.
9: reggae revival in Jamaica , a lot of new roost is this true…what do you think about reggae in Jamaica?
Yes, I hear a lot of the new artists in Jamaica, as always there is some really amazing vocal talent. Jamaica is the foundation of reggae music and these new wave of artists help show the world that fact. The only problem for me is the production, i don't hear anything interesting, not since the 1990's time of Xterminator – one of the biggest influences on Vibronics music still to this day. New JA productions sound more like pop & hip hop to me.
10: reggae in the europe ..sound system culture in Uk, France, Italy and Spain is this the future?
Right now we are seeing it grow, new Sound Systems appearing in every country, of course I hope this trend will continue. Europe is a big place so there are still much more Sound System development that can happen. All music tends to rise and fall in popularity so maybe we will see this wave slow down eventually, but until then we are enjoying it al the way. The music begins to change and become more influenced buy technology, but there is also a big movement back to the old analogue and live instrument style of producing dub & Reggae. The Sound System has many different branches
11: sound system as a culture, a business or just the "voice of people"?
its a movement, a way of life!