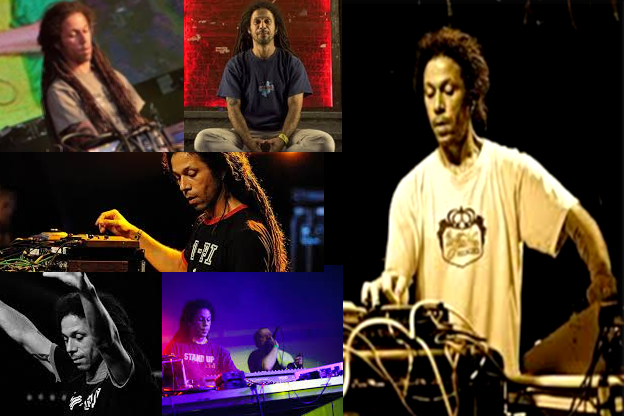 Interview with Neil Perch
Zion Train are Dub/Dance pioneers and have been undisputed leaders in the genre for the past 2 decades. The band were heavily involved in alternative and DIY underground culture in the UK during the 1990s as well as being purveyors of the finest Roots Reggae music throughout this period. They are one of the finest live dub acts on the planet and promoted the practice of dynamic onstage dub mixing which they perform alongside acoustic instruments and the best vocalists.
Neil Perch has founded Zion Train in 1988. The live line-up has always been very flexible, varying from Perch and a vocalist for sound-system gigs, to an extended lineup for larger events. Zion Train live always features a variety of renowned vocalists but primarily, the band have been fronted by Dubdadda. Among the over 2000 shows Zion Train have played are Woodstock (Poland), Madasound (Martinique), Fusion Festival (Germany), Sierra Nevada World Music Festival (USA), Rototom Sunsplash (Italy/Spain), Outlook (Croatia), Boomtown (UK), Glastonbury Festival (UK), Seasplash Festival (Croatia), Bababoom Festival (Italy), Wickerman Festival (UK), Reggae Geel (Belgium), Universo Parallelo (Brazil), Reggae Sun Ska (France), Ostrada Reggae Festival (Poland), Asigiri Jam (Japan), Woodstock Festival (Poland), Sziget (Hungary), Exit (Serbia), Bielawa (Poland), Solipse (Zambia), Universo Paralleo (Brazil) and Rainbow Serpent (Australia).
Zion Train have been one of the planet's most prolific groups, along with a mammoth recorded output and innumerable production credits, remixes and song writing collaborations they have produced magazines, CD-ROMs, Internet sites and built sound systems. Their early releases were on their own Universal Egg label, until in 1995 they signed to China Records. They released the world's first promotional dub music video for the 'Get Ready' single and caused a furore with the publicity campaign for their 'Homegrown Fantasy' album. Back on their own Universal Egg label since 1999, they have continued to release quality dub, electronica and world dance music. Zion Train's vast array of music from the last 25 years still sounds fresh to today's discerning ears.
1.for the people who don't know you, can you tell us about your beginnings in music and how you become involved with sound system .
I am Neil Perch of Zion Train, Abassi Hi Power, Universal Egg and Deep Root. I started playing sound system in 1988 and started producing music in 1990. I became in sound system same way as most people just by playing sounds with music linked to my afro caribbean background and got so interested I ended up as a music producer and record label owner.
2.when was the first time you saw a sound system, info and memories
Jah Shaka, Moonshot Club, New Cross, London 1986 – simply deeper, better, more spiritual and powerful in a truly magical sense than anything that has come since in the soundsystem world.
3.reggae in the 80's and the original sound system in London, can you tell us about your memories..
There was value in the scene – real energetic value, not money so much – the dances were healing ceremonies for the social disturbances we all faced (1980s UK was hard like 2015 global life is hard for many people – huge inequality, few chances).
The scene was also BLACK, which is very important – its great that today we have a racally and culturally mixed scene but too many people forget or do not acknowledge where this scene comes from…
4.can you tell us about your productions in the reggae-dub, how you did you begin and when,info,memories…
I have worked with many many musicians in the reggae world and beyond, hugley famous and totally unknown, music is magic and to participate in it with others is an unquantifiable gift.
5.musically your influences and what you like/liked most
King Tubby, Ravi Shankar, Jimi Hendrix
no ego music, no money music (especially ego-reggae)
6.you have involved in the 80 and 90 reggae scene in London , can you tell us difference with now.
Now there is more international involvement, more money, more ego boosting, we have internet so everyone thinkgs they know everybody and everything – but of course that is an illusion of modern times. Information technology brings advantages and problems to everything on the planet – including the soundsystem scene.
7.what do you think about sound system in UK – Europe situations, problems and prospectives
I do not think too much about it to be honest – I watch it develop, I play my small part, I watch young people learn the lessons of life through the soundsystem world and I myself continue to develop and learn as a human with some small part of me in this world – I really do not like hype in anything..
8.reggae revival in Jamaica , a lot of new roost is this true…what do you think about reggae in Jamaica…
Its a big business and always will be, Jamaica is a poor country and through reggae it can make a little money – good luck to her but again I have very little interest in this. There are some good new artists every year but are any of them actually original and bringing something new to the world?
The answer is NO surely ?? So I am not so interested in their art to be honest.
9.reggae in the europe ..sound system culture in UK, France, Italy and Spain is this the future?
It is the present, the future will be something different and I hope, new..
10.sound system as a culture, a business or just the "voice of people"
This depends who you are and how you feel, its clear all around us there are people joining the scene because they think they can make money, or become known – gain a reputation, but sound system is a culture and is also the voice of some people… Most people are pretty unaware of the history of sound – they just want to hear loud bass filled music – sound systems were originally not so loud in fact – they played different music, not like today when everyone plays the same big hits.
Sound system culture if fun and interesting when each sound has its own flavours and style and when it is more democratic with not just a few gate keepers (festivals, promoters) controlling people's access to sounds..