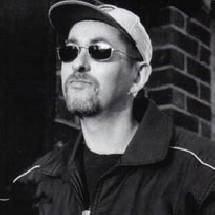 Interview with Jah Warrior
[:en]
Jah Warrior from
Steve Mosco
https://www.jahwarrior.com/
Jah Warrior is a United Kingdom roots reggae/dub production team, record label, sound system, and musical group centred on Steve Mosco.
Overview. Mosco first got interested in reggae as a teenager in Manchester.[1] He started attending sound system events in Moss Side and Hulme, before travelling further afield, experiencing the likes of Jah Shaka.[1] In 1981 he moved to London and was invited by Tim Westwood to do a reggae show on a pirate station called LWR. He also worked as a selector on the Humble Lion sound system, which in 1987 was renamed Jah Warrior.[2] In 1990 he put out an album called Warrior Dub under the name Zulu Warriors.[1] In 1995 he started the Jah Warrior record label, the first release being "The 22nd Book" by Naph-Tali,[1] followed by the album One of These Days.[3] Since 1999, he has concentrated on production.
He has since produced albums by artists such as Hughie Izachaar, Tena Stelin, Prince Alla, Peter Broggs, Trinity, Dillinger, Rod Taylor, U Brown, Alton Ellis, Anthony Johnson, Dennis Alcapone, Horace Andy, and Jah Mason, as well as dub releases as Jah Warrior, working with Dougie Wardrop (aka A. Millgate),[4][5] and Jah Warrior has become one of the leading independent roots and reggae labels in the UK.[6] His Dub From The Heart series of albums are considered some of the most interesting examples of that genre from the mid to late 90's.[3]
Jah Warrior's first release in the United States was Peter Broggs Jah Golden Throne Dubwise album on the BSI label.[7]
by Steve Mosco
I first became interested in reggae music during the mid seventies, when I lived in Manchester. At the time there was a movement called 'Rock Against Racism' which was set up to fight the influence of the National Front and I used to go to some of their events. It was the era of the 'punky reggae party' – they always had a mixture of punk bands & reggae bands and I heard my first sound system at one of their outdoor festivals. I remember being very impressed by the huge amount of speaker boxes pumping out the bassline and after that I heard more sounds at indoor gigs and became hooked.
There wasn't much reggae on radio back then, but I used to listen to John Peel's show on Radio One and he always played a few tracks. At first I became aware that some of the music was different to the rest – it had a harder feel to it, with strange echoed bits of voice and piano. Eventually I discovered that this style of reggae was called 'dub' and from then onwards I became a confirmed dub addict.
I started to go to sound systems at clubs in Moss Side and Hulme, which was a real education. Two sounds ruled Manchester then, President Amin and Jah Baron. Later I moved to Nottingham and Derby, where I continued to go to dances, with local sounds like Sir Quantro and Enforcer, plus sounds from London like Fatman, Sir Coxsone & Frontline International. I also travelled to Birmingham to hear sounds like Quaker City, Jungleman & Studio City. At the same time I began collecting records, ones which cost little then but have since come to be worth a small fortune. Dances were different in those days. They were more dread, with very few outsiders, unlike the wide audience which roots dances attract now. Most of the sounds were much heavier – you'd be literally gasping for breath because the bass put so much pressure on your chest, but in 1980 I discovered a new level of sound system, when I heard Jah Shaka for the first time in Derby. The intensity of Shaka dances back then was something else. There's never been anyone like him and there never will be, no matter how many try (and fail) to take his crown. The music he played, the way he sounded and his dj style was unique – even though other sounds might have played the same dubs, Shaka's cuts were always the baddest -, and everyone producing music or playing sound on this scene nowadays is influenced by him, myself included. In fact, the roots scene in England probably wouldn't even exist now without Shaka, 'cos he's the only one who kept the faith & kept it going when all the other sounds drifted off into sleng teng and fast talk MC's and ragga. There was a time in the mid eighties when I'd walk in a Shaka dance & there'd be 30 or 40 people in the place, but now it's gone full circle again and he can draw a couple of thousand. 
In 1981 I moved to London and started going to Shaka dances at a club called Phoebes in Stoke Newington on Friday nights. People didn't really start arriving till about two o'clock in the morning, and the sessions would go on in the basement until six, seven, whenever. The dances were more raw and intense then, and people who've only come into this scene in the past few years don't know what it was really like in those days. 
A few years later I got the opportunity to have my first actual input, when hip-hop dj Tim Westwood asked if I wanted to do a reggae show on a pirate station he was on called LWR. I did it for about six months and I used to do 'session tapes' in advance where I'd record dub with an MC and sound effects then play it during the show. It got a good response, but at the time dancehall reggae was the in thing, so certain people on the station decided it shouldn't play roots and my show got the chop. 
At the same time some local youths who were forming a sound system asked me to join as selector, owing to my large collection of music. The sound was called Humble Lion and for a couple of years we played in blues dances throughout North London, building up a reputation. Sound members came and went, then in 1987 we decided to build the sound up more and changed the name to Jah Warrior. For the next few years we played in London then started going outside, to places like Leicester, Southend, Bradford, Coventry, etc, playing on our own and also with other sounds like Manasseh, Jah Tubby's, Iration Steppas, Aba Shanti, Jah Observer and so on. The sound system led to my first beginning in producing music. I started off doing dubplates with Keety Roots and Blacka at a studio called Vibes in East London. I didn't really have much involvement with the music then, I just used to hum a bassline, and they'd turn it into a tune for me. I continued doing this at various other studios with other people, and began to teach myself how to play, though I still wouldn't really call myself a musician. Then in 1990 I had an opportunity to release some music with Mr Modo records. I put out an LP called 'Warrior Dub' under the name Zulu Warriors and a single called '2000 Style' with Naph-Tali, but I wasn't ready for it at the time and I later took a long break from releasing any more stuff, whilst continuing to produce dub for the sound.

In 1995 I decided the time was right for putting out more music, and the first on the Jah Warrior label was 'The 22nd Book' , voiced by my long time companion Naph-Tali. The tune sold well and was generally acclaimed as one of the best roots singles of the year. Since then, the sound system has taken a back seat to the music production and in 1999 I decided to wind down the sound & concentrate on production instead. Jah Warrior Records has gone from strength to strength and is now established as one of the leading independent roots and dub reggae production labels in the UK. The story is set to continue….

by Steve Mosco
https://web.archive.org/web/20070923063335/http://www.guidelightmovement.com/interview_jahwarrior.htm
Interview with Steve "Jah Warrior" Mosco at the Reggaemusicstore.com premises. Interviewed by Jakob Levi on the 20:th May 2005 London, England.
Jah Warrior: Yes, respect.
GLM: Could you introduce yourself for those who don't know you and your music ?
JW: Well, my name is Steve Mosco and I run Jah Warrior Records which is one of the largest roots and dub production labels in the UK. I have been doing it for about ten years. I also run a soundsystem under the same name, Jah Warrior, for about twelve to fourteen years and I run a reggae stall as well. Specialist in roots mailorder business.
GLM: Alright. So could you tell us were the interest of reggae music came from ?
JW: Well, I have been listening to reggae for a long time. Goosh, since about 1974 actually, which kind of dates me a bit. It was the usual clichéd stuff to start of with like Bob Marley because I was in school and I didn't really know any better, but I heard a few bits and pieces from friends who really liked it. It was difficult to find out much information about reggae in those days because there was no internet. There was very little on the radio. There was only a tiny amount of information about reggae in the some of the music press. So it really was hard to find out more about it, if you were coming in to the music as an outsider. The way which I really heard about it was partially of John Peel, who was a DJ. You might have heard of him. He was a very famous DJ in England. He died quite recently, but he used to have a specialist independent show on the national radio in England and he played all sorts of music literally everything. Every night on his program, which was about one or two hours long, he used to play a few reggae tracks. I came to realise that there was different styles within reggae although I didn't know what it was in those days. I didn't know the terms of roots or dub, but I became aware there were certain styles of reggae which I really liked and there were others I wasn't so keen on. Eventually as time went on I became aware of the styles of music I liked was called roots or dub. So my intressed spread on from there and I tried to get hold of more of it. I started to go to some dances and soundsystems in Manchester in the north of England, which was where I lived at that time.That´s really how it all began for me.
GLM: You began your first run as a soundsystem by the name of Jah Warrior before you actually came into the recording business.
JW: Yeah, that's right. We wasn't even called Jah Warrior at first. It was called Humble Lion at first. But if you want me to tell you about the very first involvement I had in reggae business other than as a listener and as a collector, I think it was about 1984-85. I was doing a radio show on a pirate station in London called LWR, which doesn't exist anymore. I got roped in to the station by Tim Westwood, who is a quite well known hiphop DJ. He´s very big nowadays but at the time he was just starting out like me on pirate radio. I met him through some other things and he knew I had a large amount of music. He told me that the station were looking for more DJ´s, because they were expanding from just being a weekend station to being a twenty four hours a day seven days a week station. So he said why don't you come on board as a reggae DJ, I do a show and I can introduce you to the people who run the station. So I thought ok and I did that for about a year. While I was doing that show, quite a lot of people heard it and I got approached by some guys who was starting a soundsystem. They had all the equipment and MC´s et cetera, but they didn't really have enough music. So they asked me if I would join as a selector. The name of that sound was Humble Lion and that was quite a small thing to start off with. Just playing in houses and parties. No big dances but it kind of grew and then after a few years as various people came and went I became more involved in it and we changed the name of the soundsystem to Jah Warrior, which was in 1987. Then we started building it up bigger and bigger and playing out with some bigger soundsystems like Manasseh, Jah Tubbys, Joey J, Jah Observer and quite a lot of soundsystems. So that is where it all came from really.
GLM: Productionwise, as I have understand it, you started producing dubplates at first ?
JW: Yeah, that's right. Obviously being a roots soundsystem we needed to have a lot of dubplates and in those days it wasn't as easy to do as nowadays because of the computer technology wasn't really properly developed. So you really had to go to a studio with live musicians if you wanted to build your own dubs in those days. That is what I did and one of the first people I worked with was Keety Roots, who some people might know when he later went on to have his own label called Black Legacy, and another guy called Blacka, who had his studio called Vibes Studio. That was based in East London and quite a lot of artists started off there including Tena Stelin. That is where I first met Tena Stelin and he was cutting a lot of dubs there before the first releases he did with Manasseh. I met Naphtali and quite a few different artists there. So I used to go there regularly and in those I wasn't really involved in playing the music myself, but I knew the kind of thing I wanted. I went along and used to tell the musicians what I wanted them to do and how it should sound. That´s how it all came about and then in about 1988-89, after I´ve been doing that for a few years and the soundsystem started to be a bit better known, I was approached by a label called Mr Modo. Who was really one of the first labels to start promoting what they would call UK-roots and UK-dub in quite a big way. They had a idea to start releasing some stuff and they knew what they wanted to do but they didn't really have enough music and contacts for their own releases. So they ended up putting out an album by Manasseh under the name of Sound Iration and they did the very first Tena Stelin album "Wicked Invention". They did some things with Willie Stepper who used to be with Creation Steppers and they asked me if I would like to do something for them. So basically what happened was that they payed me to go into a better studio to remix some tracks. We did one single called "2000 Style" with Naphtali and also an album which is called Warrior Dub and the name of the group were such as Zulu Warriors. Looking back on it now it was very early work and I'm not particularly happy with the way it came out. In a way I wasn't really ready for it. It was a proper production back in those days, but you know we all have to start somewhere. So it was a good learning process. That was my first, as I see it, musical involvement. Then I didn't do any releases in five years or so.
If you want me to tell you how the label developed I met up with Dougie Wardrop from Conscious Sounds studio in about 1992-93. He had just started his own label. By that time Vibes Studio had closed down. So Dougie was like my main person and studio to go to for creating dubs, exclusive dubs for the sound. After a few years of doing this I´d built up a quite large collection of music and I never had any idea of releasing this. It was purely intended for the soundsystem. But by then a lot of other people in England were starting up their own little independent labels. You know Conscious Sounds, Zion Train, Alpha & Omega, Disciples and et cetera. So one day Dougie said to me, why don't you think about starting up a label for yourself and releasing some of these tunes yourself because you got so much music so that you should try to do something with it. I really never considered that at all. But I went away and thought about it a bit and I thought ok, I´ll give it a go. So the first release I did was in 1995 with Naphtali again. It was a twelve inch single called "The 21:nd Book" and people seemed to really like it. So I just carried on from there. So you can almost say that the label came about almost by accident really.
GLM: Lately you have been working a lot with Jamaican artists like Jah Mason and Lutan Fyah. Is that a step forward from first just working with UK talents ?
JW: Well, certainly everything has come a long way. I mean you know they're not the first Jamaican artists I ´ve worked with. I have been working with Jamaican artists now for about seven years.
GLM: I´m thinking more like Jamaican artists that are in the limelight right now. Prince Allah for example is a very good and distinctive singer, but he´s not on the Jamaican charts today.
JW: Well yeah. It's not different in terms of making music. I´m doing the same thing as I always have done. Yet the direction of music has changed more now. I think it's moving more and more away from what a lot of people might think of as strictly UK-roots into more modern roots reggae which is made in Jamaica. I don't really see much different in what their doing in Jamaica from what I'm doing.
GLM: Ok. You used to release more of dub albums before and now it's more vocal albums. Is that mainly because you had a lot of dub material that you wanted to release first ?
JW: No, not really. Every song that we do we mix up some of it even though you don't get to hear it. The Jah Mason album has about 4-5 dub tracks to every track on the album. It's just that they havn't been released yet and I'm going to release another dub album at some time. I don't now when, but the focus has changed a little. Obviously when the label started with the early albums I didn't have the kind of catalogue of vocal artists and deejays that I have got now. So it wasn't really any conscious decision or anything. It was just the way things progressed.
GLM: Lot a people are saying that the UK-roots scene is not as big as it used tobe. It doesn't sell a lot anymore which is major cut back for the people behind the music.
JW: Yeah, it's true that it doesn't sell in the quantity that it used to do, but that is not because the music has changed. It's because the whole music business has changed. The whole music industry has changed. It's not just reggae. You name it, it's all changing. Obviously just start of with reggae and black music in general is the last bastion of vinyl anyway. When telling a lot of people you are pressing up vinyl they'll look at you as you're crazy. Although, as we all know who are involved in this scene, there are a lot of people who only want vinyl and certainly prefer vinyl to be. But the whole music industry from the very biggest company to the tiniest little label is facing troubles nowadays. It's because recordshops are closing down, distributors are closing down and more and more people who might be downloading it illegally from pirate sites on the internet or they are swaping mp3's or CD-R's with tunes with their friends. So less and less people are buying the music and more and more people are probably effectively stealing the music. That's what it all comes down to. If you take one of my records and record it on a CR-R and give it to your friend. That will prevent your friend from buying it. I think people don't really think about the consequences of their actions in this way. But when you have a scene which is small like the reggae scene in particular, the UK-scene is a tiny little portion of what is only a small scene anyway. It's hard for us to survive even in the best of times. When you think we have a thousand singles pressed up suppose about 400 hundred people instead of buying those singles get hold of a pirate cd or mp3 on the internet, that have a big effect. I think that the people who are involved in all this piracy, they think that they're doing themselves a favour like they're getting something good out of this, when all they're doing is just putting another nail in the coffin of the reggae industy. Do you understand what I'm saying by that ?
And for every sale which we miss out on it's another little bit. It may not seem much but it all adds up. Because believe me no one makes any money in this business in the UK reggae scene because there are no money to be made. Take that from me. We all basically do it out of the love of it and probably have to do other things just to support it, because there are no way we can just survive from just selling these small runs of records and having to pay the artist as well. So some of us might be involved with hiring a studio or the way I support it is by the mailorder business and the online sales on the Reggaemusicstore. Some people might go and do shows or even work a job part time to support the label, but that is the reality of the situation. So it has nothing to do with the fact that the music hasn't got enough or that the people do not like the music anymore. The wholething has just changed. I even think it will get worse in the future.
GLM: From listening to your early stuff to the music you release nowadays one can tell the devolopment of using more live instruments. Do you think it will go to a part where you will have a live band laying down the rhythm for you ?
JW: Maybe yeah. That's something I'd love to do one day definitely. I can't say when though. I like to at least have a mixture of live instruments and digital stuff and I think that is one of the big changes in the UK roots scene nowadays that a lot of people are using live instruments. Horns, percussion, guitar or whatever it may be. I think a lot of people who don't really understand what's going on in the UK scene nowadays. They still got this vision of how it was tenyears ago and they still think everything is one hundred percent digital.
Sometimes you see these posts on messageboards on the internet of people talking about how they can't stand UK music because it's too digital. When I see these posts I say to myself when was actually the last time they listened to any new music coming out of here ? Because you got Gussie P, Disciples, Conscious Sounds, Mafia & Fluxy and most of the top labels nowadays use a lot a live instruments in their productions. So people who have this vision I just don't think they really understand what's going on. The other thing is if you listen to a lot of stuff coming out of Jamaica nowadays they are just as digital, if not even more than the UK music. So there are not really lot of difference to my mind. You would get some good releases from Jamaica by some live musicians like the Fire House Crew but you also get a lot which is digital as well. So that's it.
GLM: You mentioned your soundsystem before, Jah Warrior. For how long did you run it ?
JW: Well, under the name Jah Warrior. I think it went from 1987 till about 1999 or 2000. So about twelve to thirteen years. But I just decided after that time I had enough really. I didn't have the time to do the soundsystem fulltime and to do the label fulltime as well because the label started to become a lot busier. So I just made the decision that I didn't want to do both anymore. So I sold the soundsystem and I'm not involved in it at all now.
GLM: Alright. Could you give us a special memory you might have from the soundsystem days ?
JW: Well, loads really. Playing with Jah Tubbys was probably the hardest thing we ever did, because he´s one of the heaviest sounds in England and he´s very difficult to play against. It was kind of a good lesson for me because afterwards I kind of went back and listened to the tape and studied it. You know sometimes even though you don't do well, and we didn't do partically well at that dance, but if you sort of understand why you didn't do well and why the other sound did better than you can make sure that don't happen in the future. So that was a good learning experience. I played with loads of people like Iration Steppaz, Aba Shanti. It was good. Good crowds a lot of the time but a lot of hard work as well. I played with Manasseh a few times. They were all good dances as well.
GLM: But you don't play out anymore ?
JW: No, although I still get asked by people to go play on other peoples soundsystems all over the world , but I just made the decision that I really don't want to do it anymore. I just did it for too long and I got too many other things happening now to get involved with that again.
GLM: Ok. Let's talk about some of the people you have been working with over the years. In the early days you cut an album with Naphtali. Could you tell us a little bit about the man ?
JW: Well, I havn't seen him for a long time so actually I'm not even sure what have happened to him, but I met him at the Vibes Studio back in the early days of the soundsystem. I was introduced to him through Tena Stelin and he was completely unknown in those days and I don't think he did a lot of work with other producers, but he did do an album with Keety Roots and he did a few singles with the Vibes label apart from the work he did with me. He may have done more but I don't really know about it.
He was a young Rasta who had a really good voice and was very serious about his belief and what he was doing. People really seemed to enjoy the work we were doing together and I still like that album, seven years after it was released. A lot of people ask me nowadays why I don't do more work with him and the only answer I can give to them is that he basically just disappeared. To the best of my knowledge I don't think he's involved in the music business anymore. If he is than I certainly havn't heard any releases from him since I stopped working with him. If I ever found him again or if he wanted to do more work that would be great, but sometimes people just go there own way and get into other things. So that's really all I can tell you about him.
GLM: What about Kenny Knots ?
JW: Yes, I have only done one tune with him so far, which was the 10:inch released recently called "Aint Gonna Be Put Down". He's a brilliant artist and got a great attitude, very easy to work with, very easy guy to get on with. I think it was really Dougie at Conscious Sounds that resurrected his carrier a few years ago because he´d been out of the business for a long long time. I mean he came into it when he was about sixteen seveteen with Unity Soundsystem and he had a couple of quite big hits like "Watch How The People Are Dancing". Then I think he got a bit disillusioned with the whole music business and the soundsystem business. I don't think he was treated very well by various people who he was working with from what I've been told. So he went underground for a long time and then I believe he turned up at Dougie's studio one day with some other people. He wanted to do something and Dougie realizes what he was doing in a sense that he asked him, why don't you come and try your thing with me, and past the two three years he's become really succesful again working with loads and loads of people. Yeah, quite possibly we do something again.
GLM: Being a big fan of Prince Allah which you have put out two albums with Prince Allah. I must ask. Are there any more work with him in the pipeline ?
JW: Well no. I would´nt discount doing anything with Prince Allah again in the future. I still speak to him fairly reguarly. Although I havn't seen him for a few years he phones me up now and then from Jamaica and we'll have a talk. I havn't got any more unreleased tunes with him. Everything that I have done with him has actually been released now. But that was quite a lot of tunes anyway so…maybe, I don't know.
GLM: What's the future plans for Jah Warrior and the Jah Warrior label ?
JW: Well, I got a lot of music finished which has not been released yet. There's an album with Lutan Fyah, which is going to come out some time. I don't exactly know when, hopefully within the next twelve months, that's my aim. I got an album with Alton Ellis. I got lots of unreleased material with Peter Broggs. Probably enough for two albums, again I don't exactly know when that will come out. An album with Ranking Joe and a lot of different singles. A lot of new releases only thing is that I can't say exactly when and the main reason why all this work which have not been released yet is largely down to the way the business are going nowadays. Because of finances, sales and there have been a few problems along the way as well. Like Companies going bankrupt and not getting payed by them which is a big problem which kind of knocks you back. So it's a question of trying to get a business together and being able to actually get all this music released because obviously you got to have the money in the first place to release them. It's not always easy to get that together. So certainly there are a lot of stuff to come.
GLM: Do you have any advice for a new comer in the business ?
JW: I'd say if you're a new comer in this business make sure you got a fulltime job because you're going to need it to survive in this business. It's very very tuff indeed. I think when you look back at the number of labels that have been going in this business in the past fifteen years or so. A lot of them have faded away. But the ones who are still here and the ones who are determined and the reason that they are still here are because they have been able to see the pitfalls and work around that because it's very tuff indeed. You need a lot of determination to survive. So for anyone starting up nowadays you got to be very good and take your time to really understand what's going on knowing the whole business is changing all the time. The technology is changing all the time. The way people sell and buy music is changing all the time. You can't just sit down on one place and not change. If you are, you're going to be doomed. You have to make progress all the time.
GLM: Alright, last one. Could you give us your top three favorite all time tunes from the top of your head ?
JW: Oh, boy. It's like a needle in a haystack. There's a tune called "Children Of The Emperor" by Albert Malawi which was re-released a few months ago. That is a killer tune. But the actual one I prefer is the dubplate version which Jah Shaka used to play, which was a totally different mix to the one that was released. It makes the one that was released sound like a soft tune. Second is Babylon by Johnny Clarke. It was in the film Babylon. It has just recently been re-released by Jah Shaka. It was another original mix of it released on the Cha Cha label. That is one of my favorite all time tunes considerate of all the dubplates Jah Shaka used to play as well. Third one I'd say "Rainbow Circle Throne" by Jah Mason. That's my third one. There you go.
GLM: Give thanks Steve!
JW: Alright, respect.
[:]