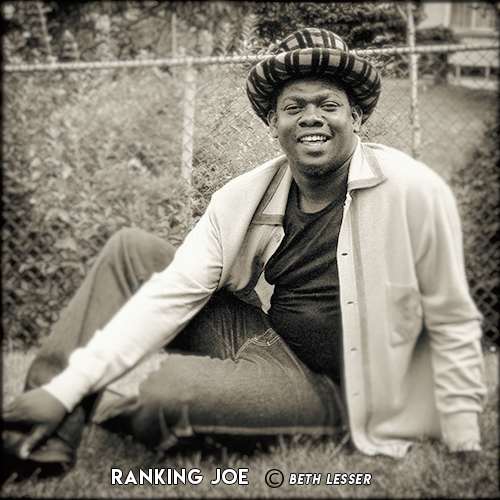 Interview with Ranking Joe
https://unitedreggae.com/articles/n835/012912/interview-ranking-joe
By Angus Taylor on Sunday, January 29, 2012

Ranking Joe (born Joe Jackson, 1959, Jamaica) grew up around his father's dances in 1960s Kingston. Bitten by the bug, at the age of just 15 he became resident deejay on Dennis Alcapone's El Paso Hi Fi, when the elder talker migrated to London. His began his recording career at Studio 1 in 1974 under the handle Little Joe, which led to him voicing for Bunny Lee, Joe Gibbs, Sly & Robbie and many others. A name change to Ranking Joe (suggested by the producer Prince Tony) and the development of his various vocal trademarks (like his legendary superfast "tongue-twisting" introductions) consolidated his status as one of the great mic-men of the late seventies and early eighties – adapting to the new decade's musical developments (including more risqué lyrics) with continued success. At the same time he undertook a parallel career as a producer, issuing his own music as well as other artists like Barry Brown and his schoolfriend Earl Sixteen.
In 1980 he and his production partner Jah Screw took the Ray Symbolic sound system to London, giving the city a taste of what they'd previously only heard on tapes. Joe then settled in New York, where he remains to this day, although he still tours, impressing audiences worldwide with his wonderful way with words and sounds.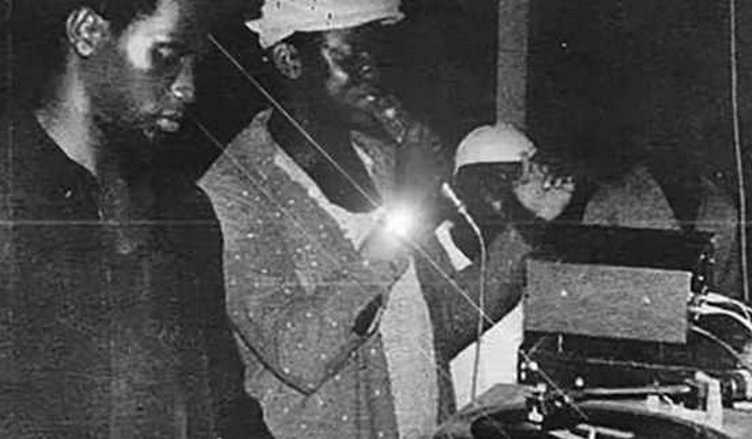 Sound system is quite literally in your blood isn't it?
I grew up literally on a sound system in dancehall music. Because my father is a man who used to go around and play domino games, like tournaments with friends, people from friends' clubs, and the big sound systems would play and entertain them during the daytime. You'd have kids and everyone during the day and cook and eat food until it reached a certain time in the evening when the kids would have to go home or people would come out of the dance and then have to start paying to come back in! If they wanted to stay they would have to pay the gate man when he comes around then that was a different thing but the deejay would hold the mic and say "All for free… go to the gate and pay him a lickle rate, yunno… that would be great… it's all for free" – so that was when the dance began to officially start. So I got a privilege to see a bit of that and then a bit of the dance starting – then I would have to leave!
How did you get on to the mic?
Growing up my dad would buy a little speaker box and amplifier inside the house with foundation rhythms and records and things – and I would catch my practice that way. We didn't have a mic but I would use a telephone receiver to put into the input of the amplifier and I would deejay through that. People would gather round and say "Yeah, yeah, yeah you sound nice!" and I when I'd see father coming in I'd have to plug it out and run! (laughs)
You were at school with Earl Sixteen, Winston McAnuff… Did you ever consider being a singer?
No, I was just concentrating on following U Roy's footsteps. And I Roy, Big Youth, Dennis Alcapone, Scotty and Dillinger.
So how did you get first opportunity to record?
The first opportunity came through studying the Better Dub LP, the Mean Girl rhythm, and practice in school shows and school concerts and things like that. I had the privilege to win a talent show at Bohemia Club on Hagley Park Road at the time – where you'd have different contestants. But then I took my talent over to Studio 1 and then stay for days after days from leaving school and try to beg Mr Dodd to listen to me audition.
Did you get auditioned by Mr Dodd himself rather than one of his musical aides?
Yes. But when those producers were coming through the gate people were running behind them! They'd say "What you want?" and you'd say "I just need a little chance to have a song. They'd tell you "Let me hear it" and then you'd have to just be sharp and ready! But from just practising on that rhythm, although I didn't have that rhythm with me I did have the lyrics. So when he said come back and check him I didn't know what he meant but when I did check him I got the privilege to go back behind to where the studio is. Because before we were just out in the front yard under the mango tree with a lot of different artists waiting for a break and then around foundation artists who already had their break but you had to sit with. So when you went through that gate you'd go "Well… something ago happen!"
What happened inside?
I told him the rhythm and they searched for the rhythm and I got a chance to record it. When I was there voicing the rhythm and thinking I'd finished, he'd just say "Ready Jackson, ready to take it!" I had never even been in a studio before! When he said "Ready now" I was like whoa… But it was a chance I got and when that record was released, named Gun Court on the Bongo Man label, one of Studio 1's labels, it went big. Because Mr Dodd had his programme on the radio where he played the latest songs for month or this week or couple of weeks. Then from that it was just history because different producers started saying "That's you Little Joe?" and I said "Yes" and started going down Randy's to Idlers Rest, Chancery Lane, where all the artists would be hanging out and people would come and buy records – you'd have Randy's, you'd have Chancery Lane and you'd have Joe Gibbs, you'd have Winston Riley Techniques Records in the lane. So all different artists would be coming through and when you can hang with the big boys – it's a privilege!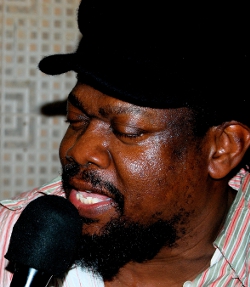 So we've heard how you got into deejaying. How did you get into production?
I got into production by seeing sound systems and seeing the trouble you'd have to go through to record a song for producers! Because I used to check Duke Reid before I checked Coxsone but I got through with Coxsone. Once I got through with Coxsone producers started it to check me and it made it a little more easy because you can say "I did that. I did that song". But then I started to see that from playing on sound systems, some of the lyrics that the people would start to react to or dance to, when you'd go and check certain producers they'd be wanting to try to change your style or change your ways from what the street people want. So that's why you'd just go in the studio, build a rhythm or makeover or revamp back that rhythm into a different style into what the people want. So that's how I got into the business and starting producing artists like myself, Barry Brown, Tristan Palma, Sugar Minott to name a few.
Winston McAnuff is in France, Earl Sixteen is in London. Why did you go to New York?
From being on one of the first sound systems to go to London in 1980. We toured England and the UK and it made a great impact – that was the birth of some of the fast talking deejays like Smiley Culture, Papa Levi and all those guys. So from being in London we got a call to go to New York by Mikey Jarrett which is one of the best deejays there, so I got a visa and we go to New York playing on a sound named Papa Moke HiFi. And it was history again, because Ranking Joe and Jah Screw, we left from England after the death of Ray Symbolic, the first sound to travel to England we went to New York which was the next place. And by keeping so much history there by making dances in New York I kept going back and forth until, seeing a lot of work needed to be done there, I started to base there while going back and forth to Jamaica. I had my Ranking Joe label, working alongside General Lee, High Power, who manages things and we live like brothers, doing my production alongside High Power Music.
You got your start at Studio 1 but you're also friends with the British singer Alpheus who was one of the last people to be signed by Coxsone himself and has put out one of the great albums this year, using revamps of Studio 1 rhythms.
Yes! He was one of the last. Alpheus and Glen Washington, they were some of the last people there. I met Alpheus by him coming to New York. When he'd come to the studio we'd all just say "Yes, you sound good" and we'd exchange a lot of experience tactics about the business and approaching the business so that's the way you have to go about it and keep up the good works. I'm proud of him today that he really hung in there and he has a great album right now, a very, very brilliant album with Roberto Sanchez. You cannot tell the difference between that album and Studio 1 because they are such great productions.
Finally, you've been doing a bit of work with Clive Chin in 2011 that's caught international attention – is there an album in the works?
Yes, with Clive Chin, a great producer, and some of the foundation rhythms from Randy's. To get the privilege to do that was a dream come true. So we worked on a couple of tracks and we have some releases already on the Cheater rhythm and the Java rhythm. Great producer and great productions so we are looking forward to finishing an album. We've done half already so we need to buckle down already but I think what Clive's going to do is release some singles and get more out there first.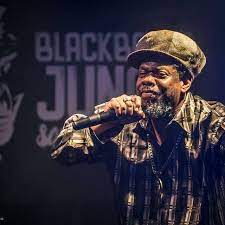 By

Ray Hurford

– 1980
Published in the "More Axe 4" book | Muzik Tree.
When were you first interested in sound systems and DJ's?
It was from early age, when I was small from ten years old, going to school. Listening to U Roy, Dennis Alcapone and I Roy you know. Like the Father give I a talent. Start follow sound system, and listen to them man. And buy record. It start from an early age, start play sound system like El Paso. The sound system that Dennis Alcapone used to play, before him left to come England. Play a lot of sound system. Then I buck up on Ray Symbolic, where I met Jah Screw.
In the early days what sound did you follow?
Smit The Weapon and El Paso. Then I made my first record in 1974 for Studio One – 'Gun Court'
What rhythm was that?
'Love Me Girl' (note: it's the 'Mean Girl' rhythm).
Did you approach Coxsone or did Coxsone approach you?
I approach Coxsone. In the early days you have to approach the producer. They don't know what your talent is like. You have to go there and wait for him. And more time it's 'come back tomorrow' and then the next day. And then you go through and get a chance.
How old was you when you made 'Gun Court' in 1974?
About 14.
Was your tune based on the general theme of the other 'Gun Court' records by people like Derrick Morgan etc?
Yeah.
How successful was it Joe?
It was a big thing for me, as a first start. From that I gain some recognition. Other producers start to check me. Like Enos McCleod who I did 'Z For The Dread'. And start work with Micron Records do a tune name '750' and do tune for Watty Burnett named 'Psalm 54'. And start to deal with Joe Gibbs.
Was it with Joe Gibbs that your first album…
No it was with T.R. – Prince Tony – 'Best Of Ranking Joe' and a hit single 'Mr Finnegan'. After that I do a hit single for the Mighty Diamonds 'BMW'. Natty drive him BMW park it, and don't trouble you. And then I do 'Babylon Bridge' with Culture for Joe Gibbs, and 'Leave Fe Girl Arleen' and an LP for Joe Gibbs – 'Natty Superstar' released in Miami.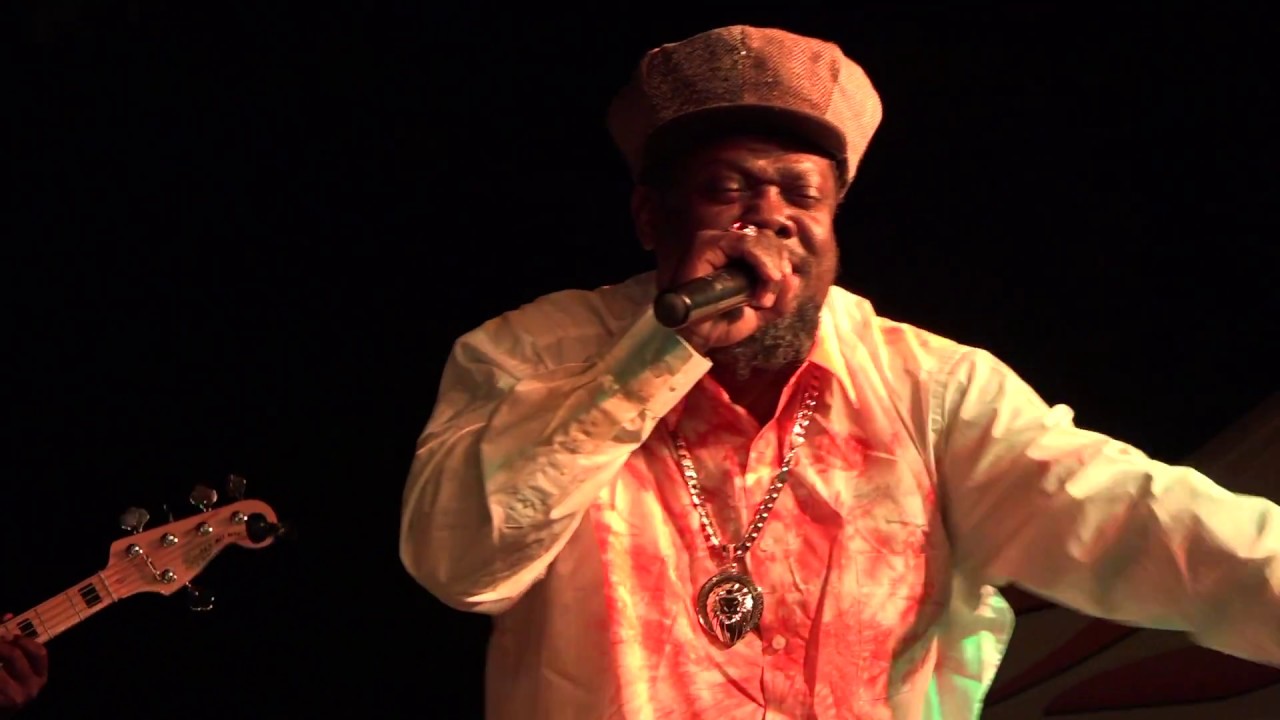 So the album for Prince Tony only got released in Jamaica?
Yeah in JA.
Then you worked for Joe Gibbs?
And one or two small producers.
And the Greensleeves album?
'Weakheart Fadeaway'… that was Channel One.
What soundsystems was you working with during this time?
Ray Symbolic – from the Prince Tony album.
Was Jah Screw with you?
Yeah, Screw was working with Ray Symbolic before me. When I met Ray Symbolic, I meet Screw also. We start work and people like the combination between me and Screw. He play good records and I go along so. So we stick together. Then we leave Ray Symbolic. We have some argument and leave and go Stur-Gav. Then we build up Stur-Gav with U Roy, make it the No1 sound like Ray Symbolic… and we have some argument and Ray Symbolic beg for us to go back. Then we came to mash up the town over here.
That was a great success.
Yes that was the first JA sound to come to the UK. And at the same time I do an LP for Dennis Brown called 'Round The World' released by Ital Records.
Before that in 1978 you had another hit with a version of Gregory Isaacs 'Soon Forward' – 'Stop Your Coming And Come' for Sly & Robbie. The end of the Ray Symbolic tour of the UK was tragic. What happened Joe?
Ray went to New York, and we was over with the sound. Then he went to Jamaica, and that's where he got killed.
There were rumours in this country that it could have politics. Or was it just a car crash?
It was a car crash.
So what happened to the sound after that?
We take care of the sound, carry it back to Jamaica. We give it his brother. And him take over the sound, and change its name. People naw accept him, because him should have give us the sound. Seeing we go with the sound. So people don't follow him, and the sound is like a flop. So there is no Ray Symbolic. That was the end of it. I still play sound in Jamaica, like Emperor, Taurus and Gemini. And I do my own production.
You have had quite a bit success, 'The Tribute To John Lennon', 'The Disco Skate' and 'Dangerous Dub'. That was the first time Tubby worked the board for years, how did you manage that?
Scientist go to Channel One, and he have no one to do the work. So he have to do it, and he checked for and Jah Screw.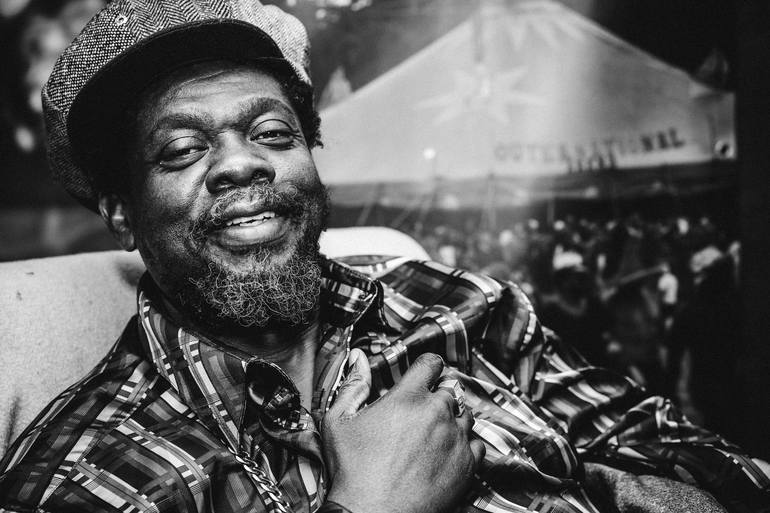 Did you ever produce an album, where you and Screw would be at the controls?
Yes, it will be released soon. We just done the work on it. It's called 'Atomic Dub'. It should come out on Copasetic label, but if it's not on Copasetic it will be somewhere else. I have my new album out soon called 'Armageddon' – wild. You have a roots track, and tracks for children. So they can sing along. It's not a slackness album.
Are you happy with Copasetic?
Everything looks good so far, right. In the future we hope it to be better still. I'm producing for myself and get them to distribute. In Ja, I'm not dealing with some people. But Channel One is a nice place. So everytime I produce a tune, I leave to distribute, you know.
He's well set up Jo Jo?
Yeah, he have a place in New York.
Everything been going good so far. Right now, I'm not doing any gigs. Just concentrating on doing some work. When the right time come I'll do a portion a gigs. We are working on bringing over a next sound system. It will be the number one sound system in New York called Papa Moke Hifi. We captured the New York audience. All over New York. Boston, Manhattan, Jersey, Brooklyn, Bronx. I appeared on the television, and play on the radio live. It's a big thing for me in New York right now.
Who have you produced recently Joe?
We have an LP with Earl Sixteen, supposed to be released by Prince Tony. We have done an LP with Tony Tuff, and LP with Barry Brown released by Tads. And a Ranking Joe showcase released by Tads. And we work with Triston Palmer and Hugh Griffiths. I had a number one tune here 'Mr Walker' by Hugh Griffiths. 'Fussing and Fighting' by Triston Palmer released over here by Art and Craft.' I've also done an album with Hugh Griffiths, 'Mr Walker' released by Tads. In the future I'll be working for myself, try to do the distribution for the Sharpe Axe label. I'm looking forward to producing a whole lot of different youth."
Like?
Earl Cunningham.
Joe's views on DJ's are clear.
DJ is a thing the people should respect. Some producers don't respect DJ. And DJ reviving back the whole music. Most of the time of the year, DJ outnumber the vocalist. DJ have to be creative… fast and quick thinking, you have to ride the rhythm. Ride it in keys, in tune. Not everyone can DJ. They say everyone can't sing. DJ is a hardworking thing. Some people just DJ, just blah blah blah.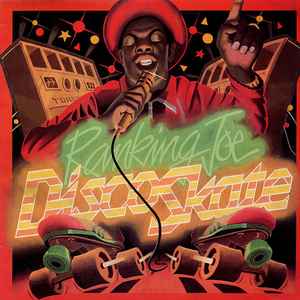 Are there any DJ's you like, that are not known yet?
We'll still have a lot of little DJ's, who come up still. But some of them just imitate people's lyrics. Someone's always ready to follow you. Like when I was up here on tour. Ranger was following my footsteps. Ranger away now… Yellowman. But you see the whole of them respect me. I appreciate that still, when they talk good about me. The only DJ I naw like, is if they just come into the business and they try to fight against those who paved the way road already. Cause me never fight against Dennis Alcapone, nor U Roy, or I Roy, or Big Youth. I appreciate them and me still have them collection I play.
At the end of the interview, Joe expresses his desire for unity thus.
London and England is here for everyone to come and see for themselves, that it's not paradise. Come and struggle and build up the foundation for everyone to live in love and unity. You know enough DJ to come up – Lee Van Cliff, Toyan, Yellowman and Fathead, U Brown and Ranking Trevor. Lets build a form of DJ Team.