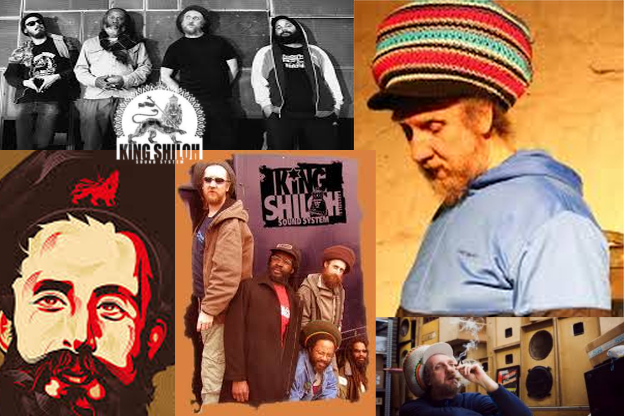 KING SHILOH INTERVIEW
King Shiloh Sound System, based in Amsterdam, Holland, is an international, independently operating, roots reggae & dub sound system, founded and inspired through the inspiration of Jah Rastafari in 1991. The state of the art 40kw 6-way stereo sound system is at the heart of all activities, spin-offs include the King Shiloh Majestic Music record label.
Bredda Neil, is the operator of the sound & selector of the music, Ras Lion, is the original MC; master of ceremonies, Majestic B is the third original member.  Big Bless is the second MC, Lidj Shiloh the utility man. Other members of the family along the way; Lyrical Benjie, Papa Mystic, Afrique Asher, Bagga T (Jah Melodie), President Kirky, Iyah One, Red Danny, Ras Iyiapo & Jah Roots.
King Shiloh are known as the traveling sound, they have covered more distance in the last 20 years with their sound system than any other in Europe. They were the first non UK sound to play on the island with their own sound system, becoming regulars at the famous University of Dub in London. Their sessions are regularly sold-out be it in NL, France, Belgium, Italy, Germany or the UK. They are regulars at the top sessions in Europe like DubStation in Paris and ReggaeBus in Brussel. Apart from playing in Europe with their sound Shiloh also travel further afield in a 'dj style' having played in Thailand, Jamaica, USA, Israel, Russia, Ukrainia, Greece etc.
Today King Shiloh are firmly established in the NL music scene, the mega DubY2K sessions in the Paradiso (& Melkweg) and the legendary Bunker sessions @ NDSM are firmly established as a major part of Amsterdam music history. The Sound System Weekenders are fast becoming legendary, with international guests like Jah Shaka, David Rodigan & Iration Steppas playing alongside King Shiloh on the Shiloh sound.
1: for the people who don't know you, can you tell us how you become involved with sound system
Hail Jah Rastafari, First, Foremost, For-Iver
I've lived in Amsterdam for the last 25 years, coming out the UK, where I got my sound system education, growing up in the North of England; Leeds, Bradford, Huddersfield, later in London when I moved there fwd. When I reached Holland Jah show me the way, show me this great city of Amsterdam needed a big Roots sound system.. thats when I got on His Mission.
2: when was the first time you saw a sound system, info and memories
I remember seeing Quaker City, it was the end of the seventies @ Cleopatras in Venn Street, Huddersfield. It was a big ting, they came from Birmingham with a big crew, Huddersfield was buzzing, Id never seen such massive (quad) boxes until then! it wasn't the first dance I went to, but the first I really remember lol. Then there was the first time I saw Shaka in London, but thats another story…
3: can you tell us about your productions in the reggae-dub, how you did you begin and when, info, memories…
Well those times we link up like minded Ones in West Europe, I travelled a lot…….Majestic Warrior & later Dubfront were operating out of the veg market studio in Cologne, Germany, that was the musical centre! Ras Ibi was coming down those times from Stockholm in Sweden, Ras Matthew I coming fwd from Texas (of all places) and Iyah C from London. We used to sleep in the studio for days & nights, making tunes like Trod On, Battle of Adowa, Babylon A Wonder Yeah tuff times but we got thru, those chunes formed a solid foundation.
4: musically your influences and what you like/liked most
Studio One is where I reggae education began, it was that fat sound, drum & bass with a tuff catchy riddim pon top loved it to the very last drop! Later Augustus Pablo & the whole Rockers package (Hugh Mundell in particular), Yabby U, Johnny Clarke, Tubbys, I could go on and on! Loved all the UK bands too; Black Roots, Matumbi, Misty in Roots, Aswad & Steel Pulse too many to mention, Roots Reggae has an almost unlimited archive of music. Still after all these years I can find one/one chines i never knew existed!
5:what do you think about sound system in uk-europe .problems and prospectives
The danger now in sound system as I see it, is the popularity.. sounds strange but its true, something that was a precious gem to cherish has become a watered down entity recently I don't blame the big festivals, well I do actually! They strive for the strongest line ups, forgetting how special sound system is, how mystical it can be. Putting sounds together in competition, in quick rotation, often on one 'donkey' sound is not In,I thing. Take Rototom for instance, its the only festival King Shiloh hasn't played at, why? Because the organizers have their safe format, according to their budget, and choose to have the same 'donkey' sound and invite all other sounds from the UK & Europe to ride on it! Give me Shaka in a dark, hard-to-find location in cold rainy south London any day, rather than mass produced sound system.
6: you have been involved in the reggae scene in europe since a long time , can you tell us difference with now
Its really linked to the above. Once it was so special & mystical, now its mass produced. We as Shiloh are making a stand against this, not taking part in 3/4 way dances, not playing on 'donkey sounds' or taking part in overkill line ups. Its all about quality, not quantity brother & sistersŠ lets keep sound system special!
7: reggae revival in jamaica , a lot of new roost is this true…what do you think about reggae in jamaica…
I don't really pay attention, for most of my life I checked for JA music, but I got so disappointed thru the years hoping for the late 70s to come back again, but it never did!
I really felt JA couldn't make those chunes anymore, the sufferers cry chunes, it had gone too far too fast & got lost in batty riders & specials. When vinyl started to cease coming from JA it was done for me. UK productions started to get the attention they should always have had.. Europe started to flourish thats positive Yes I hear JA is having another Reggae Revival but I don't feel it yet, hope its true tho!
8: reggae in the europe ..sound system culture in Uk, France, Italy and Spain is this the future?
I think Roots has a worldwide future, Europe is making some good chunes, some bad one also! but I think the future is further afield, We've just come from playing 3 sessions in Ethiopia, the potential is so massive there, they just need the right musical education next week I go to Peru, Brazail & Chile to plays yes those countries are the untapped future, but from what were seeing the future is very bright!
9: sound system as a culture, a business or just the "voice of people"
Sound System is all of these brothers & sisters.
Its definitely our culture, we live it day by day, we spread it to the four corners of the Earth! Its also a business, a big sound system has to run like any other business, but money is never the motivator, its just essential to keep moving fwd, growing & spreading the message further.
But above all its a voice of the people. As it was in the beginning so shall it be in the end! Like in the ghettos of Kingston way back when, sound system is a rallying point, a place where people go for upliftment out of the daily grind, listening to the prophets & priests of the day, live & direct on the mic! Yes the voice of the people! Give thanks n Praise to the Most High, Jah Rastafari! Selah